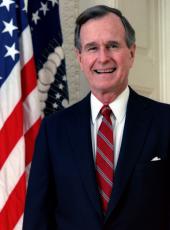 Remarks at the Dedication Ceremony of the Mount Rushmore National Memorial in South Dakota
Thank you, and thank all of you for that magnificent music. And that includes the Air Force. Thank you.
What a personal privilege and honor to be introduced by America's beloved Jimmy Stewart. May I salute our Secretary of the Interior, Manuel Lujan; our Senators, Larry Pressler, Tom Daschle; Congressman Johnson, with us today; South Dakota's Governor, Governor Mickelson; Lieutenant Governor, Mr. Miller; former Governor Janklow. And former Senators Abdnor and McGovern are with us here today also. This is a fitting occasion, and I'm proud to be a part of it. May I also salute those who make it happen all the time, our Director of the National Park Service, James Ridenour. My special greetings, of course, to this all-star-studded cast: Tom Brokaw, Mary Hart, Barry Bostwick, Billy Dee Williams, Johanna Meier, Barbara Eden; our favorite, White Eagle, who sang at the Inauguration; Rosemary Clooney; and everybody else that participated in making this a very special day in the life of our country. You talk about a Hollywood Hall of Fame. This is unbelievable.
And to all of you, thank you for the privilege of helping dedicate a memorial that once moved a visitor to say, "A visit to Mount Rushmore is a moment of communion with the very soul of America."
Fifty years ago, brave Americans completed this monument to four great nation-builders. It took 14 years, enormous sacrifice, and a daring worthy of our Nation. You heard about one man here who remembers; Tom mentioned him. From 1935 through '41, Hap Anderson, who I believe is with us today—Hap, you out there somewhere? Well, I don't see him. There he is, right there. I want to tell you a little more about the man. He worked as a driller at Mount Rushmore. Says Hap, to quote him: "Hard work? If you can imagine putting a 35-pound jackhammer against your belly and letting her go, I guess it was hard work." And here's the interesting part, little anatomical. "But my belly was so hard in those days my wife could dance on my stomach with high-heeled shoes." I can picture it. [Laughter] Seeing Mary Hart up here, I prefer cheek to cheek— [laughter] —but nevertheless, the Andersons can do it their way. [Laughter]
But seriously, when Hap and his coworkers, several others of whom we've met here today, dusted themselves off after the last day's work, they had produced a living monument. When the great producer-director Cecil B. De Mille described it, here's what he said: "Not only do you look at those four faces, they look at you as well."
Today we salute Hap and all the others here today and all the rest who built Mount Rushmore. We salute, too, the four men whose faces appear on the monument. They knew that America is always a beginning, never a consummation.
Washington, Jefferson, Lincoln, and Roosevelt all surmounted old barriers and opened up new frontiers. They broadened our Nation and they strengthened its foundations. They chiseled into our national soul a yearning for freedom, democracy, equality, and justice, a conviction that all people have the right to life, liberty, and the pursuit of happiness.
You heard from our four stars a little history of each, but let me, at the risk of being repetitive, say just a little more. During our Revolution, Ben Franklin, as an American Minister to France, attended a diplomatic dinner in Paris. First, a French official rose, toasting Louis XVI, comparing him to the moon. The British Ambassador then toasted his monarch, .George III, likening him to the sun. Finally, the aging Franklin stood to speak. "I cannot give you the sun nor the moon, but I give you George Washington who, like Joshua of old, commanded both the sun and the moon to stand still, and both obeyed." [Laughter] '
Washington sought not the security of power but the power to secure America's independence, to build a nation devoted to freedom and human dignity. I think more than any other President, he shaped the contours of the Presidency. He established a model and set precedence that has served us well, and no wonder he is remembered as the Father of our Country.
Washington's Secretary of State and the author of our Declaration of Independence helped the young Nation grow in different ways. Thomas Jefferson championed the majesty of individual determination and imagination.
While Jefferson had some troubles with Congress, he accomplished extraordinary things. Among these, as we heard, he negotiated the Louisiana Purchase. The Purchase expanded our boundaries forever and opened to millions new horizons, opportunities, and dreams. His love of democracy was matched only by his faith in human nature. He believed that the God who gave us life gave us liberty at the same time and that man would use that liberty to ennoble life.
The man to the far right of Jefferson in the sculpture also extended a technological frontier by challenging the Nation to complete the first transcontinental railroad. But Abraham Lincoln's greatest challenge was to preserve our Republic, preserve it through its bloodiest war. In so doing, he sharpened our passion for liberty, equality, and dignity. Once Abraham Lincoln said, "The dogmas of the quiet past are inadequate to the stormy present." And yet armed with changeless moral laws, he paved the path for the future. He abolished slavery and preserved the Union. And he showed that the "better angels of our nature" can banish the darkness that threatens us all.
While the Lincoln of history often seems solitary or sad, the real Lincoln never lost his appetite for a good story, a tall tale, or a poignant quip. Once a friend encountered him and two of his kids, his sons, on the street. The boys were sobbing uncontrollably. "Mr. Lincoln, what's the matter with the boys?" the friend asked. Lincoln sighed, "Just what's the matter with the whole world. I've got three walnuts, and each kid wants two." [Laughter]
Abraham Lincoln understood the American character. He could speak in tones as familiar as a heartbeat or in cadences capable of summoning forth laughter, tears, and awe. Without Lincoln, I don't believe we would be a whole nation today. He kept us, you see, the United States.
The final man on this monument also left a wonderful bequest. He won renown as a warrior, but again, as we heard, he also won the Nobel Prize for Peace. He helped cut the Panama Canal out of the wilderness, but also fought to preserve our national beauty.
Theodore Roosevelt fell in love with the Mount Rushmore area. Visiting the Dakota Badlands in '83, 1883, he grew infatuated with the cattle business, acquired two ranches, and became a gentleman cowhand. TR brought to the outdoors the same exuberance that he brought to life, calling our lands and wildlife "the property of unborn generations." He managed to preserve our magnificent environment while transforming America from a continental force into a truly global power.
Each of these four Presidents enriched this country. Each made full use of his Presidential powers without forgetting that he owed his power and legitimacy to the people. The heroes behind me were fighters as Americans have always been, fighters for independence, for freedom, for democracy, for equality, for the values and the lands we revere.
Today, we must build on their beginnings. We must continue to preserve our greatness while pushing back the limits of our imagination. We must teach our children that responsibility comes with freedom. We must remind them of the endless possibilities of the American dream. Our new Supreme Court nominee, Judge Clarence Thomas, has said it best: "As a child, I could not dare to dream that I would ever see the Supreme Court, not to mention be nominated to it. Only in America could this be possible."
Our challenges are enormous. But remember, this is America, and here, great things are possible. Look at the vast sculpture before us, and you see carved in stone a symbol that evokes the American character, soaring and unafraid. Now, on this 50th anniversary of the monument, a group of dedicated volunteers, the Mount Rushmore Society, is mounting a nationwide campaign to preserve this treasure.
This, too, fits into a distinguished tradition. In June of 1826, an ailing Thomas Jefferson politely declined an invitation to celebrate the Fourth of July in Washington. Instead, he encouraged his would-be hosts to hold dear the rights that Americans alone recognized and cherished. And he wrote this: "Let the annual return of this day forever refresh our recollections of these rights, and an undiminished devotion to them." Fittingly, this was Jefferson's last letter. Ten days later, on the 50th anniversary of our independence, he died.
On the eve of this Fourth of July—and the 50th anniversary of this monument—let us express our undiminished devotion to the ideals of Washington, Jefferson, Lincoln, and Roosevelt, ideals as towering and solid as the monument that honors them.
Thank you for this occasion. God bless the United States of America. And now I am proud to dedicate Mount Rushmore National Memorial.
Note: The President spoke at 2:55 p.m. at the memorial. In his remarks, he referred to NBC News anchorman Tom Brokaw and entertainer Mary Hart, who spoke; actors James Stewart, Barry Bostwick, Billy Dee Williams and Barbara Eden, who gave tributes to the memorial; singer Johanna Meier, who sang the national anthem; Sioux Indian White Eagle, who sang "So Many Voices';' and entertainer Rosemary Clooney, who sang "America the Beautiful." Following the event, the President and Mrs. Bush took a nature hike, fished, and attended a picnic.
George Bush, Remarks at the Dedication Ceremony of the Mount Rushmore National Memorial in South Dakota Online by Gerhard Peters and John T. Woolley, The American Presidency Project https://www.presidency.ucsb.edu/node/268258