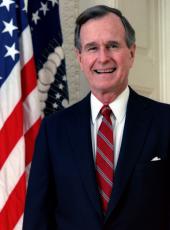 Remarks at the Dedication Ceremony for the Michael Bilirakis Alzheimer's Center in Palm Harbor, Florida
Thank you, Mike. Thank you very much for this warm welcome, and I am pleased to be here. Governor Martinez and Senator Mack and Congressman Bill Young, our neighboring Congressman from here, I'm just delighted to be here. And I want to congratulate Ed and Reverend Fresh and everybody else that has been instrumental, and so creative in this marvelous project that we're here to honor.
But first, I want to say how much Barbara and I treasure the friendship with your Congressman Mike Bilirakis and his lovely Evelyn. And in case you didn't know it, you're pretty lucky. And since we're in a wonderful health facility, I'll give you a report on the Silver Fox. She's doing very well. And so are the puppies, though I will be glad when they go on to their new owners. But, Evelyn and Mike, thank you for the warm welcome back.
I'm here today to really thank Mike for what he has done in this Thousand-Points-of-Light fashion and his private devotion in seeking support and solutions for Alzheimer's patients. And for his dedicated work, we are all very, very grateful. It's a special honor to be here on behalf of a cause that matters so deeply to so many.
Alzheimer's extracts a devastating toll on its victims and on those who love them. And by the time this century ends, more than one out of four Americans will be over 50 and will face some risk of being stricken with this disease. The Michael Bilirakis Alzheimer's Center is designed to care for Alzheimer's patients all the way from that original diagnosis to caring for them in their most difficult days. And this center will serve as a place of hope and a source of comfort until a cure is found. And while the disease may ravage its victims, it makes heroes and heroines, in my view, out of all who care for them. And while it challenges the very fabric of the family, it also demands a new strength -- a strength in each other -- that we might not have known we had.
But above all, this disease is a reminder of what ought to be the American birthright: that we should be able to live our lives as engaged, productive, and full participants in this community of citizens. In a nation that looks after its own, that birthright entails its own responsibility: that any definition of a successful life must include serving others. And that success is not, cannot, be measured by the sum of our possessions but by the good we do for others -- and that whatever life and health and love we have within us, we must share with others.
Older Americans represent a phenomenal reserve of talent and experience -- qualities that this country sorely needs. And so, even as I join you in dedicating a place of refuge and comfort for those stricken with this deadly disease, I would ask all of you who have health and determination to consider how much we gain when we give of ourselves.
In New York City -- I'll never forget it; hearing about it from her -- Barbara met with a group helping young Cambodians to learn English. And while she was there, an older lady told Barbara how desperately lonely she had been before she volunteered. And her eyes filled with tears at remembering it, and then her face lit up as she told my wife: "I've never been lonely a day since." Well, one person's need matches another's, and a wonderful thing happens. I always like to remember that there is no exercise better for the human heart than reaching down and lifting someone else up. The rest of your life really should be the best of your life.
At the Inaugural, which seems like months ago, but it wasn't that long ago -- I keep getting reminded it was about 100 days ago -- [laughter] I spoke of a new engagement in the lives of others. And today I challenge those of you who can to get involved and to stay involved. Find a place or an organization or someone else's life where you can make a difference. And so many of you here -- I feel like I'm preaching to the choir -- so many of you already have. Some of you do volunteer work at local hospitals or in one of the constellation of community groups in and around Palm Harbor. I understand a number of the people here today have been helping boys in trouble at the sheriff's youth ranch. And many of you at St. Mark's are donating your time to helping out on the Alzheimer's unit.
And to those of you who are making the lives of the less fortunate a little easier, I offer my admiration and my thanks. "The young know the rules," Oliver Wendell Holmes once said, "but the old know the exceptions." Many of you today already are exceptions -- and exceptional. And I cheer you on, and I encourage you. And I thank you for what you do to help others.
Thank you. God bless you. And God bless the United States of America. Thank you very much.
Note: The President spoke at 2:11 p.m. in the courtyard of St. Mark Village, a senior citizen facility. In his opening remarks, he referred to Edgar E. Hutfliz II, executive director of St. Mark Village, and Rev. James H. Fresh, senior pastor of St. Mark Lutheran Church and chairman of the board of the village. Following his remarks, the President returned to Washington, DC.
George Bush, Remarks at the Dedication Ceremony for the Michael Bilirakis Alzheimer's Center in Palm Harbor, Florida Online by Gerhard Peters and John T. Woolley, The American Presidency Project https://www.presidency.ucsb.edu/node/263310