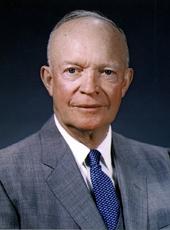 Remarks at the Dedication Ceremonies at the Francis Scott Key Memorial Auditorium, St. John's College, Annapolis, Maryland
Mr. Cleveland, Governor Tawes, Governor McKeldin, President Weigle, Members of the Faculty, Members of the Student Body, Mr. Mellon and Professor Van Doren, Friends of St. John's, Ladies and Gentlemen:
First, may I be permitted to express my congratulations to all those who were participating in this program of enlarging this College, and establishing here these two splendid buildings which will mean so much to education and to the future of St. John's College.
I can conceive of no nobler avocation of the good citizen than to be a supporter of those whose business it is to educate our youth.
And so to each my heartiest congratulations--indeed, my gratitude and thanks.
And now I am commissioned to convey a message of some delicacy, and I hope I can do the job well. The message is brought about by a problem that is experienced by Midshipmen of the Academy just across the way. They have tried, it seems, without success, to get a very unfeeling military administration to give them the time after their "hops" that are held there, to take their lady friends to the proper transportation conveyances and to their hotels, and to get back to their quarters in time to avoid punishment.
And they therefore send this message to the male part of the student body of St. John's College. They have asked me especially to ask you to avoid post-dating their dates when they are on the way home. I confess I wasn't long aware of this problem, but it seems to be a very acute one with them, and they are my good friends.
Francis Scott Key, the author of our national anthem, is enshrined in the hearts, of course, of all Americans. As a distinguished graduate of St. John's, he is doubly honored on this campus. So I am happy to join in dedicating this new auditorium to his memory.
The colleges of civilization remind us that the affairs of the human community are continuous and are indivisible. Your own Great Books program, organized around the masters of thought for thirty centuries, convincingly demonstrates the interdependence of human activities.
Today is merely the forward edge of history. From Homer to Einstein, through politics and poetry to philosophy and physics, the past instructs the present, ever revealing the continuity of the human adventure.
I note with real interest that among the aims of your educational program, special emphasis is given to the development of understanding and, quoting, "by persistent questioning and discussion of the basic problems that face all men at all times."
Now I am told that this school year marks the coming of age--the twenty-first year--of the Great Books concept at St. John's. At the same time that Professors Barr and Buchanan were instituting on this campus this tribute to the unity of knowledge, an official of the League of Nations was calling our attention to the unity of politics in a series of lectures given to another eastern college. He was a diplomat-philosopher from Spain, and he had this to say to the students of Swarthmore in 1937:
He said, "Now it will be impossible for any government to make a success of foreign affairs until it realizes that to a great extent, perhaps to a complete extent, there are no longer, really speaking, foreign affairs; there are only world affairs. All the ministers of foreign affairs should be rechristened ministers of world affairs, if only from the educational point of view, to drive into public opinion this view, that it is now the world that matters and not merely those foreigners who do not belong."
Now today, how meaningful for us--these words delivered nearly a quarter-century ago. For us indeed there are no longer "foreign affairs" and "foreign policy." Since such affairs belong to and affect the entire world, and to which each locality is part of that world, they are essentially local affairs for every nation, including our own.
We have discovered that we cannot separate what we do abroad from what we do at home. We have found that our efforts to promote a freer flow of world trade are hurt wherever there exists an unreasonable demand for protectionism among our own people. We have learned that our interest in stable world markets is compromised by an outdated farm program which stimulates and subsidizes a tremendous farm surplus which overhangs the exchanges of the world; we have learned that unnecessary spending at home may foreclose our essential spending abroad. We have learned that the fate of our own nation is bound up. with the fate of others.
Our whole position in world economic affairs is determined by the health of our economy and the soundness of our money. If we should neglect these at home we could soon become powerless abroad--our prosperity, our security, our freedom would be jeopardized. The concerns of "foreign" policy are not something remote and apart from the rest of our activities; they are deeply rooted in the very center of our local, personal pursuits day by day.
This is why the college and its product, the educated citizen, are so supremely important. It cannot be too often repeated that there is urgent need for the citizen to grasp the relationship between his own actions and attitudes and those of the nation of which he is a participating member. For only when these relationships are clearly seen, can we be sure that our Republic is performing as it should, and as indeed it must, if self-government is to prevail.
Questions, fundamental in their significance, must be answered by an informed citizenry--not merely by ambitious politicians.
How does a free society organize effectively to prepare for an indefinite period of armed uneasiness; how, within a framework of free decision-making, can our economy ,be best developed to meet this challenge; how can our educational and other social institutions be best shaped to develop mind and spirit; how can individual initiative be nurtured within a framework of national determination for survival--in short, how can we meet the world challenge while still preserving our way of life and enhancing the opportunities for all?
This then, is the true measure of the challenge--and the opportunity-before us. Never was the opportunity of the educated citizen to contribute to greater understanding more evident, and more to be taken advantage of. To you at St. John's I offer a respectful salute as you prepare to make yourselves worthy of this challenge. Moving side by side with sister academic institutions across our land, may you carry our nation to ever higher planes of achievement.
Again, my warm congratulations upon the completion of this fine new building, and best wishes for your continued success.
Thank you very much.
Note: The President spoke following the dedication of buildings housing the Auditorium, the Mellon Laboratory, a library, and the Theodore R. McKeldin Planetarium. Among those present at the ceremony were 25 descendants of Francis Scott Key, a graduate of St. John's College in 1796.
The President, in his opening words, referred to Richard Cleveland, Chairman of the Board of Trustees of St. John's College, J. Millard Tawes, Governor of Maryland, Theodore R. McKeldin, former Governor, and Richard Weigle, President of the College. The President also referred to Paul Mellon and Mark Van Doren, who were awarded honorary fellowships. Later in his remarks the President referred to Frank Stringfellow Barr and Scott Buchanan, former President and former Dean of the College, respectively, who instituted the Great Books program.
Dwight D. Eisenhower, Remarks at the Dedication Ceremonies at the Francis Scott Key Memorial Auditorium, St. John's College, Annapolis, Maryland Online by Gerhard Peters and John T. Woolley, The American Presidency Project https://www.presidency.ucsb.edu/node/234902