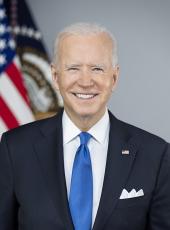 Remarks on the Death of Ellen Harding Casey and an Exchange With Reporters in Avoca, Pennsylvania
The President. I'm just going to make a brief comment about my friend, Ellen Casey. You know, she—I don't know if—some of you Scrantonians may have known her. But she loved with a fierceness and a tenderness that was incredible. And it was the Irish of her. She just was incredible.
And I was saying earlier that—my sister and I were talking about her. And my sister reminded me of a quote about Michelangelo. It said: He saw the angel in the marble and carved until he set it free. That's what she did with everybody. I mean, she really did, if you're knew her.
I know this sounds like an exaggeration, but I've been coming back home since—I've never left, actually. And I've known the Caseys for the bulk of my life. I don't remember when I didn't know the Caseys.
And Bobby's dad was older than me; then I am older than Bobby. And we lived not far from one another. He was on Wyoming Avenue, and I lived on North Washington Avenue. We went to the same parish, St. Paul's.
And anyway, just a—she's an incredible woman. And she raised an enormously successful and decent family. All the values I learned, I learned them here in Scranton. And she was an embodiment of them.
So I—the reason I am not going to the funeral tomorrow is, everyone would have to be wanded to go in—that I'd mess everything up if I went.
But in addition to that, I have to meet with—at Camp David with two world leaders tomorrow morning.
But, in addition, I didn't come—I'm not going to stay at the viewing when the people are coming in. But, again, they have to be wanded; I just become an impediment.
I just want to show my respect to the family. So——
The President's Travel to Hawaii
Q. Can you tell us about your Hawaii trip, sir?
The President. No, not now. I'm going to be leaving, and I'll be there on Monday.
Q. Why is it important that you go?
Q. Sir, do you think——
The President. Thank you.
Q. Sir, on the family issue——
NOTE: The President spoke at 12:49 p.m. on the tarmac at Wilkes-Barre Scranton International Airport. In his remarks, he referred to Sen. Robert P. Casey, Jr., son of the late Ms. Casey, former First Lady of Pennsylvania; Prime Minister Fumio Kishida of Japan; and President Yoon Suk Yeol of South Korea. He also referred to his sister Valerie Biden Owens. A portion of these remarks could not be verified because the audio was incomplete.
Joseph R. Biden, Remarks on the Death of Ellen Harding Casey and an Exchange With Reporters in Avoca, Pennsylvania Online by Gerhard Peters and John T. Woolley, The American Presidency Project https://www.presidency.ucsb.edu/node/364014