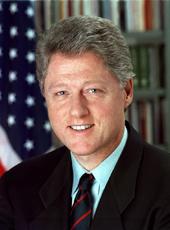 Remarks on the Death of American Diplomats in Bosnia-Herzegovina and an Exchange With Reporters in Jackson Hole, Wyoming
The President. Good morning. As all of you know by now, we lost some fine Americans in Bosnia in a terrible accident a few hours ago, working for the cause of peace there. I have spoken with Dick Holbrooke and with General Clark in Sarajevo and, of course, with Secretary of State Christopher and Deputy Secretary Talbott. I have received a full account of what occurred. I am convinced that it was a tragic accident.
I am very grateful for the service that these fine men have rendered to their country and to the world. And I am encouraged by the determination of their colleagues to continue on. Within a matter of moments from now, Secretary Holbrooke and General Clark will continue with a scheduled meeting with President Izetbegovic to press for the cause of peace. I expect them then to come home with their comrades and, after a few days, to return to press the peace mission again vigorously.
This is a sad and tragic day for the families of the men who were killed, and Hillary and I, and I'm sure all Americans, send our prayers and our thoughts to them and our profound gratitude for their service. I think the American people would have been very proud of the response of their colleagues today in the wake of this incident. And I am very grateful for the continued determination of Secretary Holbrooke and General Clark to continue on the peace mission.
Q. Mr. President, as far as you're concerned, there's no need to stop the U.S. efforts to seek a diplomatic solution; this won't in any way affect that?
The President. No, I hope it will intensify it. The men who gave their lives—these were immensely talented, patriotic Americans who were profoundly concerned with what the war in Bosnia has done to the people there and what it means for the values of decency and freedom and peace. And I would think that the thing that they would want us most to do is to press ahead, and that is what we intend to do.
Q. You're convinced there was no foul play involved?
The President. Based on everything we know from the—I have now—I talked to Secretary Holbrooke and General Clark, who were virtual eye witnesses, and they say there's no evidence of that.
NOTE: The President spoke at 10:10 a.m. at the Teton Pine Golf Club. In his remarks, he referred to American diplomats Robert Frasure, Joseph J. Kruzel, and Samuel Nelson Drew, who died when their military vehicle crashed en route to Sarajevo; Richard Holbrooke, Assistant Secretary of State for European and Canadian Affairs; and Lt. Gen. Wesley K. Clark, USA, Director, Strategic Plans and Policy, Joint Staff.
William J. Clinton, Remarks on the Death of American Diplomats in Bosnia-Herzegovina and an Exchange With Reporters in Jackson Hole, Wyoming Online by Gerhard Peters and John T. Woolley, The American Presidency Project https://www.presidency.ucsb.edu/node/221423