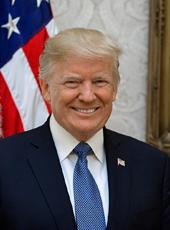 Remarks at the Daytona 500 in Daytona Beach, Florida
[Music: Lee Greenwood, "God Bless the U.S.A."]
The President. Well, Chip, thank you very much. And, my fellow race fans, there is no greater thrill than to join you at the World Center of Racing for the 62nd Daytona 500. So exciting. [applause]
The Daytona 500 is a legendary display of roaring engines, soaring spirits of the American skills, speed, and power, that we've been hearing about for so many years. The tens of thousands of patriots here today, have come for the fast cars in the world-class motorsports, but NASCAR fans never forget, that no matter who wins the race, what matters most is God, family and country. [cheers and applause]
Joining us today are Gold Star Families whose loved ones made the supreme sacrifice to defend our freedom and our flag, to Edgar and Jennifer Bill, George Lutz, and Gold Star Families everywhere, throughout our land, your fallen warriors will live in our hearts forever. Thank you. [applause] Thank you. Thank you.
We're also grateful to be joined by staff Sergeant David Bellavia, who I was privileged last year to award the Congressional Medal of Honor, a very brave man. Thank you, David. Thank you, David. [applause] Thank you.
This afternoon, we congratulate all of the new enlistees in the United States Armed Forces, and there are plenty and they love our country. A few moments ago, these young men and women took a solemn oath to put their lives on the line for our country. To each of them and to every service member and veteran here today, as Commander in Chief of the greatest fighting-force on the planet, a force that just spent 2.5 trillion dollars on rebuilding our military, I want to thank you for your service. [applause]
Now we approach the moment that you've all been waiting for. Soon the car will take to the track for the start, tires will screech, rubber will burn, fans will scream, and the great American race will begin. For 500 heart-pounding miles, these fierce competitors will chase the checkered flag, fight for the Harley J. Earl trophy, and make their play for pure American glory. And that's what it is, pure American glory. [applause]
As we wait for the green flag, we give thanks to this beloved country, for the heroes who keep us safe, and for the God who made us free. [applause] To all of the drivers, technicians, and pit crews here today, good luck and may the best team win. God bless you. God bless our military. God bless our veterans and God bless America. Have a great race. Thank you. [cheers and applause]
[Music: The Rolling Stones, "You Can't Always Get What You Want"]
NOTE: The President spoke at the Daytona International Speedway. The President spoke for about 4 minutes.
This transcript prepared for the American Presidency Project by UCSB Research Assistant Paul Souza.
Donald J. Trump, Remarks at the Daytona 500 in Daytona Beach, Florida Online by Gerhard Peters and John T. Woolley, The American Presidency Project https://www.presidency.ucsb.edu/node/351192