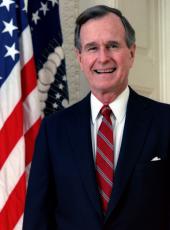 Remarks to the Crewmembers of the Space Shuttle Atlantis and the Winners of the Orbiter-Naming Competition
I'd say please be seated, but I don't -- well, you all, please be seated. And to our Senators and Congressmen here, a special warm welcome. And Admiral Truly, I'm very delighted to see you, sir. And of course, to Captain David Walker and Ron and Mary and Mark and Norm, let me say this: that Commander Walker and crew, friends and families of the shuttle Atlantis, distinguished members, we are just pleased that you all are here and sorry that the weather did not cooperate.
You know, the late Jackie Gleason immortalized the words, "And away we go." Well, it's a pleasure to be here with Americans who, by exploring the horizons of outer space, have made those words reality. And so, we gather here today to celebrate the continuity of our space program and really of our country itself, of America herself. In a sense, today's setting reflects the continuity. You are pioneers pushing back the boundaries of our technological future. And this house embodies the greatness of America's present and past.
And the two space programs that we celebrate -- they, too, reflect America's continuity. For in Atlantis' deployment of Magellan, we salute achievement which has come to pass; and in Endeavor, the glory which still lies ahead. Some of you may recall that Winston Churchill said, "The farther backward you can look, the farther forward you are likely to see."
Well, Magellan was named after the seafaring explorer of the 16th century. And as the first U.S. planetary mission since 1978, it marks the rebirth of America's planetary program. From Magellan, we're going to learn more about Venus and, thus, ourselves. For Venus, I am told, is the planet most like Earth.
To Commander Walker and his outstanding Atlantis crew, and to the entire NASA organization, my heartfelt congratulations. Every time I talk to one of these astronauts, they always point out the support they get from a magnificent team that for a fleeting moment they leave behind on Earth. So, my salute goes to everybody involved in this important work. We salute the courage and enterprise of this crew especially, but also all who are on this team. You've reaffirmed your nation's genius in science and technology; and yet, I think we would all agree, it really is only just a beginning: 4 more solar system missions through the mid-1990's, 13 more shuttle flights in 1989 and '90. These flights will chart new frontiers in science and exploration. And we'll explore those frontiers through the leaders of tomorrow.
And so, we see some of those leaders in the students we have here today from Mississippi and from Georgia. For in a nationwide orbiter-naming competition, involving over 71,000 students and 6,100 entries from elementary and secondary schools, you showed how the possibilities of tomorrow point us onward and upward.
My friends, you know, choosing a name can be a thankless task. Consider the new father who was once reproached by Sam Goldwyn. "You're going to call your son William?" he said. "What kind of a name is that? Every Tom, Dick, and Harry is called William." [Laughter]
Well, somehow you all fared much better than that. Both of your schools chose the name Endeavor, which Webster's defines as "to make an effort, strive; to try to reach or achieve." And each of your schools has lived that definition. In the division 1 category, kindergarten through grade 6, the national winner is a team of 9 fifth-graders from Senatobia Middle School, in Senatobia, Mississippi. And through your team, younger elementary students learned about space up close and personal, like simulating a space camp's wireless communications or trying on a team-made spacesuit. And then in division 2, grades 7 through 12, the winning team came from a nearby State: Tallulah Falls Schools, Inc., in Tallulah Falls, Georgia. Here students developed a math magazine, "Math Exploration With James Cook," and then created a play comparing Cook's 18th-century sea exploration to Endeavor's 20th-century space exploration.
The orbiter-naming contest was, and is, a partnership between NASA and the Council of Chief State School Officers. The CCSSO played a key role in organizing this tremendous contest. And I'd like to thank its members and also my good friend, Congressman Tom Lewis, whose legislation created the event. But most of all, I want to thank you, Commander Walker; the crew; and the students. For you've acted not for us alone but for generations to come. And in so doing, you're making possible, now and tomorrow, that picture of the orbiter lifting off, its rise a swirl of magic, and of Americans cheering its safety and success and dreaming of the new worlds and faraway heavens which form America's destiny. And that is the continuity of America and of our space shuttle program, which points us toward the stars.
And so, thank you; my heartfelt congratulations. God bless you all, and God bless the United States of America. Thank you very, very much.
Note: The President spoke at 1:17 p.m. in Room 450 of the Old Executive Office Building. In his opening remarks, he referred to Adm. Richard H. Truly, Administrator of the National Aeronautics and Space Administration. The crew of the "Atlantis" included: Capt. David M. Walker, USN, commanding officer; Lt. Col. Ronald J. Grabe, USAF, pilot; Mary L. Cleave, mission specialist; Maj. Mark C. Lee, USAF, mission specialist; and Norman E. Thagard, mission specialist.
George Bush, Remarks to the Crewmembers of the Space Shuttle Atlantis and the Winners of the Orbiter-Naming Competition Online by Gerhard Peters and John T. Woolley, The American Presidency Project https://www.presidency.ucsb.edu/node/263561