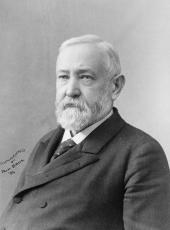 Remarks at the Cornerstone Laying Ceremony for the Grant National Monument in Riverside Park, New York
Mr. President and Fellow-Citizens:
My assignment in connection with these exercises has to do with mechanics rather than with oratory. The pleasant duty of bringing to our memory to-day those brilliant incidents of public service and those personal and manly virtues which have placed the name of Ulysses S. Grant so high upon the scroll of fame, and settled the love of the man so deeply in all patriotic hearts has been devolved upon another, who never fails to meet these high occasions with credit to himself and with pleasure to all his favored hearers. No orator, however gifted, can overpraise General Grant. The most impressive and costly memorial structure that an architect can plan or wealth execute is justified when the name of Grant is inscribed upon its base. This stone which has now been laid, accompanied by this magnificent expression of popular interest, is only the top stone of a foundation, but it speaks to us of a structure, imposing and graceful in its completeness, which shall rise from this supporting base. Shall it rise with stately progress, without check or tardiness, until the capstone is set amid the plaudits of the liberal and patriotic citizens of this great city? Thus his fame grew, from Belmont to Appomattox, in whose honor this tomb is builded. I am glad to see here what seems to me to be adequate assurance that this work, so nobly started upon, will be speedily consummated. Your distinguished citizen, who has assumed as a labor of love the burden of conducting this great enterprise, learned of his beloved friend and commander to exclude the word "failure" from his vocabulary.
Benjamin Harrison, Remarks at the Cornerstone Laying Ceremony for the Grant National Monument in Riverside Park, New York Online by Gerhard Peters and John T. Woolley, The American Presidency Project https://www.presidency.ucsb.edu/node/276746