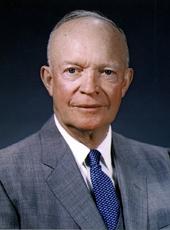 Remarks at the Cornerstone-Laying Ceremony for the Anthony Wayne Library of American Study, Defiance College, Defiance, Ohio
President and Mrs. McCann, Senator Bricker, Governor Lausche, other distinguished guests, and my fellow Americans:
I suppose it is not too important to anyone to have an explanation of my reasons for being here this morning. But, in a way, they are important to me, and I would like taking a moment of your time to express them. Some of them are distinctly personal. For example, I am returning a call--I am returning a courtesy. This choir that we see here came to Washington last January 20th and did me the signal honor of being there at the time of the Inauguration. I am delighted to have this opportunity to return such a neighborly call.
I am here because of my admiration and affection for two people--Kevin and Ruth McCann. Kevin McCann was with me in the services, at Columbia. They typify for me an American couple at its best. Recognizing their obligations to the society of which they are a part, they have never once hesitated, in the years I have known them, to take the hard and difficult way to discharge that obligation, instead of the easy way of enjoying things that they thought were given to them by that society.
I am here because of my ultimate faith in education as the hope of the world--Christian religious education, man's free access to knowledge, his right to use it. I believe that unless all negotiations between nations are based upon a growing understanding among the peoples of those nations, there is no validity and no permanence to whatever arrangements may be made.
And so I think that the function of the school commands the presence of anyone in the United States, when there is a significant occasion in any one of our important schools, and that person can find it proper to attend.
I am here because I want to pay tribute to one of the greatest States in its 150th year. I deem it a signal honor that I may be here in order to say "Long live Ohio," not merely for 150 years but on down through the ages--one of the brightest jewels of that great crown they call America.
And long may this library here stand and serve the needs of Defiance College. May it help assure to all her students free access to knowledge, just as the teachers of this institution will help them make intelligent use of that knowledge.
Now, for me, today's ceremony means more than physical participation in the laying of a cornerstone. This community and this College have a deeper significance than anything done or any words that can be spoken here this noon. On this spot we are close to landmarks in American history, and with us on this campus are thousands of young people who are tomorrow's builders of a greater and better America. So we see the past and the future joining with the present in this ritual of dedication.
At one spot in this town, I have been told, a stone marks the site of the first French mission on the Maumee River, established more than 300 years ago. At another, the earthworks of Fort Defiance remind us that 160 years ago the forward command post of the American Nation was here. Other landmarks are canal locks and monuments and buildings that recall the mighty expansion of the American economy from an agricultural society to the first place among the world's industrial powers.
Consequently, in Defiance, whose roots are deep in the American past, it is fitting that I humbly salute the generations of men and women, the builders of Ohio, in this, the sesquicentennial year of their State. They were explorers and trappers and missionaries, traders, and farmers, and teachers, diggers of waterways and skilled operators of an industrial empire. Above all else, however, in the story of their achievements, they helped construct a way of life--the American way of life, of which the cornerstone is an indestructible faith in man's dignity as a child of God.
We today live in communities across this land enjoying justice, opportunity, and freedom, because from the beginning of our history until this very day those generations labored and fought and sacrificed so that justice and opportunity and freedom might be every American's birthright.
In their foremost ranks stood one whose name will live in reverent memory so long as the Republic lives. Senator Robert Taft dedicated his life to the service of his State and his country. To every task he brought an informed mind, an insatiable hunger for the full truth, a zeal in the cause of justice and opportunity and freedom for all his fellow citizens. He stands out in his age as one of the great builders of the American way that is our heritage.
This heritage is our most precious possession. What we do individually to conserve it, to strengthen it, to enrich it, is the only true measure of our devotion to it. More than this, it is the only true measure of the claims we can possibly have on posterity's memory. The wealth we may accumulate, the public prestige we may enjoy, the social position we may obtain, are all meaningless in the long vista of time, unless all are made to serve the cause of human dignity and freedom. What value dollars, or acclaim, or position in a world where justice and opportunity and freedom are lost to us by force, by subversion, or by our own neglect?
A chief bulwark of our heritage against any such decay of the law has been and is and will be the American school system-from the one-room red brick building at a country crossroads to the largest of our universities.
In the days of the Constitutional Convention in Philadelphia, Thomas Jefferson wrote to a friend these words: "No surer foundation," he said of education, "can be devised for the preservation of liberty and happiness." Then, with the fervor of a lifetime devoted to the increase of liberty and happiness among men, he added, "Preach a crusade against ignorance."
The crusade was preached and was waged successfully. Impelled by it, our forebears added the school--the community school to the home that was the center of man's life as a family being, and to the church that was the fountain of his faith as a religious being. They were intent on providing an armory of knowledge where Americans might gird themselves for the obligations and the challenges that those Founding Fathers knew would be inescapable in a system of representative government.
The results are written across the history of our country. By every step taken to banish ignorance, we have increased our hold on liberty. By every measure taken to enlarge our comprehension of the world in which we live, we have amplified the possibilities for human happiness. We possess in our land a largeness of justice and freedom beyond our forefathers' dreams, because the education of our youth has been a primary goal of this Nation.
Our school system is more important than ever before, because the job of being an American citizen is more complex than ever before in our history. Knowledge and understanding and vision beyond the demands of yesterday are required of tomorrow's citizens. Our schools--all our schools--in consequence, must have a continuing priority in our concern for community and national welfare.
In our school system an important place is filled by the small, often church-related, liberal arts colleges. These institutions, for generations in the van of higher education, have covered our land. They have brought the advantages of college training to thousands upon thousands who, except for the existence of these institutions, could never have enjoyed this privilege.
Now, they are caught in a squeeze between temporary decreased enrollments and high costs. But the great traditions they bring to today's students of their own intellectual leaders and fervent patriots of the past must not be lost. The importance of the place they occupy in American life needs not fewer but more of them.
Indeed, I firmly believe that more extensive education than that obtainable in high schools must be brought to every community and every locality in such a way that every young person regardless of his means or his lack of means can go to school for a minimum of 2 additional years.
Now, today, each of these small, almost neighborhood colleges is striving to fit itself better to serve its students, its community, and its country. Each of them shares--as does every typical American home and every church--in the American inspiration, the American purpose, and American goals.
On this campus, typical of the small liberal arts college, I deem it a privilege, indeed I consider it a duty, to pay my tribute to these schools. Already they have contributed much to the American way. Their potential contributions to the country's future are beyond calculation.
So we participating in the dedication of this library are expressing our support of this kind of education, of this kind of school. Thus we are performing one of the duties of citizenship in a free nation. Thus we symbolize our continuing faith in man's ability, under God, to govern himself intelligently. Thus we hope to assure the future strength and the eternal freedom of America.
My friends, to each of you who has come out this morning and has done me the courtesy of listening to the thoughts I have expressed, my warm thanks. I am grateful to you.
Note: The President spoke at 11:45 a.m.
Dwight D. Eisenhower, Remarks at the Cornerstone-Laying Ceremony for the Anthony Wayne Library of American Study, Defiance College, Defiance, Ohio Online by Gerhard Peters and John T. Woolley, The American Presidency Project https://www.presidency.ucsb.edu/node/232170