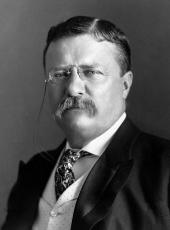 Remarks at the Convention of the International League of Press Clubs in Boston, Massachusetts
Gen. Taylor and ladies and gentlemen:
I was taken a little by surprise when I came in to the dinner and saw that it was not composed merely of men, and so I needed to be set at ease by such an introduction. I should have been very glad to have spoken merely to a Boston or Massachusetts audience of representatives of the press. I am even more pleased to speak to an audience drawn from all sections of our country. I think, General, it is easy enough to be a Southerner or Northerner, or Easterner, or Westerner, provided one is a straight American all the time.
Every system of government, no matter how good, has the advantage of its virtues, and the quality of the representative depends upon the character of his constituency. He has got to think about them. He has got to think more about the way they will look at his success or his nonsuccess in getting that public building than what his votes are on the subject of irrigation or whatever else. All that being so, every tendency should be encouraged which will make our representatives think nationally, that will make our representatives proceed with legislation in the very best way, to represent no district, but to represent the nation as a whole.
Now, another thing, I have said that in all the different sections we are alike. And I think we are. I think I have a certain right to speak, because I feel very much at home in New England, yet I haven't got any New England blood and I haven't got any English blood in me. Some one once introduced me as a typical specimen of the Anglo-Saxon. I was glad for once to find what Anglo-Saxon was, because I was half Dutch and half Irish. And I come to Massachusetts. It was in Massachusetts that I was educated, and in Massachusetts that I have found so much of my inspiration. It was the history of the soldiers, statesmen and patriots of Massachusetts that not only I, but all other Americans, must study over, a very large part of the history of the past of which we are so proud, and it does not make the slightest difference as to what part of the country we come from if only we have got the feelings of sound Americanism in us.
In any profession in this country, I don't care what it is, no man will win if he doesn't show industry, knowledge, intelligence. No man will win without these qualities, and his winning with them will be a detriment instead of a benefit to the community as a whole unless, in addition to merely preaching, he practices adherence to the laws of common decency and morality. It must seem to most of us that what is most needed is the steady practice of the fundamental virtues; of the ones which we all in our hearts wish to keep, but which we do not always keep in mind.
Theodore Roosevelt, Remarks at the Convention of the International League of Press Clubs in Boston, Massachusetts Online by Gerhard Peters and John T. Woolley, The American Presidency Project https://www.presidency.ucsb.edu/node/343494