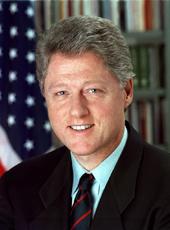 Remarks to the Community at the United States Embassy in Manila
Thank you, Mr. Ambassador. Thank you, ladies and gentlemen. Thank you to my fellow Americans and our Filipino friends who make this Embassy run so well.
I'd like to begin with a special word of thanks to Ambassador Hubbard, not only for his introduction but for his extraordinary service to our Nation. Before coming to Manila, he was a key member of the team that persuaded the North Koreans to freeze their nuclear program. He was instrumental in securing the release of an American pilot named Bobby Hall. In those ways and many others, he has made a real difference for the safety and the security of the United States, the stability of Asia, and the future of this part of the world. So, Mr. Ambassador, on behalf of all Americans, I want to thank you for the extraordinary job you have done for America in so many different roles. Thank you, sir.
This is my second trip to the Philippines as President, and each time, though the visit is brief, I have enjoyed myself immensely and I come away very grateful for your hard work and the role you played in the success of our trip here.
I came to Manila to participate in the APEC summit, to build on the work we began 3 years ago at the first-ever meeting of the Asian-Pacific leaders in Washington State. Each year we have worked hard to move from vision to action, with members laying out concrete plans to realize our goal of free trade and investment in this whole area by the year 2020. I'm especially pleased that today the APEC leaders endorsed the early completion of an information technology agreement which would cut to zero tariffs a vast array of computers, semiconductors, and telecommunications technology by the year 2000. These products are to the 21st century what highways and railroads were to the 19th century. Or in my recent language, they are a big part of that bridge we have to build to the future. They are at the core of America's competitiveness.
Every year we sell $100 billion in information technology, and that sector supports almost 2 million jobs in the United States. So imagine if we went to zero tariffs in the entire world, what that would mean to America in more exports and higher paying jobs. Imagine also what it would mean not only to our Nation and others who produce these products but to those who would receive them.
In this global economy, you know as well as anyone that progress is not everyone's partner yet. I have been immensely pleased to see the rapid growth in the Philippine economy over the last 4 years under the leadership of President Ramos. And I am very encouraged about the direction of virtually every place in the Asia-Pacific region. But there are millions of people—indeed, hundreds of millions of people— who are literally disconnected from this emerging economy because they don't have phones or computers or access to all the networks that now are powering so much of the transfer of knowledge and opportunity in the world. Twothirds of the people in the world still don't have access to a regular phone. Over half the people living today still are 2 days' walk from a telephone. There's a lot of opportunity out there, not only for those of us who produce these products but for those who will buy them and use them. For them it means higher growth, greater security, and a brighter future for their children.
APEC's endorsement of this information technology agreement is a big deal. And it is the product of determined, consistent diplomacy, the kind you practice here every single day, from commercial promotion to consular work to the bonds of friendship and respect you build with our Filipino partners.
In this season of thanksgiving, I really wanted to take just a few minutes to tell you how profoundly grateful I am for all the work you do. Your efforts may not always make the headlines, but I know how hard you work, the sacrifices you make to advance America's interests and America's values. I want to thank especially the families who are represented here, because we know that you, too, are ambassadors of good will for the United States. And I want to thank the Filipino colleagues who join us here today. You represent an invaluable part of the Embassy's spirit and success.
Finally, let me say that I think you have to become President to appreciate the unique bond between the United States and the Philippines and to appreciate fully the incredible contribution that Philippine-Americans have made to our way of life. As I flew over Corregidor on the way back here from Subic Bay and remembered what it was like when I was there not so very long ago, I thanked God once again for the Philippine-Americans who work for me. Five of them I brought here, on my personal staff, my physician; others we left back home.
It's awfully hot in this climate, but it has not burned the character or the goodness out of the people here. It has burned them in, and for that I am very, very grateful.
Thank you, and God bless you all.
NOTE: The President spoke at 5:35 p.m. on the terrace. In his remarks, he referred to U.S. Ambassador Thomas C. Hubbard; CWO Bobby Hall, USA, whose helicopter was shot down over North Korea in December 1994; President Fidel Ramos of the Philippines; and Capt. Connie Mariano, USN, the President's physician.
William J. Clinton, Remarks to the Community at the United States Embassy in Manila Online by Gerhard Peters and John T. Woolley, The American Presidency Project https://www.presidency.ucsb.edu/node/222270