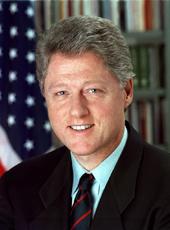 Remarks to the Community at Barksdale Air Force Base in Bossier City, Louisiana
Thank you very much. Let me begin by thanking Secretary Cohen and General Shelton for their truly outstanding leadership on behalf of our Nation's military. They are eloquent and profound representatives of what is best about this country, and I thank them.
I want to thank Senator Breaux, Senator Landrieu, Representative McCrery for their support for you and for our country. I would like to acknowledge in the audience today, or here with us, other Members of Congress: Congressmen Bill Jefferson and Chris John, from Louisiana, and Congressman Thornberry and Congressman Sandlin, who've come from the neighboring State of Texas to be with us. So I thank all of them for their support.
I would like to thank the Air Force Chief of Staff, General Mike Ryan, for coming down here with me; the Acting Secretary of the Air Force, Whitt Peters; my National Security Adviser, Sandy Berger. We also have the FEMA Director here, James Lee Witt, because, you know, you've had some pretty tough natural disasters here recently, and we're here doing double duty.
And General Marcotte and General Smoak, thank you for welcoming me here and for giving me the chance to meet with some of the fine people with whom you work who have also been involved in our work over Kosovo.
I thank the adjutant general, Bennett Landreneau, who is representing Governor Foster; Treasurer Ken Duncan; and the mayor of Bossier City, George Dement; and the mayor of Shreveport, Keith Hightower, for coming to meet me as well.
Now, the nice thing about speaking last is that everything that needs to be said has been said, but not everyone has said it. [Laughter] What I would like to do is to be just serious for a moment and first thank all the previous speakers for what they have said and try to put this in some larger context.
The conflict in Kosovo in which we are involved is really about two things: first, what you know and see every night—all those hundreds of thousands of innocent people uprooted, many of them killed, some of them dying from disease in refugee camps, some families divided forever—not because of anything they did but because they happen to be Albanian instead of Serbian, Muslim instead of Orthodox Christian. It is a human tragedy that touches everyone.
But there is a second issue here, as well, and that is whether we and our allies in Europe are going to allow that kind of problem—hatred based on race or ethnicity or religion—to be the defining force of the next 20 or 30 years. In other words, whether we're going to go into the 21st century, this great modern time where all our kids can do amazing things on the Internet, where all of our planes can do amazing things with high technology, and have all of the tools of the modern world put at the service of the most primitive hatreds known to man; or whether our European allies—18 other countries in NATO and their friends and sympathizers across Europe—will stay united with us and with our neighbors to the north in Canada and say, "We would like the 21st century to be different for our children. We would like to nip this conflict in the bud before it destabilizes all of Europe. We would like to see us make a statement that we don't want the 21st century to be defined, and we don't want American soldiers, sailors, airmen, and marines, to die on distant battlefields in large numbers because we walked away from these ethnic, religious, and racial atrocities." And that's what's going on.
Now, I wanted to come here to Barksdale today for two reasons. One is, you're involved with the B-52's and what we're trying to achieve there. The other is, Barksdale has a rich heritage of being part of an allied effort, where America does not act alone but with others who love freedom and are prepared to defend it.
This base was named for Lieutenant Eugene Barksdale of the U.S. Army Air Corps, who flew combat missions alongside British pilots in World War I with enormous skill and bravery. This base was where Jimmy Doolittle's famed bomber unit and so many others, including French pilots, trained to fight for freedom in World War II. It was from this base, during the very large coalition effort in the Gulf war, that crews launched the longest strike mission in the history of aerial combat, 35 nonstop hours in the air, when B-52's left Barksdale to strike at Saddam Hussein's war machine and returned safely here.
Now you have this new mission, one that echoes the allied achievements of the past and embodies our determination to create a better future. As I said, I met earlier with aircrews who have returned from Kosovo, where with the aircraft from other NATO countries, they struck at the Serbian forces who have so brutally attacked the civilian population of Kosovo.
The forces are working to save innocent lives, to protect the peace and freedom and stability of Europe, to stand against the notion that it's okay to uproot, destroy, and murder people because of their race, ethnic background, or religion.
I am grateful for your service and grateful for the sacrifice of your families. We are all— those of us in positions of responsibility—committed to support you. I listened very, very carefully today when the crewmembers talked to me about the challenges of maintaining a long-term career in the military today, about the challenges they face, the challenges their families face, the challenges that relate to income, the challenges that relate to health care, the challenges that relate to housing, the challenges that relate to operations tempo.
We are working on that. We know that, now that we have downsized the military and the economy in the civilian sector has picked up, we're going to have to work harder to get and keep good people. Our new budget provides for an increase in pay and more money for housing and other quality-of-life supports, for more support for training and equipment. It is the first sustained increase in overall defense spending since 1985.
There's something else that, since it is now April 12th, I think I ought to do. Our tax laws give the President the authority to issue an Executive order granting tax benefits to Americans serving in a combat zone or supporting combat efforts. I want you to know that I will issue that Executive order for our forces who are working to save Kosovo. This will mean that for military personnel serving in the combat zone, most or all pay for each month served will be tax-free, not withheld from paychecks, not subject to IRS claims later. They will also be eligible for some additional pay for service.
There's another advantage to the Executive order that will apply not only to personnel in the combat zone and others deployed overseas but also for some civilian personnel as well, including accredited journalists and relief workers. It will suspend the time for filing tax returns and related obligations to the IRS. With our citizens working so hard to protect the people of Kosovo, they shouldn't have to worry about their taxes.
Now, Secretary Cohen will work out all the details with the Treasury Department as soon as possible. [Laughter] He's got 72 hours. [Laughter] You all have to have quicker turnaround than that. So he's going to fight with the tax person for you.
Let me say again, I know I speak for all of the Members of Congress here in saying they support this. We have had remarkable bipartisan support from the leadership in Congress for this—Congressmen Archer and Rangel, Senators Roth and Moynihan, who have made it quite clear that they support what we are doing.
Let me just say one other word or two about this mission, because more of you will be going in the days ahead. Hundreds of thousands of these Kosovars are now refugees. There have been thousands of innocent victims. Many are just dying because they're stuck in these refugee camps and can't get adequate health care or support; some of them from severe dehydration. There is also the possibility that Albania, Macedonia, and other countries around there receiving these refugees will be destabilized because they have ethnic problems of their own. There are also countries, believe it or not, in the Balkans that have worked hard to resolve their ethnic differences, and they have things going pretty well. Pretty soon, their malcontents may wonder whether they could have gotten a better deal by behaving in a more destructive way.
We've learned the hard way through two World Wars and through what we saw in Bosnia that with these kinds of conflicts, if you don't halt them, they spread, to be stopped later at greater cost and greater risk.
I have worked hard for the last 6 years to build in the aftermath of the cold war a Europe that is united, democratic, and at peace for the first time in history. The two great World Wars of the 20th century started in Europe. We have learned that so much of our liberty, our safety, our prosperity depends upon an alliance with a democratic Europe. That's what NATO has been all about.
We know in the years ahead, when we're going to have to fight terrorism, when we're going to have to fight organized crime and drug trafficking, when we're going to have to fight the spread of weapons of mass destruction, when we're going to have to join together with countries to fight the spread of disease and environmental problems across national boundaries, that we will have to work with Europe.
That is why we have taken new members into NATO. That is why we've established new partnerships with many other countries across the whole expanse of Europe. That's why we are adopting new missions, to be ready when somewhere, someone again challenges the peace and stability of Europe. That is what Mr. Milosevic has done.
Keep in mind, before Kosovo, he started wars of ethnic hatred in Croatia and in Bosnia, with a quarter of a million killed and more than 2 million refugees. And the fighting there did not end until we and our allies acted.
Now, we did everything we could possibly do to avoid the conflict which is now occurring. We worked and worked and worked for a peaceful solution. Last year we stopped the threatened assault in October. We had a peace agreement. The Kosovar Albanians agreed to sign it, even though it didn't give them everything they wanted. Mr. Milosevic rejected it because he had 40,000 troops and nearly 300 tanks on the border and already in Kosovo, and he knew that he could move his troops and his tanks at will and do to the Kosovars what he had supported being done to the other ethnic minorities in the former Yugoslavia.
The stories we are hearing now are truly chilling: Serb security forces herding Albanian villagers together, gunning them down with automatic weapons, and setting them on fire; telling villagers, "Leave or we will kill you;" separating family members; loading up buses and trains, carrying some to the borders and some to be slaughtered; confiscating identity papers and property records, seeking, literally, to erase the presence of these people in their own land forever.
We must not let that happen. We must stand against that. As I speak, Secretary Albright and the other NATO foreign ministers are in Brussels, reaffirming our common commitment to do what is necessary to prevail.
There are a lot of people who didn't think that an alliance of 19 countries could do what we have done and could stay together as we have stayed together, would have the patience to endure the inevitable progress that the tanks and the pre-positioned troops would make and the patience to deal with the bad weather and the patience to deal with all the questions to stay the course. But when American B-52's like the ones here at Barksdale take to the skies, they're joined by British Harrier jets, German and Italian Tornadoes, French Mirages, Canadian and Spanish F-18's, Dutch, Danish, Belgian, Norwegian, Portuguese, and Turkish F- 16's. We are united in this effort.
And we are united in our humanitarian effort. And I say to all of you: I am very proud of you. I hope you are proud of your mission. This is America at its best. We seek no territorial gain; we seek no political advantage. We have promised, if we are a part of a multinational force in Kosovo, we will protect the Serb minority with exactly the same vigilance as we stand up for the Kosovar Albanian majority. This is America trying to get the world to live on human terms, so we can have peace and freedom in Europe, and our people will not be called to fight a wider war for someone else's madness. Thank you. Thank you. Thank you. [Applause]
I also want to thank the American people for their work in the humanitarian relief effort, and I thank our forces for their support. Thousands and thousands of Americans have called the number I announced a week ago, the 1- 800-USAID-RELIEF. It's hard to believe; it's an 11-digit 1-800 number, but it works.
A pastor friend of mine called me the other day to say, just spontaneously, his church had taken up a donation for the relief in Kosovo and had collected $15,000 last Sunday. This kind of thing is happening all over America, and I am very grateful for that.
As I said, our Government is doing its part there. And when I introduced Mr. Witt, I said that we are trying to do our part in helping Louisiana deal with its disaster, as well, expanding aid and individual assistance for families in affected parishes. It's ironic but I think it's appropriate that under the leadership of Mr. Witt, our Federal Emergency Management Agency is playing a vital role in both the Kosovo relief efforts and the work here in Louisiana today.
Let me say one final word: Mr. Milosevic can end this tragedy tomorrow. What has to be done is clear: Withdraw the forces, as he himself promised to do last October; have the refugees come home freely and in security; establish an international force to protect all the people of Kosovo, of whatever ethnic or religious group; and let the people begin to work toward the self-government that they were promised and then robbed of years ago.
This is not complicated. The United States seeks no territorial advantage. I will say again: Europe seeks only stability, security, freedom, and democracy for those people. He can end it tomorrow. But until he does, he should be under no illusions that we will end it from weariness. We are determined to continue on this mission. And we will prevail because of you and people like you.
The last thing I want to say is something you know very well here at Barksdale. You are the proud heirs of a great tradition, a tradition of serving the United States and a tradition, as I said at the beginning of my remarks, of doing it in cooperation with freedom-loving allies from other nations. You are doing it again. Make no mistake about it. You are doing two things: You are trying to save the lives of innocent people, and you are trying to do it in a way that creates a 21st century world that you can be proud to have your children live in.
Thank you, and God bless America.
NOTE: The President spoke at 9:55 a.m., in an outdoor area at Hogan Hall. In his remarks, he referred to Lt. Gen. Ronald C. Marcotte, USAF, Commander, 8th Air Force; Brig. Gen. Andrew W. Smoak, USAF, Commander, 2d Bomb Wing; Maj. Gen. Bennett C. Landreneau, USA, adjutant general, Louisiana National Guard; Gov. Mike Foster of Louisiana; President Slobodan Milosevic of the Federal Republic of Yugoslavia (Serbia and Montenegro); and Rev. J. Philip Wogaman, senior minister, Foundry United Methodist Church. The Executive order of April 13 on designation of the Federal Republic of Yugoslavia (Serbia/Montenegro) and Albania as a combat zone is listed in Appendix D at the end of this volume.
William J. Clinton, Remarks to the Community at Barksdale Air Force Base in Bossier City, Louisiana Online by Gerhard Peters and John T. Woolley, The American Presidency Project https://www.presidency.ucsb.edu/node/228982