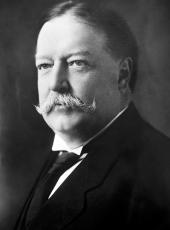 Remarks to the Committee of the Lakes-to-the-Gulf Deep Waterways Association
Governor Deneen, other Governors, and Gentlemen of the Deep Waterways Association:
I am glad to renew our old and our delightful association.
The presence of gubernatorial timber on that trip sweetens every recollection of the trip. It will be, I doubt not, an epoch in the history of this country in fixing, more than any other one event, the attention of the country upon the necessity for action in respect to our inland waterways, the most important of which every one admits, of course, is the Mississippi River.
How these details are to be worked out is a question that must be solved in the near future. I am sure that this coming Congress will take steps; I say I am sure—I mean I have received assurances from those gentlemen connected with the committees that have to do with legislation of that sort—that this whole matter will receive earnest consideration, and that steps will be made of an important character toward the development of a system of improvement in the heart of the country. That this may not meet the views of the most aspiring of those who are interested will probably be the case. With deference to Senator Warner and other members of that body called Congress, it never does quite meet the aspirations of everybody, but that "something is doing," if I may use a colloquial expression; that the interest of those who heretofore have turned a cold shoulder to the entire subject has been aroused, no one at all familiar with the atmosphere of Washington can deny. And I hope that we are all engaged in a work in which we stand shoulder to shoulder without respect to a particular locality, and that if you gentlemen who are interested in a particular improvement find that your view may not be entirely met and that your particular project may not be the first one taken up in a substantial way, it will not prevent your welcoming a step by the Congress of the United States which when taken means the embracing of every improvement that ought to commend itself to those who are familiar with Congress.
And, now, Governor Deneen, I am glad to renew the association and acquaintance which, though it was not begun on the broad bosom of the Mississippi, certainly received an impetus so that we shall never forget the company that we met there under auspices which our hosts, the Business Men's Association of St. Louis, made so delightful.
APP Note: The president spoke at the White House.
William Howard Taft, Remarks to the Committee of the Lakes-to-the-Gulf Deep Waterways Association Online by Gerhard Peters and John T. Woolley, The American Presidency Project https://www.presidency.ucsb.edu/node/365201