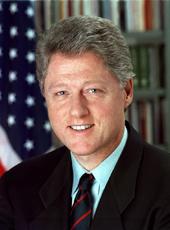 Remarks to the Committee for American Leadership in Bosnia and an Exchange With Reporters
The President. I want to welcome this distinguished group of Americans to the White House. Each of you has worked very hard throughout your career to preserve and to project America's leadership around the world. Today you have joined across partisan lines to make a strong case for America's leadership in Bosnia, and I thank you for that.
I welcome the support that you and others, including Presidents Bush and Ford, have shown for our troops and our efforts to secure a peace in Bosnia. All of you represent a spirit that has helped to keep our country strong. Regardless of party or political differences, you've stood up for America's leadership on behalf of our interests and our values.
Many of you have been working for peace in Bosnia since that terrible war began. Now that the Balkan leaders have made a commitment to peace, you know that we must help that peace take hold. You understand the importance of our action and the costs of our failure to act, something, I might add, that has been under-discussed in the public arena in the last few weeks. Our conscience demands that we seize this chance to end the suffering, but our national security interests are deeply engaged as well.
Europe's security is still inextricably tied to America's. We need a strong Europe as a strong partner on the problems from terrorism to the spread of weapons of mass destruction. Europe's stability is threatened as long as this war burns at its center. We have to stand with the Europeans on Bosnia if we're going to stand with them and if we expect them to stand with us, on the whole range of other issues we clearly are going to face together in the years ahead.
Our engagement in Bosnia is also essential for the continued viability of NATO. All the parties, all the parties there, asked for NATO's help in securing this peace. If we're going to be NATO's leader, we have to be part of this mission. If we turn our backs on Bosnia now, our allies will do the same. The peace will fail; the conflict could spread; the slaughter will certainly resume. NATO would be shaken at its core. Its ability to shape a stable, undivided Europe would be thrown into doubt, and our leadership in Europe and around the world would pay a terrible, terrible price.
For 50 years, the bipartisan consensus for our leadership in the world has been a source of America's progress and strength. At the dawn of the post-cold-war era, that consensus is being questioned. But I believe that vision and unity are still called for.
During my recent trip to Europe, everywhere I went and every person with whom I talked, from people on the street to Prime Ministers, said the very same thing: American leadership matters; American leadership is welcome; American leadership is necessary. But leadership is not a spectator sport. In Bosnia, our leadership can make a difference between peace and war. It demands our participation.
I have to tell you that I knew how the European leaders felt, and I thought I knew how the people in the street felt. But the personal expression of support for America's willingness to help broker this peace agreement in Dayton and then to help participate in the peace mission in Bosnia was more intense, more persistent, and more urgent than I had imagined, from the Prime Minister of Great Britain to the Prime Minister of Germany to the Prime Minister of Spain to the Prime Minister of Ireland, everyone else I talked to. This is a very, very, very important thing in terms of our relationships with Europe and what we expect in terms of a partnership with Europe in the years ahead.
Let me say to those of you who come here from both parties, I understand that bipartisanship in foreign policy has never meant agreement on every detail of every policy. And while we may differ from time to time on the specifics of our policies, we still must agree and we have never fundamentally disagreed on our purpose: to defend our interests, to preserve peace, to protect human rights, to promote prosperity around the world.
That does not mean that we can solve every problem. We cannot be the world's policeman. But when our leadership can make a difference between war and peace and when our interests are engaged, we have a duty to act. We have seen the dividends of that from the Persian Gulf to the Middle East, from North Korea to Northern Ireland to Haiti. American leadership can also produce those dividends and more in Bosnia, because we can make a difference there.
I'm convinced that this mission is clear; it's achievable. Our troops will have strong rules of engagement. They will operate under an American general. They will be fully trained and heavily armed. Our commanders have done all they can to minimize the risks and to maximize their ability to carry out a clearly defined mission with a clear end point. There will be no mission creep.
The peace agreement has given these parties a real opportunity to have a peaceful future.
But they can't do it alone, and they're looking to us to help.
America is seen by all of them as an honest broker and a fair player. Each of you has played a role in creating that image, and I want to thank you for that as much as anything else. The thing that has constantly impressed me as I have dealt with people all around the world is that people believe we are a nation with no bad motives for them or their future.
That is what has made this moment possible in Bosnia; that is what has also imposed upon us our responsibilities at this moment. For all that you have done to bring that about and for your support today, I thank you very, very much.
Thank you.
Q. Do you think you can bring the House along with you, Mr. President?
The President. Well, one thing at a time. I think we're better off today than we were yesterday. We're working on it day-by-day. I'm encouraged. I had a good visit with the Speaker about it yesterday, and I talked with several Members who were here last night at the annual congressional ball. And we're working at it.
Thank you.
NOTE: The President spoke at 10 a.m. in the Cabinet Room at the White House.
William J. Clinton, Remarks to the Committee for American Leadership in Bosnia and an Exchange With Reporters Online by Gerhard Peters and John T. Woolley, The American Presidency Project https://www.presidency.ucsb.edu/node/221120