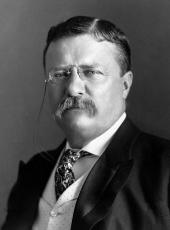 Remarks at the Columbia Club in Indianapolis, Indiana
My fellow Americans, men and women of this beautiful city; of this beautiful State:
I am glad to have the chance of witnessing so noteworthy a sight as this sea of people that has as a background the majestic and beautiful monument which you have reared to the sons of Indiana who did well for the Republic in the past. I have come through your State this morning, seeing on every hand the proofs of the marvelous and abounding prosperity which we now as a people enjoy.
It is a great thing for the State, for the nation, to have such material well-being. That, of course, is the foundation upon which we must build. But it is an even greater thing when the people of a great State erect a monument such as this to those of her sons whom the people must delight to honor. Material well-being counts for much, for very much, but the lift of lofty deeds counts for even more, and with the citizens of this great Republic, when we come together on an occasion like this, we come as preachers and exponents of the gospel of hope, not the gospel of despair.
The men who have done mightily for the nation in the past have been the men who believed with all their hearts and souls in the nation and in the nation's destiny. The men who won eternal honor in the Civil War were the men who said the Union must be preserved, and then made their words good by their deeds. We have our faces set toward the future. Our sympathy is not with men who fear for success.
This nation is to play a great part in the world, and it moves into the arena where the nations strive for the great opportunity of shaping the destinies of mankind. We feel our veins fill with the evident faith that our children and our children's children will be given days to face dangers and glories; not to shirk them, to do our duty at home and abroad. To dare to be great and make our nation what it shall be, the greatest upon which the sun ever shone. I thank you.
Theodore Roosevelt, Remarks at the Columbia Club in Indianapolis, Indiana Online by Gerhard Peters and John T. Woolley, The American Presidency Project https://www.presidency.ucsb.edu/node/343523