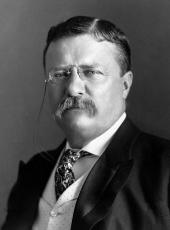 Remarks to the Colored Citizens of Memphis, Tennessee
Mr. Chairman, General Wright, and you, my fellow citizens:
I am indeed glad to have been here to witness and to share in your greeting to General Wright. I can well understand how inevitable it was that he should succeed in the post of high responsibility he has occupied outside of our country, when he has had the character that has entitled him to the profound respect and regard of all his fellow citizens.
General Wright has succeeded in the Philippines by displaying just those qualities which each one of us must in a lesser degree display, if we are to be good citizens here at home. There is nothing peculiar in government. Good government consists in applying the old humdrum everyday, commonplace virtues which all of us learn, but which all of us do not practice. If a man is fearless, is honest, has consideration for others and is gifted with the crowning grace of common sense, he is going to do fairly well.
We, all of us, tend to rise or fall together. If any set of us goes down the whole nation sags a little. If any of us raise ourselves a little, then by just so much the nation, as a whole, is raised. Every man who does markedly good work in one sphere of government by just so much helps all of us and elevates all of us. It is a great thing when we can point to any American who has rendered signal service in any position. It makes all of us a little better Americans, makes us feel spurred on to do a little better work as citizens, each in his own sphere of activity.
General Wright stands for duty well done in the Philippines. He stands for the qualities of firmness, of strength, of fair dealing with all, fair play for each, according to his capacity and character, which we must apply at home just as much. All of us should remember that the qualities which we are anxious to have the other fellow apply we must apply ourselves.
For that reason we owe to General Wright a double debt of gratitude as Americans, as men and women interested in the honor of our common country. We owe him a debt of gratitude for the way in which he has administered the greatest of the country's dependencies, which came to it as a result of the Spanish war. And, furthermore, as American citizens, we owe him a debt of gratitude for having practiced in a high position those qualities of good citizenship which each of us must practice in our several degrees, if we are to make and to keep this nation what it shall be made among the nations of the earth.
Theodore Roosevelt, Remarks to the Colored Citizens of Memphis, Tennessee Online by Gerhard Peters and John T. Woolley, The American Presidency Project https://www.presidency.ucsb.edu/node/343539