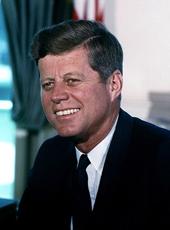 Remarks at the City Hall in Cork.
Mr. Mayor, members of the City Council, Mr. Aiken, ladies and gentlemen:
I am honored by this generous gift and also once again am reminded that the Irish have not lost their ability to speak. That was a beautiful welcome.
I would like to ask how many people here have relatives in the United States. Perhaps they could hold up their hands, if they do.
Well, I want to tell you they are doing well.
I would like to introduce two or three Irishmen who came with me. One is the appointment Secretary--the greeter at the White House, Dave Powers who has, I think, seven first cousins here and they are sitting in the front row. Perhaps he would stand up and all of his cousins. He looks 'more Irish than they do. Do you want to stand up and turn around so they can see you, Dave?
And then I would like to introduce to you the pastor at the church which I go to, who comes from Cork--Monsignor O'Mahoney. He is the 'pastor of a poor, humble flock in Palm Beach, Florida!
And then I would like to have you meet-I don't think he comes from Cork--his family--but, nevertheless, he is our Legislative Assistant at the White House who came over with us--Larry O'Brien. Perhaps he could stand up. That is his cousin from Cork who is sitting next to him.
Also, a Congressman who represents about 85 Members of the House of Representatives, who are Irish--Congressman Boland from Massachusetts who came with us.
I don't want to give the impression that every member of this administration in Washington is Irish--it just seems that way. In any case, we are delighted to be here. Coming in, I met four rather angry Fitzgeralds. They said they are tired of hearing about the Kennedys in New Ross--and what about the Fitzgeralds? I said that was because my grandfather, who was Mayor of Boston, John F. Fitzgerald, used to tell everybody he was from Limerick, Donegal, Donnybrook, anywhere!
I want to have another Irishman, Jim Rowley--come out here, Jim. He is head of the United States Secret Service. Those members of the Secret Service who aren't Irish are embarrassed about it, but we will make them honorary Free Men today, too, Mr. Mayor, if that is all right with you.
I want to bring you greetings today from the people of Galway, N.Y.; Dublin, N.H.; the people of Killarney, W. Va.; Kilkenny, Minn.; the people of Limerick, Maine, and the people of Shamrock, Tex.
Most countries send out oil or iron, steel or gold or some other crop, but Ireland has had only one export and that is its people. They have gone all over the United States, and the United States has been generous to them. And I think it not unfair to say that they have been generous themselves and with their sons and daughters to the United States.
What pleases me most about coming here is not only this connection which all of us in America feel with Ireland, even though time and generations may have separated us from this island, but also because I find here in Ireland those qualities which I associate with the best not only of my own country but of all that we are trying to do and all that we are trying to be.
The world is a small place today and it is, it seems to me, important that we recognize the kinship which exists between all free people.
We are in a most climatic period, in the most difficult and dangerous struggle in the history of the world, with the most difficult and dangerous weapons which have ever been devised which could annihilate the human race in a few hours.
So I think it is important that those of us who happen to be of Irish descent who come to Ireland recognize an even stronger bond which exists between Ireland and the United States, between Europe and the United States, between Latin America and the United States, between the people of Africa, the people of Asia, between all people who wish to be free. That is the most important association, the most important kinship. And I come to this island which has been identified with that effort for a thousand years, which was the first country in the 20th century to lead what is the most powerful tide of the 20th century--the desire for national independence, the desire to be free. And I come here in 1963 and find that strong tide still beats, still runs. And I drive from where we arrived to here and am greeted by an honor guard on the way down, nearly half of whom wear the Blue Ribbon which indicates service in the Congo. So Ireland is still old Ireland, but it has found a new mission in the 1960's, and that is to lead the free world to join with other countries of the free world to do in the sixties what Ireland did in the early part of this century and, indeed, has done for the last 800 years--and that is associate intimately with independence and freedom.
So I must say, Mr. Mayor, that when I am retired from public life that I will take the greatest pride and satisfaction in not only having been President of my own country but a Free Man of this city.

Thank you.
Note: The President spoke at 10:15 a.m. In his opening words he referred to Sean Casey, Lord Mayor of Cork, and Frank Aiken, Minister of External Affairs.
John F. Kennedy, Remarks at the City Hall in Cork. Online by Gerhard Peters and John T. Woolley, The American Presidency Project https://www.presidency.ucsb.edu/node/236966