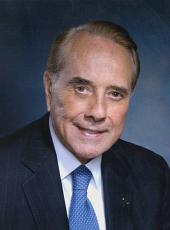 Remarks at the Christian Coalition's "Road to Victory in '96" Conference in Washington, DC
CROWD: Go, Bob Dole! Go, Bob Dole! Go, Bob Dole! Go, Bob Dole!
DOLE: We're going to go.
Thank you. I appreciate it. Thank you very much. Thank you.
[applause]
It's great. Thank you.
I was just driving by and saw all the cars...
[laughter]
... and just happened to be in the neighborhood. I think there are more people here than there are in my hometown of Russell, Kansas.
[laughter]
About what — Pat tells me there are 4,800 people here. I want to welcome you to Bill Clinton's retirement party. This is one of them.
[applause]
I've had the — thank you.
I've had the privilege of speaking here many times before, and my obligation in a moment will be to introduce another friend of yours. I'm sorry Elizabeth cannot be here today, but I wanted to — you know, she does a great job.
She is so talented, Eleanor Roosevelt's trying to reach her. That's how talented she is.
[applause]
As I said, we've spoken here many times, and we've been inspired by what we see in the spirit of hope and fellowship and deep commitment to the future of this country. And that's really what this election is all about.
And as Jack and Joanne and Elizabeth and I travel the country, I can't tell you how much your support and encouragement and prayers mean to all of us. We understand your commitment. We understand your strength. We understand your potential.
And I would ask you for your full and complete support every day — every day between now and November 5, 1996, when we will have a new president-elect of the United States of America.
[applause]
And we certainly need — we certainly need strength beyond our own. And it is a strength that has carried probably all of us and myself through many of life's challenges. It's a strength that Elizabeth reminds me daily is best expressed in Proverbs 3, verses 5 and 6.
"Trust in the Lord with all thine heart and lean not on thy own understanding. In all thy ways acknowledge Him, and He shall direct they path."
[applause]
DOLE: And that's the way we're going.
[applause]
So, we're very excited about the election. I'm very excited about my running mate. Don't you think I made a good choice in Jack Kemp?
[applause]
DOLE: And I'm not going to make — Jack's going to make a great speech. I'm not going to make his speech for him. But I did want to touch on just two or three things that I know you have a particular interest in and that I have a particular interest in.
As I have said many times, this election is not about personalities. I consider President Clinton to my opponent, not my enemy. I have a pretty good personal relationship with President Clinton.
And I understand some of things that he is for. I know he is flexible, adaptable...
[laughter]
... and if we have a good idea, he doesn't mind taking it from us.
[laughter]
[applause]
And of the Christian Coalition spirit, we're happy that he takes the good things. In fact, I have a big sign made up that just says "me too" and I put it over there on my left of course and...
[laughter]
... and every time he takes another idea, we hold up our sign "me too."
[laughter]
And it just occurred to me after all these things, we have a big long list of all the things that he's adopted from the Contract With America.
And he was out in Denver, Colorado two or three days ago and said I think we ought to test criminals and parolees for drugs. I'd said that about four months earlier in Aurora, Colorado and apparently he picked up the Aurora paper on the way out. But in any event...
[laughter]
... we appreciate that he can recognize a good idea. But I want to say a word or two about things he has failed to recognize so far, and where Jack and I differ.
Just a word about the economy. I am convinced that we can cut taxes and balance the budget at the same time and we're going to do it in a Dole-Kemp administration.
[applause]
And we're going to give that 15 percent across the board tax cut to every taxpayer in America, and former President Clinton will be eligible next year for it.
[laughter]
We hope to pass it by April 15, 1997. We're going to take that $500 tax credit that you've supported strenuously, strongly, correctly. It's going to be part of our package. Every child under 18, a $500 tax credit. Except we've added one new wrinkle — if you have new born child after it takes affect, you can keep putting that $500 in the bank every year and earning interest, tax free.
DOLE: And then when you're old enough for college, you're going to have 17, 18, 20 thousand dollars, which will pay about any tuition in America. And we're going to tell the families who work hard and have a small business or a small farm or a small ranch, if you work every day, your family works with you every day, you shouldn't have to sell off part of the property to pay the estate taxes. We're going to start giving estate tax relief for the American people.
[applause]
And for those who want to create jobs and more opportunities for more people, we're going to cut the capital gains right in half. We're going to cut it in half.
[applause]
And that's only phase one. That's only phase one. Phase two, we'll have a flatter, fairer, simpler tax, and we'll end the IRS as we know it. Make no mistake about it.
[applause]
Drugs. I remember when Nancy Reagan used to talk about drugs and used to tell parents and children and all those who would listen, you know the slogan, "Just say no." A lot of people ridiculed it. The liberal media ridiculed it. Liberals generally ridiculed it. Do you know what happened? Drug use went down, and it went down and down and down in the Reagan and Bush years.
And now it's doubled in the first 44 months of the Clinton administration. And on day one, when Bob Dole and Jack Kemp take office, we're going to declare war on drugs and we're going to win the war on drugs this time. We're going to cut it by 50 percent.
[applause]
And if necessary, we'll work with the governors to use the National Guard to stop this junk from coming across our borders in the first place, to stop the poison from coming across in the first place.
[applause]
If we're going to get a handle on crime, teen pregnancy, drugs, all these things that threaten young people, we'd better take a look at education. We'd better break this hammer lock the unions and the bureaucrats have on education and give the schools...
[applause]
... and give the schools — We're going to give the schools back to the teachers and back to the parents. That's where they ought to be, back to the teachers and back to the parents.
[applause]
And we're going to have a 5-year, 15-state, $15 billion demonstration program called opportunity scholarships. And it's going to be directed not toward rich parents or parents of power and prestige, but low-income parents and low middle-income parents so they can have the same choice of school for their child or children as President Clinton has, or Vice President Gore has or anybody else has.
DOLE: And I don't fault them for making that choice, but every American ought to have that choice for a better education.
[applause]
Many of us, myself included, probably stand here today because after our service in the armed forces we had an education called the GI Bill of Rights. And they didn't tell us where to go to school, they gave us the money and we decided where to go to school. We could go to public school or private school or religious school, whatever. And it ought to be that way with opportunity scholarships. I'm a product of public schools, I'm not trying to threaten public schools. I want competition, I want choice and that all the schools are going to be better.
[applause]
And I can tell you a lot of public school teachers feel the same way, they feel the same way. And finally, let me say because I don't want to keep Jack waiting, he's on the five yard line now and it's fourth down.
[laughter]
We're on their five yard line not ours, their five yard line.
When I get the partial birth abortion bill, I'll sign it, I won't veto it, I'll sign it.
[applause]
Make no mistake about it.
[applause]
And I still believe if you continue to work, you may yet persuade enough senators so we can override this terrible veto. This was a mistake in veto...
[applause]
... and so I would thank you again for coming to Washington. I know some don't appreciate you, but we do.
You do a great job for America, for America, that's what it's about, it's about America, not about Democrats, Republicans, independents — about America.
[applause]
And I've never been involved in a more negative campaign. If you watch the TV ads — and we can't avoid them because they've got millions and millions of dollars that they've been spending millions and millions of dollars for the last several months — you would think Jack Kemp and Bob Dole are a couple of monsters against everything. We're against Medicare, we're against social security, we're against Medicaid, we're against veterans benefits, we're against children, we're for dirty air, dirty water, dirty meat.
[laughter]
We'd have a hard time finding a crowd.
[laughter]
Except, the American people don't scare that easily.
[applause]
Don't scare that easily.
[applause]
There are two words to keep in mind the next 51 days: trust and fear. You can trust us, and they're going to try to frighten you with fear. That's the only campaign weapon. They don't have an agenda, they don't have an idea. They're going to try to frighten people, frighten senior citizens, frighten vulnerable groups, frighten farmers, veterans, whoever. I don't believe it will work.
With your help, I know it will not work. So we ask again for your support.
And let me now introduce a man that I've known for a long time. And somebody said, well Bob Dole will never pick Jack Kemp because several years ago they disagreed on something.
[laughter]
I couldn't remember what it was, so I picked him anyway.
[laughter]
[applause]
Jack Kemp has an outstanding record. A pro-family record, as you know, an outstanding record. A pro-growth record. Grow the economy, create more jobs and more opportunities. I keep kidding Jack. I say, Jack, you need a little more enthusiasm. He's got more enthusiasm than anybody I've ever known. And he's doing a great job in this campaign.
Dole, Kemp — two four-letter words you can teach your kids. D-O-L-E. K-E-M-P.
[applause]
Let me introduce the next vice president of the United States, Jack Kemp.
Robert Dole, Remarks at the Christian Coalition's "Road to Victory in '96" Conference in Washington, DC Online by Gerhard Peters and John T. Woolley, The American Presidency Project https://www.presidency.ucsb.edu/node/285538