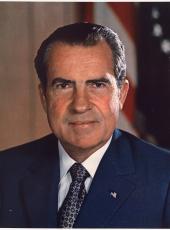 Remarks in the Chamber of the United States Senate
Mr. President, and my colleagues in the Senate:
I can use that term because I shared the opportunity of serving in this body, and I always feel that I belong here whenever I have the chance to return.
I do want to say on this occasion that this is only the second opportunity I have had to speak in this Chamber since I presided over this body; as you know, the presiding officer has very little chance to speak. He makes a few rulings but not often does he speak.
In speaking to you, I shall do so only briefly, but I do feel that at this time, with the calendar year nearing an end, it would be well to refer to the relations between the executive and the legislative branches of our Government.
When this administration came into office on January 20, we had a problem with regard to those relationships, which had not existed for nearly a hundred years, after an election--the President a member of one party, and both Houses controlled by members of the other party.
Of course, the usual dire predictions were made that, under the situation, progress would grind to a halt, and that whether it was domestic or foreign policy, we would not be able to give the Nation the kind of government that the Nation should be entitled to under our system.
I think the predictions have proved to be wrong. I do not mean to suggest, as I indicated in, I thought, a temperate message to Congress a few weeks ago, that there are not some areas where the executive would appreciate more action on the part of the legislative branch of the Government. But I do say this: I look back over these months with great appreciation for the fact that on some of the great national issues and on the great international issues involving the security of the Nation, we not only have had consultation, but we have had support.
I also want to recognize a fact of life-a fact of life that I learned when I was in the Senate and when I presided over it: Senators, more so than Members of the House of Representatives, are individuals. Senators have a great pride, and rightly so, in their right to make up their own minds with regard to the propositions that are sent to them by the executive branch of the Government. This is true whether they are members of the President's party or not members of the President's party.
I find, looking back over this period of time, that this administration has been subjected to some sharp criticism by some Members of this body, both from the Democratic side and from the Republican side. I want the Members of this body to know that I understand it. I recognize this as being one of the strengths of our system, rather than one of its weaknesses; and I know that, in the end, out of this kind of criticism and debate will come better policies and stronger policies than would have been the case had we simply had an abject Senate--or House of Representatives, for that matter--simply approving whatever ideas came from the executive branch of the Government.
This does not mean that we do not feel very strongly about our proposals when we send them here. It does mean that I, as a I former Member of this body, one who served in it and who presided over it for 8 years, recognize this great tradition of independence, and recognize it as one of the great strengths of our Republic.
I would address a very brief remark to a subject that I had an opportunity to discuss with the majority leader this morning at breakfast, and then with members of the leadership at lunch today.
In the next few months, a number of matters will be undertaken on the world scene, some of which will require not only Senate consultations, but also, if there is agreement among world powers, including ourselves, Senate advice and consent.
This administration wants to develop a relationship in which we will have that consultation, and in which we will have the advice, not just the consent. This is not always easy, because when such negotiations take place--negotiations involving, as is the case in the strategic arms limitation talks which will begin next week, the Very future, not only of this Nation, but of all of the nations in the world who depend on America's power for their own security--we must recognize that it is vitally important that the position of our negotiators not be weakened or compromised by discussions that might publicly take place here, discussions that could weaken or compromise us with those representing the other side.
On the other hand, recognizing the role of the Senate, recognizing the importance of getting the best ideas and the best thinking of the Members of this body on both sides of the aisle on these great matters, we are attempting to set up a process--a process in which we can consult, in which we can get your advice, and, at the same time, not weaken the position of our negotiators as they attempt to meet the goals of this Nation--the goal of limiting arms and the goal of a just and lasting peace.
Finally, on one other point: I am very grateful for the fact that a number of Members of the Senate--more than 60-have indicated by a letter to Ambassador Lodge1 their support of a just peace in Vietnam and their support of some of the proposals I made in my speech of November 3 on that subject.
I am grateful for that support; and at the same time, while being grateful for the support of more than half the Members of this body, I also have respect for those who may have disagreed with the program for peace that I outlined.
I know that this war is the most difficult and most controversial of any war in the Nation's history. But I know that while we have our differences about what is the best way to peace, there are no differences with respect to our goal. I think Americans want a just peace; they want a lasting peace. It is to that goal that this administration is dedicated and that I am dedicated.
I may say this in conclusion: that in the next few months we hope that progress-we know that progress--will be made toward that goal. I am sure, as I stand here, that we are going to reach the goal of a just and lasting peace in Vietnam, one that will, I trust, promote rather than discourage the cause of peace not only in Vietnam but in the Pacific and in the whole world.
As that happens, I want everyone in this great Chamber to know that when it happens it will not be simply because of what a President of the United States may have been able to do in terms of leadership; it will happen, and it will only have happened because the Members of this body and the Members of the House of Representatives, in the great tradition of the Nation, when the security of America is involved, when the security of our young men is involved, and when peace is involved, have acted and have spoken not as Democrats or Republicans but as Americans.
It is in that spirit that I address you today. It is in that spirit that I ask, not for your 100 percent support, which would not be a healthy thing for me personally, for this country, and certainly not for this body, but I ask for your understanding and support when you think we are right and for your constructive criticism when you think we are wrong.
I thank you very much.
Note: The President spoke at 2:37 p.m. in the Senate Chamber at the Capitol.
1 The text of the letter is printed in the Weekly Complilation of Presidential Documents (vol. 5, P. 1590).
Richard Nixon, Remarks in the Chamber of the United States Senate Online by Gerhard Peters and John T. Woolley, The American Presidency Project https://www.presidency.ucsb.edu/node/240096