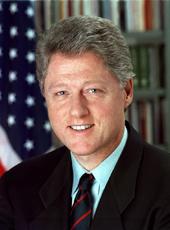 Remarks at the Central American Summit Dinner in San Jose
President Reina, President and Mrs. Figueres, to my colleagues and friends at this table, and to all of you at this wonderful dinner: The day has been long and the hour is late, and most of what needs to be said has been said. I would like to begin briefly by simply thanking President and Mrs. Figueres and all the people of Costa Rica for their wonderful reception, including the magnificent music we heard this evening. Thank you very much, Mr. President.
I think you could tell by the remarks of President Reina and President Figueres that there was a wonderful spirit in our meeting today, a real desire to meet each other on terms of equality and respect, an understanding that we should seize the future together. And it left us all feeling larger and better than we came. I believe in Costa Rica you say that is pura vida. [Laughter]
As we rejoice tonight in the new hope and opportunity that is sweeping across the Americas, it would be wrong of us not to also remember and applaud the brave struggles of countless Central Americans in forging the peace we now celebrate. Because of the price they paid, today we find former guerrillas and ex-officers sitting side by side in legislatures. Central America's jaguars are second only to Asia's tigers in their rates of growth. Our nations are working together no longer to strip and exploit the land but instead to use our resources wisely, with future generations in mind.
Tonight I would like to especially salute President Arzu for all he has done to end four decades of conflict in Guatemala.
We are among the 34 democracies that committed in Miami 3 years ago to build a free trade area of the Americas by the year 2005. Today we issued the San Jose Declaration in that same spirit. Both are based on a fundamental conviction that we cannot build the future we seek unless we build it together.
I also want all of you to know that we resolve to actually work together to make these words real. We have had specific discussions about what we do next to expand trade, what we do next to improve education, what we do next to advance the environmental agenda. And just before I left the hotel to come here tonight, when Hillary and I were talking about the evening and the day, I received a call from General McCaffrey, who heads our efforts against illegal narcotics. He was full of excitement because he had been meeting with all of his counterparts from the countries here represented. He said, "Mr. President, this is the best meeting I ever had. These people really care about their children getting involved with drugs. They really want to defeat this. They're going to help us. We're going to work together. I feel better about this than I did the first day I took office." That is the spirit we intend to bring to every one of our endeavors.
Perhaps most important, we leave here with deeper ties as friends and partners. President Franklin Roosevelt said this 60 years ago in a speech to the Pan American Union; it's still true today: "Your Americanism and mine must be a structure built of confidence, cemented by a sympathy which recognizes only equality and fraternity." My fellow citizens of the Americas, we stand on the edge of a bright new century. Let us bring that spirit to its work, and let us live with a dream that is worthy of our children.
I ask you now to join me in a toast of salute and gratitude to President and Mrs. Figueres for bringing us together here in Costa Rica.
NOTE: The President spoke at 10:15 p.m. in the Hotel Herradura. In his remarks, he referred to President Carlos Roberto Reina of Honduras; President Jose Maria Figueres of Costa Rica and his wife, Josette Altmann de Figueres; and President Alvaro Arzu of Guatemala. A tape was not available for verification of the content of these remarks.
William J. Clinton, Remarks at the Central American Summit Dinner in San Jose Online by Gerhard Peters and John T. Woolley, The American Presidency Project https://www.presidency.ucsb.edu/node/289074