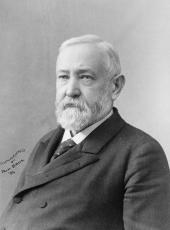 Remarks on the Centennial of Washington's Inauguration at the New York Subtreasury
Mr. Chairman, My Countrymen:
Official duty of a very exacting character has made it quite impossible that I should deliver an address on this occasion. Foreseeing this, I early notified your committee that the programme must not contain any address by me. The selection of Mr. Depew as the orator of this occasion makes further speech not only difficult, but superfluous. He has met the demand of this great occasion on its own high level. He has brought before us the incidents and the lessons of the first inauguration of Washington. We seem to have been a part of that admiring and almost adoring throng that filled these streets one hundred years ago.
We have come into the serious, but always inspiring, presence of Washington. He was the incarnation of duty, and he teaches us to-day this great lesson: That those who would associate their names with events that shall outlive a century can only do so by high consecration to duty. Self-seeking has no public observance or anniversary. The captain who gives to the sea his cargo of goods, that he may give safety and deliverance to his imperiled fellowmen, has fame; he who lands the cargo has only wages. Washington seemed to come to the discharge of the duties of his high office impressed with a great sense of his unfamiliarity with these new calls thrust upon him, modestly doubtful of his own ability, but trusting implicitly in the sustaining helpfulness and grace of that God who rules the world, presides in the councils of nations, and is able to supply every human defect. We have made marvelous progress in material things since then, but the stately and enduring shaft that we have erected at the national capital at Washington symbolizes the fact that he is still the First American Citizen.
Benjamin Harrison, Remarks on the Centennial of Washington's Inauguration at the New York Subtreasury Online by Gerhard Peters and John T. Woolley, The American Presidency Project https://www.presidency.ucsb.edu/node/276607