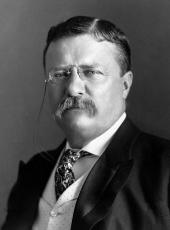 Remarks at the Centennial Meeting of the Board of Home Missions of the Presbyterian Church at Carnegie Hall in New York City
Mr. Chairman, and you, my friends—for if this meeting means anything, it means a commemoration of the embodied spirit of friendship and righteousness working through the Church through generations:
I am glad to have the chance of greeting you to-night. I belong to a closely allied Church—the Dutch Reformed. I want to tell you a curious incident which was mentioned to me by one of the two gentlemen who, on your behalf, met me this evening and brought me up here. Mr. Ogden mentioned to me that two hundred and sixty or seventy years ago, the first church of my denomination here in this city was put up under contract by his ancestors, who then dwelt in Connecticut. It is, I think, in a sense symbolical of how much the Church has counted in the life of our people that the descendants of those who worshiped in that church and of those who under contract put it up, should be meeting here this evening. I have another bond with you. There are not very many Dutch Reformed churches in this city; not quite as many as there should be; and during a considerable portion of my life I have had to go to a Presbyterian church, because there was not a Reformed church to attend. All of my early years I went to the Madison Square Presbyterian Church, which then had as its pastor Dr. Adams. Those of you who remember him will agree with me that he was one of the very few men concerning whom it was not inappropriate to use the adjective by which I shall describe him, for he was in very truth a saintly man.
It is a pleasure on behalf of the people of the United States to greet you and bid you welcome on this hundredth anniversary of the beginning of organized home missionary work by the Presbyterian Church. In one sense of course all earnest and fervent church work is a part of home missionary work. Every earnest and zealous believer, every man or woman who is a doer of the word and not a hearer only, is a lifelong missionary in his or her field of labor—a missionary by precept, and, by what counts a thousand fold more than precept, by practice. Every such believer exerts influence on those within reach, somewhat by word and infinitely more through the ceaseless, well-nigh unfelt pressure—all the stronger where its exercise is unconscious—the pressure of example, broad charity, and neighborly kindness.
But to-night we celebrate one hundred years of missionary work done not incidentally, but with set purpose; a hundred years of effort to spread abroad the Gospel and lay the moral foundation upon which all true national greatness must rest. The century that has closed has seen the conquest of this continent by our people. To conquer a continent is rough work. All really great work is rough in the doing, though it seems smooth enough to those who look back upon it, or to the contemporaries who overlook it from afar. We need display but scant patience with those who, sitting at ease in their own homes, delight to exercise a querulous and censorious spirit of judgment upon their brethren who, whatever their shortcomings, are doing strong men's work as they bring the light of civilization into the world's dark places. The criticism of those who live softly, remote from the strife, is of little value; but it would be difficult to overestimate the value of the missionary work of those who go out to share the hardship, and, while sharing it, not to talk, but to wage war against the myriad forms of brutality. It is such missionary work that prevents the pioneers from sinking perilously near the level of the savage race against which they war. Without it the conquest of this continent would have had little but an animal side. Without it the pioneers' fierce and rude virtues and somber faults would have remained unlit by the flame of pure and loving aspiration. Without it the life of this country would have been a life of inconceivably hard and barren materialism. Because of it, because of the spirit that lay under those missionaries' work, deep beneath and through the national character runs that power of firm adherence to a lofty ideal upon which the safety of the nation will ultimately depend.
Honor, thrice honor to those who for three generations, during the period of this people's great expansion, have seen that the force of the living truth expanded as the nation expanded! They bore the burden and heat of the day, they toiled obscurely and died unknown, that we might come into a glorious heritage. Let us prove the sincerity of our homage to their faith and their works by the way in which we manfully carry toward completion the work they so well began.
Friends, I made up my mind coming up here that I would speak to you of something that has taken place today and of something else that has taken place within the last ten days. First of the action of this nation which has culminated on this Tuesday, the twentieth of May, nineteen hundred and two, in starting a free Republic on its course. That represented four years' work. There were blunders and shortcomings in the work, of course; and there were men of little faith who could only see the blunders and shortcomings. But it represents work triumphantly done. And I think that we as citizens of this Republic have a right to feel proud that we kept our pledge to the letter, and that we have established a new international precedent. I do not remember (and I have thought a good deal about it, ladies and gentlemen) another case in modem times where, as a result of such a war, the victorious nation has contented itself with setting a new nation free and fitting it as well as could be done to start well in the difficult path of self-government. Mere anarchy and ruin would have fallen upon the island if we had contented ourselves with simple victory in the war and then had turned the island loose to shift for itself. For over three years the harder work of peace has supplemented the hard work of war; for over three years our representatives in the island (representatives largely of the army, remember—I sometimes hear the army attacked; gentlemen, I have even heard missionaries attacked. But it is well for us that when there comes a great work in peace or in war we have the army as an instrument for it), our representatives in Cuba have steadily worked to build up a school system, to see to sanitation, to preserve order and secure the chance for the starting of industries; to do everything in our power so that the new government might begin with the chances in its favor. And now as a nation we bid it Godspeed. We intend to see that it has all the aid we can give it, and I trust and believe that our people will, through their national legislature, see to it very shortly that Cuba has the advantage of entering into peculiarly close relations with us in our economic system.
That is the deed that was consummated today; now for the other.
Ten days or a fortnight ago an appalling calamity befell another portion of the West Indies; befell islands not in any way under our flag—islands owning allegiance to two European powers. But their need was great and our people met that need as speedily as possible. Congress at once appropriated a large sum of money and through private gifts great additions were made to that appropriation; and I found, as usual, the army and navy the instruments through which the work could be done. I wanted to get men whom I could call on instantly to drop whatever their work was and go down, with the certainty that neither pestilence nor the danger from volcanoes or anything else would make them swerve a half inch—men upon whose absolute integrity and capacity I could count, as well as on their courage. When I wanted these men and wanted them at once I turned to the army and the navy. I am sure that we all feel proud that ships bearing the American flag should have been the first to carry relief to those who had been stricken down by so appalling a disaster.
It seems to me that while there is much evil against which we need to war with all the strength there is in us, and while there are many tendencies in the complex forces about us which are fraught with peril to the future welfare of the Republic and of mankind, yet it is a fine thing to see at the opening of this century such omens of international brotherhood, of a future when the sense of duty to one's neighbor will extend beyond national lines. They are good omens for the future, these actions; that action which culminated today in establishing the free Republic of Cuba; that action which made our country the first to reach out a generous helping hand to those upon whom calamity had fallen, without regard to what the flag was to which they paid allegiance.
Theodore Roosevelt, Remarks at the Centennial Meeting of the Board of Home Missions of the Presbyterian Church at Carnegie Hall in New York City Online by Gerhard Peters and John T. Woolley, The American Presidency Project https://www.presidency.ucsb.edu/node/343546