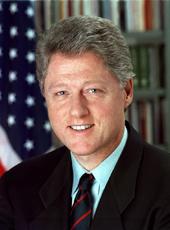 Remarks at the Celebration of Ireland Dinner
We are in the grip of the day, aren't we? [Laughter] Thank you so much. Prime Minister and Mrs. Reynolds and to all our guests tonight, a warm welcome. Ceade mile failte.
Tonight we sought to honor the Prime Minister, his wife, and his family, and his family of fellow Irish men and women, in a way inspired by the warm and convivial hospitality of the Irish themselves that they have brought to our shores now through the ages.
There was a grand party in this house a long time ago, in 1829, when the first Irish-American was inaugurated as President of the United States. Andrew Jackson was the only President in our Nation's history whose parents were both immigrants to America. They came from Carrickfergus, a little town near Belfast. And their son grew up to be a great Democrat and a man of the people. When "Old Hickory," as he was called then, opened this house to his people, so many came that the furniture was crushed in the excitement. That's probably why so many of you have to stand tonight. [Laughter] The crowd squeezed so closely around the new President in the Blue Room just down the hall that he had to escape by jumping out a window. Mr. Prime Minister, we will try to control ourselves better this evening. [Laughter] We promise that neither you nor I will be jumping out of any windows.
I wish I could recognize everyone here this evening of Irish descent. But perhaps I would do better to recognize everyone here who is not of Irish descent. [Laughter] I would like to say that the Administrator of the Environmental Protection Agency, Carol Browner, is here tonight with her father, who is from Limerick.
When people think of Irish strongholds in America, they think of Boston or Chicago or New York. But many people from all over America, including my home region, come from Ireland. According to the 1980 census, Taylorsville, Mississippi, has a higher percentage of Irish-Americans than Boston. Of course, the total—I know what you're thinking—the total population is 24, but it still makes a great story. [Laughter] Actually, that's not true; it's larger than that.
My own mother, as John Hume, a Member of Parliament from Derry, said today, was a Cassidy. And he assured me today that the Cassidys back in Ireland are a very nice family. I thank him for that courtesy, inasmuch as I seem to have relatives turning up all over the place from time to time. [Laughter] To the Irish who are here, relax, the Americans will explain it to you later.
Maybe I will jump out the window, Prime Minister. [Laughter]
This is the one day when we Americans remind ourselves that we are the sons and daughters of Ireland, both southerners and northerners, Catholic and Presbyterian, members of the Democratic and Republican Party, although we still have a few more Irish on our side.
When the Irish toast each other, they say, "Slainte!", which we Americans always took to mean health. But the White House did some research on this, and I am reliably informed that in Irish, "Slainte!" actually means health care for all. [Laughter]
You won't believe this, but one of my erudite and overeducated staff members prepared another set of notes for me tonight, all in Gaelic. And I said, "It looks like Hail Mary and the Lord's Prayer." And he said, "That's exactly what it is." [Laughter] So for a keepsake, I'm going to give the notes to the Prime Minister and say that if I could say but one prayer tonight, it would be for peace and reconciliation in Ireland.
This is truly an era of profound change in our world. The Middle East is courageously trying to take steps toward peace. And we are doing our part. South Africa is weeks away from its first nonracial election. Tomorrow, here in the White House, we will witness the signing of agreements between Bosnians and Croats that advance the hope for peace in that troubled region. Our Nation's long cooperation with Ireland has never been more important than today.
In recent months, Prime Minister Reynolds and Prime Minister Major have tried to bring an end to a generation of troubles in Northern Ireland. Both have acted with vision and great political courage in putting forward the historic joint declaration last December. And Mr. Prime Minister, you and Prime Minister Major deserve our admiration and our thanks. And your declaration deserves the support of all people of good faith everywhere.
It is difficult to know what to make of the latest attacks at Heathrow Airport. Like the violence in Hebron or in South Africa, they may be a simple reminder that reactionary forces will always attempt to kill the peace whenever the progress and the prospect of peace becomes a possibility. The United States condemns such acts, as it does all acts of terrorism. As Ireland searches for peace, I assure you that America remains steadfast in our support.
Our late Ambassador to your great country, William V. Shannon, whose wife, Elizabeth, is here tonight and who greeted us all, wrote a wonderful book called "The American Irish" in which he included a beautiful and touching note on the immigrants who came to America from the shamrock shores of Eire. "What did they seek?" he asked. The answer is the same for them as for all. They sought a door that would open and give them access to hope.
Mr. Prime Minister, America has always been a beacon of hope to others around the world. But it is your pursuit of peace that is Ireland's hope today. When you return home, I hope you will tell the people of Ireland that we treasure the contributions the Irish have made to our country and its culture. And in return we stand with you, as you seek a door that would open and give all of Ireland access to the hope of peace.
Thank you very much.
NOTE: The President spoke at 10:34 p.m. in the East Room at the White House.
William J. Clinton, Remarks at the Celebration of Ireland Dinner Online by Gerhard Peters and John T. Woolley, The American Presidency Project https://www.presidency.ucsb.edu/node/218262