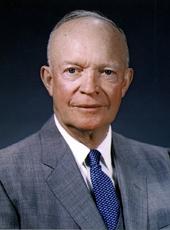 Remarks to the Cadets at the United States Air Force Academy, Colorado Springs, Colorado.
General Briggs, Colonel Adamson, and Cadets:
This is a privilege to which I have long looked forward. I had some connection with this Academy from its very beginning. I was on the Board, as a matter of fact, that decided there should be an Air Academy, and behind the scenes clandestinely and not saying anything about it, I was very anxious that the Academy be in this State that I love so much. So, to receive honorary membership in the Class of 1959 is an honor that I assure you I shall not forget. This is something that I had not thought of receiving, and for the thought that prompted it, I am truly appreciative.
And now, if you will permit an old soldier, I would like to say one or two words or express one or two thoughts--possibly you have heard them often, but it won't hurt to repeat them.
The two older Academies are rich in tradition and very proud of them. To you men has been given the opportunity to create tradition. Everything is, with you, a first. The first graduation of this Academy, this proud Academy, which through the years will be prouder, will be something you will be looking back on all your lives, and indeed those that come after you will remember, the incidents, the customs, that you will create. Even the minor aspects of that graduation--its procedures, its little incidents--its customs--throwing caps or turning somersaults on graduating--even such things will be traditional. And people, 50 years later, will be doing the same thing. There's a very fine thought about tradition because through it we keep things that are worthy; they give us inspiration in our hearts. They keep us, sometimes, from going off the deep end in faddism--as we remember that our own spiritual forebears did not do it quite that way.
So later classes will improve upon and enrich tradition, but the basic soul of what you establish now will live on.
One little thing in connection with this thought is this: a very great man, my classmate, was your first Superintendent, and I have just been told by General Briggs that one of the major buildings here is to bear his name. This building will long remind you of the high ideals that he exemplified, and the great service he rendered to this Academy, as well as to his country.
And so it is in that spirit that I wish to all of you the very best, the very best of luck through the years--good fortune. The one admonition I would give you for this: make sure you get enjoyment out of every day. Life should be a thing to enjoy. Make certain that your face doesn't grow longer as the day grows older. Go to bed with a smile and remember a very fine day. And with that custom, I am quite sure you will find a long, happy, and fruitful life, fruitful to yourself, to your country, and to humanity.
Thank you, and good luck to all of you.
Note: The President spoke in the Cadet Dining Hall at 12:30 p.m. His opening words referred to Maj. Gen. James E. Briggs, Superintendent of the U.S. Air Force Academy, and Colonel of Cadets Herbert A. Adamson. Later in his remarks the President referred to the late Lt. Gen. Hubert R. Harmon, Superintendent of the Academy until July 31, 1956.
Dwight D. Eisenhower, Remarks to the Cadets at the United States Air Force Academy, Colorado Springs, Colorado. Online by Gerhard Peters and John T. Woolley, The American Presidency Project https://www.presidency.ucsb.edu/node/234878