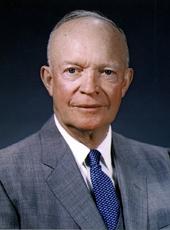 Remarks to the Business Advisory Council of the Department of Commerce.
FIRST, I must thank you for the honor of this invitation, and secondly, for the rather unusual compliment that is paid me in the reversal of the normal order of business here between speeches and eating.
When I first went to England some years ago, I was a very heavy smoker. In those days because of the struggle that was going on, it was the rule always to toast the King, and I seemed to cause them great embarrassment. I didn't know why until one day, right after the soup, the host jumped up and said "Gentlemen, the King," and then turned to me and said, "Now you may smoke."
I have a very great privilege today of bearing witness to the significant service that this body has performed over the past years. I have known something about it. I met with you at least once before and I met with different groups of you, at different times. The value of your service, particularly as it served as a balance wheel, has been most greatly appreciated, at least by the successors to the prior administrations. And when we look at some of the balance sheets, such as those we look at this morning, we could have wished that you might have been a little bit tougher to move at times.
This brings us right square up to the subject of balancing the budget, the balancing of your estimated outgo and income. It is a terrific problem, complicated by the fact, that I think you are all well aware of, that we carry over from past administrations in terms of obligated money, appropriations approved, something like $80 billion more than we will have to appropriate to carry on the business of government. In other words, we have got that $80 billion to find maybe most of it in the next 4 years, because all of those expenses that we incur will naturally be carried over. That gives you one--just one--part of the difficulty of the problem of balancing the budget.
Now, we claim that unless we balance the budget, there will never be any lowering of taxes, because we thoroughly believe that an unbalanced budget is the greatest possible spur to a continued cheapening of our money. If the money continues to cheapen, our idea is that we will never catch up with the indebtedness, never have a balanced budget; therefore, there will never be a lowering of taxes in the long run.
So we think there is no choice as to the order in which these things must be accomplished. We must have a balanced budget in sight, a proved capability, before we can begin to lower revenue-which doesn't mean you may not reform taxes, but you must never lower revenues.
And then, when you measure a thing like that against the prospects in the world, what we have accomplished over these past years--take a drain like the Korean war. It has never been a budget drain. It has been conducted largely over hopes and borrowings from other commitments. That is, the hope has always been it would be over in another 3 months, and therefore there has never been any money in our budget for the carrying on of the Korean war. The result is that you have to make up for it from other places. So when you begin to examine programs that have been offered--NATO, the Middle East, other places where we find our interests are involved--we find ourselves in a position that allows no slackening up.
There has been some opportunity to apply other tenets of our doctrine of free enterprise and progress toward decontrolling of prices. I think the business community, by and large, ought to have a special word of commendation for the fact that there has been such obvious restraint displayed throughout the country. A few prices have gone up. And I do hope that this coffee thing that I hear about in this country is caused by our Brazilian friends and not by our own importers, jobbers and retailers.
The beef people reported to me that the consumption of beef in our country is going up tremendously; in this city alone, increased almost 100 percent. They reported that, far from feeling discouragement, they are on the up-and-up.
So, possibly, just the plain workings of economic law will reestablish itself as a sound system for a country such as ours. Certainly that is our plan and our hope.
Now, in looking into the future we are quite sure that some things are going to arise where there will be a great deal of complaint back and forth; it will cause friction. For example, as some of these prices get somewhat out of line and begin to hit the cost of living index, there will be trouble. But we must have the faith and courage to stand by our guns all the way through the Capital and in the Nation.
This brings me up to another subject I think would interest you people. I will go back and tell you a little bit of a story.
Over the past 7 years, there have been frequent references made to me about a political career--and they have been made on both sides of the fence. One of the arguments made by Democratic friends that came to me in the past was that there was no possibility of the Executive working with a number of the Republican personalities on the Hill, particularly anyone who held the beliefs I do--which I think can be fairly classed as middle-of-the-road. Well, there were very cogent reasons, at least in my mind, that completely outweighed all such reasons. I believed I had to be a Republican for very definite reasons of my own.
Nevertheless, I want to say to you gentlemen that, by and large, those scoffers and those prophets of doom in that respect were completely wrong. Since January twentieth the growth of cooperation between the Hill and the executive department is a noticeable day-by-day increase. And I know that it is felt on the Hill as well as it is felt in the department which I head because I have letters, I have people coming into my office. I had a letter only last evening that, had I thought about it, I would have brought it along to read to you. One of the leaders on the Hill this morning, just before I went through one of the busiest mornings I have had, dropped in because he had heard something he was proposing was causing me some embarrassment. He called on his own to see whether he couldn't work this thing out. Now that is, to me, quite an occurrence.
What it means to you is this: that Government can work together, can find out, first, what are the real functions that Government should be performing today; then determine what we know and see what we must do. Then when we have determined upon that, how to do it efficiently, how to meet our obligations, we will go ahead. But we will not try to get in and tell each one of you gentlemen how to run your business.
On the other hand, I think it properly fair to just call you or ask you to help us how to do our business. We are merely your agents, trying to do your work, to stay out of those things we should stay out of, and do those things we ought to do.
So, much as I appreciate the work that you are doing, let me tell you frankly that I think it is also your duty to be right here. Every department of Government, so far as I know, is organizing something of the same character, not always of the same size, nor with the same objectives. But the success of this body over the years, has given the lead. I think that so far as I know now, every department of the Government is organizing these bodies on a more or less formal basis, so that .we may keep in touch with the daily thinking of American professions, American business, American labor--everything that makes this country tick.
And so you will furnish us a balance wheel. Let's not get too far to one side or the other.
For all this, for what you have done, what you are now doing, by being here and doing what is expected of you, my grateful thanks--thanks that I will hope to repeat from time to time, when I can stay and sample your lunch. But I happen to be giving one of my own today.
Thank you very much.
Note: The President spoke at the Mayflower Hotel in Washington at 12:45 p.m.
Dwight D. Eisenhower, Remarks to the Business Advisory Council of the Department of Commerce. Online by Gerhard Peters and John T. Woolley, The American Presidency Project https://www.presidency.ucsb.edu/node/231543