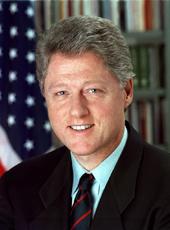 Remarks on the Budget Negotiations and the Debt Ceiling and an Exchange With Reporters
The President. I'm glad to have these Members here, and we are about to begin a discussion about how we can make progress in our effort to get the right kind of balanced budget. Let me also say I think it is terribly important that Congress pass a clean debt ceiling and do it immediately, so that we can honor the full faith and credit of the United States and so that those Social Security checks can go out at the first of March. It's getting close, and we just have a month left, and I think it's imperative that this be done. But in the meanwhile, we're going to keep working on the budget, trying to find a solution that both parties can embrace and that I can sign.
Q. What about the House saying it's going to adjourn for a month at the end of the week? Are you going to be able to make any progress while they're gone?
The President. Well, I can only tell you that I think that we've got to deal with the debt ceiling. I'm more optimistic—I think we can clearly make progress on the budget whether they're in session or out of session. It depends upon who's available to meet and what kind of conversations can be held over the telephone. So I'm not so concerned about that, but it is imperative that we understand what the timetable is on the debt limit and that we not play games with that. That's an emergency. We can deal with the budget over the telephone. But Congress has to be here and actually pass an act to lift the debt ceiling.
Q. Mr. President, some Republicans say that it was your Treasury Secretary who played games and said that the debt ceiling was going to run out the last time, and that in fact it didn't, and that there are ways to kind of correct this that he's talking about.
The President. No, he didn't play any games. He was deft and adroit and did the best he could to keep this country afloat. And he has notified them that he is out of options, just like he notified them before that we had some options. And I don't think anything has happened to change his mind. So he has explained to them what the situation is; that's what it is.
This country has not one time in its entire history refused to honor the obligations that it has committed to. And I don't believe we should now, and I don't believe we will. But I want to urge Congress to deal with this in a prompt manner.
Q. Why won't the Social Security checks go out? What—is this a separate——
The President. Because if the country cannot honor its debt obligations, it won't be able to keep its cash flow up.
Welfare Reform
Q. Would you sign the Senate welfare bill?
The President. Well, let me say, as you know, we got the bill out of the Senate, and it was much improved over the House. Then they didn't send it back to me. I think the discussion is recently moot because we made some advances beyond the Senate welfare bill in our budget negotiations.
And the Republican leadership is not bound by anything that we agreed to in the budget negotiations, because we had an understanding that nothing was agreed to until everything was. But I thought we had reached a common understanding that, among other things, there ought to be more money put into the child care portion of the Senate bill and that there should be a little more sensitivity to what might happen to families with children with disabilities.
And so I would like to see at least the common understanding that came out of our discussions in the budget negotiations incorporated into that bill, and I would imagine they would be. But I don't know any more than you do about that. I know what I read this morning.
Imia/Kardak Islet
Q. Mr. President, you were on the phone with the leaders of Greece and Turkey this afternoon?
The President. Yes, I was.
Q. Could you tell us about what the situation was there? Have you been able to make any progress on that?
The President. Well, I talked to the President and the Prime Minister of Turkey and the new Prime Minister of Greece and asked them to move their forces away from that little island and to find a diplomatic solution to the issue. And I heard them out at some length, and we discussed some options. And then the Secretary of State, Secretary of Treasury—I mean, the Secretary of Defense, Secretary of State, and the Chairman of the Joint Chiefs of Staff have all been involved in this. We have been working hard on this today.
Greece and Turkey have too much in common, too much to gain from getting along with each other, and we have too many other important issues in that area that affect both their interests for this small piece of land to be allowed to develop into a crisis for the two of them. So the United States is doing everything we possibly can, and I have some hope that the crisis will abate over the next 24 or 48 hours. But there's still one or two issues remaining in the air as we speak.
NOTE: The President spoke at 5:16 p.m. in the Cabinet Room at the White House, prior to a meeting with congressional leaders. In his remarks, he referred to President Suleyman Demirel and Prime Minister Tansu Ciller of Turkey and Prime Minister Konstandinos Simitis of Greece. A tape was not available for verification of the content of these remarks.
William J. Clinton, Remarks on the Budget Negotiations and the Debt Ceiling and an Exchange With Reporters Online by Gerhard Peters and John T. Woolley, The American Presidency Project https://www.presidency.ucsb.edu/node/223159