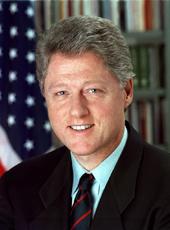 Remarks on the Budget Negotiations and an Exchange With Reporters
The President. I want to welcome the congressional leaders back here after Christmas. We're going to have, I think, a good meeting today, based on the work that has already been done this morning. I expect us to make further progress.
We will begin to deal with some of the difficult issues today involving how we can balance the budget and protect things like Medicare and Medicaid and education and the environment, which I think are very important. I believe we're proceeding in good faith, and I think we're making progress.
I do believe that we ought to move to reopen the Government. As you know, I feel very strongly about that. The public services will begin to be significantly curtailed. And of course, I'm concerned about the Federal employees, those that aren't working who want to work, who are going to get paid regardless, and those who are working who haven't gotten paid who are going to run into some very serious financial problems with their mortgages and other things soon. So I hope we can get some agreement to reopen the Government so that these problems can be averted.
Q. Is there some room for compromise now that you've had a little bit of time to think it over over the holidays?
The President. Well, we're—I've gotten a preliminary report. I think we'll have some more progress this afternoon, and then I expect we'll work all day tomorrow. I'm prepared to spend whatever time it takes to move as quickly as we can move. But some of these issues are quite complicated in terms of their impact on the American people. But I'm ready to go, and I think that all of us are.
Q. Mr. Speaker, do you see any way of having an agreement that can reopen the Government without the——
Speaker Gingrich. We'll discuss it this afternoon. And I think that Senator Dole and Congressman Armey and I have been trying to work out a way to both get the currently nonessential employees deemed essential, which Senator Dole began to work on last week after our meeting here, and also to find a way to possibly get everyone paid. We feel strongly that Federal employees ought to be back—all the Federal employees ought to be at work. We know they want to be, and it's not fair to them. And we also feel strongly we ought to try to find some way to get everyone paid. We also have an obligation under the continuing resolution that was adopted about 6 weeks ago to get a balanced budget by next Wednesday morning, at the latest, at the end of the first session of Congress.
So I agree with the President. I think there are reasons to be cautiously optimistic. wouldn't exaggerate them, but I think we've made some progress over the last few days. And I would hope in the next 2 or 3 days we could basically get this done and then have everything up and running and everyone paid for while the staff work was finished out on the actual technical details.
Q. Let me clarify, though, sir, is there any way to get the people back to work without resolving a balanced budget plan?
Speaker Gingrich. There might be a way, yes.
Senator Dole. Yes.
Speaker Gingrich. We're going to explore today some ways to get that done by unanimous consent over the next 2 days. But I think it takes working it out together, and we haven't done that yet.
Senator Dole. Just let me add that we're sending—we're in recess now in the Senate, subject to call of the Chair, and I hope to be able to give Senator Daschle some language to look at this afternoon. And I want to congratulate Congressman Armey for his leadership on the House side with the Speaker, because if we can work this out it could be done yet today.
Q. And have people back to work?
Senator Dole. Well, it would go down to the President as quickly as we could. It's a Middle East peace facilitation act. It's the same language we passed last Friday in the Senate deeming people essential. And the third element of the package would be expedited procedure, if we get an agreement, so we can get it through the Senate in less than 60 days, I guess. We just take the budget reconciliation language and shorten the time and put that in the resolution.
Speaker Gingrich. We'll try to get that down here by sometime this evening if we can get it all worked out. It's all got to be done—our system is complicated even at best, and it takes a little while, but we hope to get it worked out today.
Q. President Clinton, what's your reaction to that, sir?
The President. I think the people ought to go back to work, and I think they ought to be paid. And I think if we don't do it, we're going to see some very serious consequences that should not—that neither the public nor the public employee should have to endure. And I think we need to keep working at this until we get an agreement. I'm prepared to work until we get an agreement. We've just got to keep working through it.
But these are complex issues. To protect Medicare and Medicaid, education and the environment, the things that are at the core of the resolution we adopted, and get the budget balanced in 7 years is not easy to do. We're going to have to work at it.
Q. [Inaudible]—the Republicans rejected last time? You thought you had an agreement on something like this and the House Republicans rejected it?
Q. Why did you change your position, Mr. Gingrich?
The President. Wait, wait, wait. Let's don't ask any more questions like that. We're trying to work this out, and I think—give us a chance to meet today, and give them a chance to do their work. Let's see what happens.
NOTE: The President spoke at 3:40 p.m. in the Cabinet Room at the White House, prior to a meeting with congressional leaders. A tape was not available for verification of the content of these remarks.
William J. Clinton, Remarks on the Budget Negotiations and an Exchange With Reporters Online by Gerhard Peters and John T. Woolley, The American Presidency Project https://www.presidency.ucsb.edu/node/220554