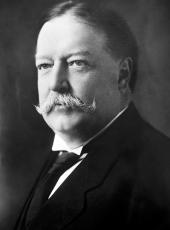 Remarks at the Banquet Tendered Him by the Chamber of Commerce in Los Angeles, California
Mr. Toastmaster, Mr. President, Members of the Los Angeles Chamber of Commerce, Ladies and Gentlemen:
I have attended many banquets. I think that, measuring up for the last ten years, I may be said to be as great an expert on banquets as any that the world affords, and while I have attended larger ones than this I have never attended one more beautifully appointed and never one set with such beautiful gems. It is not for me, a guest, to criticise the arrangement by which the ladies look on and see the animals feed. But it is only a type of their loving patience that they should be willing thus to retire and have the men seem to do the important thing.
It is a great pleasure for me to revisit your beautiful city after now some ten years preceded by a visit ten years before that, so that I claim temporarily to be one of your pioneers.
I came into your city this morning by way of your harbor, and my interest in your city was originally largely developed not from an Eastern standpoint, but from the standpoint of a territory from which I have more right to hail I think than the State of Ohio—I mean the Philippine Islands, and I remember as I went there in 1900 I passed through your city and received the welcome and the wise advice of your distinguished fellow citizen, General H. G. Otis, who had labored faithfully and well and exposed himself to the dangers of death in order that we might tranquilize a country, which God had placed under our guidance. Then another connection with the Philippines is the fact that after we had made a great General in the Army of the United States—General Chaffee—and fitted him for great tasks, and then retired him because the law required it, you had the good sense to take him and make use of the talents with which he was endowed.
Now, coming in by way of that harbor I learned a lot of things. The fact is, in the trip across the country, I have had to justify my coming at all, and have attempted to explain that in coming I have gathered a great deal of information. But it has been said to me that if I do all the talking, how do I absorb any information. I only want to cite as witnesses those who are present to-night to prove that in the course of my journey there are opportunities for information, and I am delighted to improve them. I thought that story of the hobo and the generous lady was exceedingly apt and that the gentleman who used it followed out to the uttermost the principles of that student of human nature.
But with respect to your harbor, I am bound to say, first, that I have learned to-day by personal observation a great deal about it and of its value and of its possibility as one of the great harbors of the Pacific Coast that I did not know before. I did know that you were intensely interested in it. No man could live in the neighborhood of your junior Senator and have anything to do with the authority concerning that harbor without having it borne in upon him, as our Methodists say, with an intensity that he doesn't forget. It did not seem to me to be of such immediate importance that the harbor lines away out here on the west coast should be fixed for a particular harbor, but there was nothing for me to do under the circumstances but to end that controversy in view of the attitude that Senator Flint bore toward me, and I made an order that the engineers should fix those harbor lines or else some engineers would suffer. No, I do not ask your gratitude on that account. It was a matter of personal comfort to me, and I fixed them, and they are going to stay there, at least as long as I have control; but, of course, they are going to stay there. They were fixed by an eminent body of army engineers, than whom there are no greater or men of higher character. You were greatly concerned, or some of you were, when the gentleman who preceded the present engineer was assigned to some other duty and the present engineer put in. It is possible I have met Captain Frees. It is a little difficult to keep all the army officers, when there are 3,000 of them, in your mind, but I have met the present engineer—I met him this morning—and if there is any citizen of Los Angeles that is more imbued with the Los Angeles spirit than he is, I have yet to meet him, and I have met a good many. The truth is, with respect to army engineers, they are put where they are to do their duty, and when they are there they do their duty, and the great advantage that we have in building the Panama Canal to-day is that while we have the most eminent men at the head of that work, if they were to die to-morrow from any cause, yellow fever or pestilence of any kind suggesting immediate death to their successors, we could call upon the members of that corps immediately to furnish men who would step into their places and die if necessary in the discharge of their duty without a question. That is the kind of men we have in the army engineers, and if the time comes under the regulations of that Department for the present lieutenant to move on and acquire the atmosphere of some other enterprising port and harbor and city, he will be followed by a man who will do his duty just as well as the present engineer, and you can count on it.
The last speaker suggested a number of things that you would like to have from the general government. I am not a dispenser of the funds of the general government. I am its distributor, or at least those under me distribute the funds that the Congress of the United States appropriates; but living near the seat of government and having had some experience in the way that the government works and with the matters that influence the committees on rivers and harbors in both Houses, I can give you the benefit of that experience enough to prophesy a few things in regard to that harbor. I do not guarantee it. No wise man ever guaranteed what the verdict of a jury would be or what a Congress would do, but I venture to prophesy with that qualification, first, that you have got a harbor now sufficiently constructed to show that it is worthy of being improved to the uttermost; second, that you have taken the step which most of all will secure from Congress the money needed to make the harbour all that you wish it to be, and that is, you have voted to put your own money into the improvement of that harbor in order that the public may get the benefit of the wharf. The principle that has moved the committees in both Houses is that the Lord helps those who help themselves, and that they are most willing to put the Government's money into those enterprises in which the local communities are so intensely interested that they are willing to make large contributions themselves. Hence, I say without hesitation at all, that with your improvement secured, as you have secured it by a vote of bonds, there isn't any trouble about the improvement of your harbor as you desire. I say as you desire it. Our friend on the left suggested 45 feet depth. Well, that is all right, but what you will do with that extra 10 or 15 feet I do not know until you get boats that have that draft. We had to make the Panama Canal 45 feet because it was a work which was to be constructed for all time. The locks when put in there can not be changed with any reasonable expense, and therefore the law provided that the Canal should be constructed of such dimensions that it would transport or furnish the means of transportation for any vessel now sailing or projected. Well, there were two or three vessels projected of 38 feet maximum loaded draft, 88 feet beam and 800 feet long, and we have put in locks that are 41 feet deep over sill, that are a thousand feet of usable length and are 110 feet wide, but that is for the far future, because it would be most inconvenient and most expensive to change those locks, but it is easy enough to deepen a harbor like this; if you conclude that you have so many ships of 45 feet maximum loaded draft that you need that additional 10 feet I can prophesy that you can get it, but my impression now is if I were you I would not go for 45 feet direct. I would begin with something less.
The Panama Canal is of course the greatest enterprise of a constructive character which has been entered upon for centuries. It will certainly be completed by the 1st of January 1915. We are now engaged in an excavation that equals or nearly equals three millions of cubic yards of material a month, and that would easily finish the Canal some two years before the date that I have mentioned. The uncertainty as to its completion depends upon the construction of the dam and the construction of the locks, and the engineers are not yet in a position to prophesy, as they could with respect to the excavation, when the whole work can be completed. What its effect will be upon the trade of the world is problematical. I do not think that we can always calculate with exactness how trade avenues are to change, but I think there are certain facts with respect to the operation of the Canal upon the commerce of the world that we can make as promises. One is that its most important function will be the trade between the east and west coast of the United States. How far it will affect the transcontinental lines of course it is difficult to say, but that it will make a radical change in the character of the merchandize carried I believe is certain. The next important change that it is going to make is in reference to the trade between this coast and Europe, and the next most important is the trade between the east coast of the United States and the west coast of South America. With respect to all other avenues of trade the Suez Canal is apt to be a competitor and the change that will be effected by a new way of getting through the continent is one that can only be known when the change has been effected and years have been given to allow that change to have all its effect. Certain it is, however, that the city of Los Angeles and the city of San Francisco and the city of Seattle are the cities most to be affected by the completion of the Panama Canal, and no one can criticize, no one has the right to ridicule the effort and the great efforts that your city has made to establish a harbor for your city, so that you shall get the benefit of that great trade which the Panama Canal is certain to bring to the western coast.
I do not know that the increase in the merchant marine is essential to your enjoyment of great benefits from that Canal. I do not think it is. I think if we were to go on as we are now, you still would derive immense benefit by the trade brought in here by foreign vessels and by the trade which could only be brought here by coast vessels—vessels of the United States. Nevertheless, you are on the Pacific; you are on that great ocean surrounded by the Orient on the one side, by the west coast of South America and by the west coast of North America on the other, in which the great commercial progress of the world is to be manifested for the next hundred years. And what that trade shall be is going to be largely influenced by the question of who controls the merchant marine that crosses its waters. Now, we haven't any international merchant marine. I defer to those vessels that are doing the best they can, but I mean, speaking at large, we have none and the question is, how are we going to get it? I do not know that the system of subsidy is to be the correct way of working out that problem, but I do know that it is in accordance with the principle that we have followed in respect to the development of our industries—the protective system. We can not protect it in the sense of controlling foreign bottoms, and therefore, the only equivalent that we can offer is to pay those of our people who will build and operate our ships under our laws enough to equal the difference in condition between their running the ships and foreigners running foreign ships and allowing them a reasonable profit; and I for one am in favor of trying that experiment. It is true that we will pay money into the coffers of private corporations, and it is also true that they will have to render to us a service for the money which we pay into those coffers, because it is undoubtedly true—it is shown in our South American trade—that the control by the flag of the ships that carry the trade greatly influences the trade in favor of the country that owns that flag and owns those ships. We must not be frightened by a word—we must not be frightened by a shibboleth. You say we are going to help along a selfish private corporation by contribution. Well, we are, because the private corporation is the instrument by which we wish to accomplish a great public good. We do not intend to give them any more than a reasonable profit for the good they render us.
There are a good many other subjects that I should like to discuss with you. As I looked at that beautiful map and followed that red eye and green eye across it, and saw where I had inflicted my views on various suffering citizens of the United States at points across its surface, I wondered how long the American people would bear it, and therefore I hesitate to take up the questions that are just as important to you as they are to any of the citizens I have had the honor to address. The truth is, I doubt whether in New York, in Boston, in Chicago, in any city in the country, I should have the honor and opportunity of addressing so cosmopolitan an audience as I now face, an audience made up of the bone and sinew of the community that has builded a beautiful city in a desert; that brings its water 230 miles; that goes 20 miles for a harbor; and that expects to enlarge by the application of water to earth, drawn I do not know from where. You are a marvel. You have got two marvels in California. One in San Francisco that has arisen from its ashes, and the other is Los Angeles that is risen from the desert.
There is one thing that that map has taught me as I looked at it—has only confirmed that which comes to me every time I rise to address an American audience—I don't care whether it is in a small town resurrected from the desert in Colorado, or a large city, or anywhere else—there is in the faces of those people to whom I have talked a sense of contentment, of peace, and of determination to get on and subdue the obstacles that are before them, which they welcome because they are obstacles, in order that they may show their American spirit in overcoming them, and that spirit I find everywhere. Talk about anarchists and socialists and discontent with the situation. It may be that I do not see those people; perhaps I don't. I am not anxious to see them. But I do meet the majority of the American people and they come out to me in order to testify their interest in the government and their pride in their country and their belief that there is nothing that an American can not achieve and can not overcome. I never was so much impressed before with the idea, if I may use a stock-breeder's simile, that we are breeding to a type, that we haven't any Englishmen and we haven't any Irishmen, though there are some that tell stories that are marvellously like it, and we haven't any Germans, we haven't any French, we haven't any Italians or Mexicans, but we only have Americans.
Now, an allusion was made to my predecessor's pronunciation of the name of your desert here. He did not come into this country through a Spanish country, or else he would have known how that name ought to be pronounced. Allusion has been made to the policies of my predecessor. I yield to no one in my admiration for that great man and the map he laid out for those who were to follow him. Sometimes it seems as if it were pretty burdensome for those who do follow them in order to keep up with the procession, but it is a great aid to have his example before me, to have the test of the judgment of the American people which he was able to make, and to know that in following along the general lines which he laid down, the administration which follows him is following the will of the American people.
William Howard Taft, Remarks at the Banquet Tendered Him by the Chamber of Commerce in Los Angeles, California Online by Gerhard Peters and John T. Woolley, The American Presidency Project https://www.presidency.ucsb.edu/node/365223