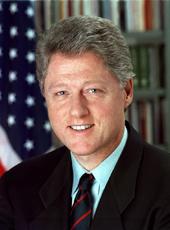 Remarks on the Balanced Budget Negotiations and an Exchange With Reporters
The President. I'd like to make a couple of brief opening remarks, and then I'd like to let Senator Chafee and Senator Breaux say whatever they'd like to say. And then after the meeting, after we've had a chance to visit, I may want to say some other things. But I'd like to say less of and more now, and perhaps more afterward.
First, I want to thank this group of Senators for coming to the White House. This has been a good day for our country. We've got some good economic news. We found that the American economy is continuing to grow steadily and without inflation and better than had been expected. But even though we have over 8 million jobs and low inflation and strong growth, we know that if we want to continue this we have got to finish the work of balancing the budget, and we have to do it in 7 years and in a bipartisan way.
In a very real sense for the next several months we will have to face the choice in more than one area between partisanship and progress. But if you look at what has happened in this Congress that is really good, and a lot has happened that is good—the telecommunications bill, the antiterrorism bill, the budget bill that I signed just a few days ago, the lobby reform bill; in the Senate, the passage of 100 to nothing of the Kassebaum-Kennedy bill, and then the passage, I think 97 to 3, just before you came over here, of the immigration bill sponsored by Senator Simpson—in every case these things have happened because there was bipartisan cooperation, the people put the interest of the country first.
That is what works. And that is what we're going to have to do to with this budget. So I'm proud to be here with these Senators today. I commend them for what they are doing. I hope it will become the model for what Congress does on this, and I hope it will bring us to a genuinely bipartisan balanced budget. And I'm encouraged, and I'm anxious to get down to the discussion.
Senator Chafee?
Senator Chafee. Well, thank you first, Mr. President. Thank you very much for inviting us down. We appreciate that. This whole group— Senator Dole has invited us to meet with him in a similar fashion next Tuesday, and we all intend to do that, likewise. This is truly a bipartisan group, as you have mentioned.
We are brought together by a desire to get a balanced budget, not just in the 7th year but in the out-years likewise. And we feel very strong. This is not a negotiating group; we're not negotiators on behalf of anybody in the Congress. We have come up with a plan, a bipartisan plan, which we've arrived at after considerable effort, and I want to commend Senator Breaux and all who are associated with him. We think there's a very, very fair budget proposal that we've worked out. And we commend it to you, and we'll have a chance to present it in greater detail as we proceed.
Senator Breaux. Mr. President, we're delighted to be here at your invitation to meet with you and to present what I think is very unique. This is truly a very unique coalition of 11 Democrats working together with 11 Republicans who have come together to present to you and to the administration and to our colleagues a 7-year balanced budget which brings about real reform in areas of welfare and Medicaid and Medicare, as well as a tax cut for individuals and working families.
We think that working from the center out is the way to solve these problems. We've had 2 Government partial shutdowns last year and 13 continuing resolutions. That's not the way to balance the budget. We offer this as a hopeful suggestion as the way we should go about getting it down.
The President. Thank you very much.
Q. Senators Breaux and Chafee, will you have a cut in the gas tax as a part of your plan to balance the budget?
Senator Breaux. That's not part of our plan.
Senator Chafee. That's not part of this plan.
Q. Any tax cuts at all as part of this——
Senator Chafee. Yes, we have a tax cut proposal in our plan.
Q. Can you tell us more about the Medicare and welfare proposals?
Senator Chafee. Well, I don't think we want to get into this in piecemeal.
The President. We'll all have more to say. We want to talk first.
NOTE: The President spoke at 3:40 p.m. in the Cabinet Room at the White House, prior to a meeting with Members of the Senate. A tape was not available for verification of the content of these remarks.
William J. Clinton, Remarks on the Balanced Budget Negotiations and an Exchange With Reporters Online by Gerhard Peters and John T. Woolley, The American Presidency Project https://www.presidency.ucsb.edu/node/222405