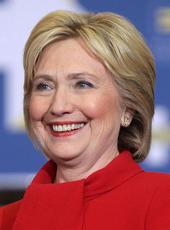 Remarks at the Autism Event with Sally Pederson in Sioux City, Iowa
I'm delighted to be here. I apologize for being a little late. Apparently, there was more of a headwind than tail and it took us a lot longer and I apologize for that. And I thank you so much for being here and being part of this event today. I want to recognize a few people because I'm so pleased that we could have this event here at the Boys Club. And that wouldn't have been possible without Roger Friesen and the Boys Club of Sioux City for hosting us today.
And I want to thank my good friend Tom Vilsack, former Governor Vilsack, who's here. I want to also thank Danny Holeman the head of AFSCME here in Iowa...
I want to thank Representative Roger Wendt and his wife Anita, thank them for being here, Teresa Wolff the Democratic Chair for Woodbury County. Also I want to thank our guests up on the stage here who you will hear from in a minute.
In addition to Sally Pederson the former Lieutenant Governor and a member of our women's leadership council here in Iowa, Sally has a lot of experience on the subject I'm going to be speaking about in a minute, as do our two other participants.
One is Jane Seely whose daughter Sara Seely asked me a question last week when I was here in Iowa and it turned out that Sara is autistic and asked me an excellent question and it got me thinking about all of the families that are dealing with autism and all of their challenges.
And Doctor Patricia Gilbaugh who is one of Sara Seely's care coordinators and care givers is with us now.
Now I see a lot of people holding these bumper strips over their eyes because the lights are so powerful on their eyes and that's not good, is it? So maybe if somebody could hear my voice and we could do something about these lights...
I'm sorry about that, but that's Mother Nature and we'll have to put up with that.
ell, today we are here at the Boys Club because of the work that the Boys Club does every single day here in Sioux City. And one of their missions which they have recognized is the critical need for services for children with autism. So the Boys Club began providing those services.
Now Sally has been a strong leader and advocate on behalf of families with autism for years. As Lieutenant Governor she led the Vilsack-Pederson administration's initiatives for health care and human services, and she has been an effective advocate for people with disabilities. Her work with The Homestead, which serves adults living with autism, is an example that I'd like to see replicated across the country.
She came to this as most people who are advocates do, because of her own child. And to the extent we're addressing autism today as part of the presidential campaign, it's because of parents like Sally who fought for their children when no one else would even acknowledge there was a problem.
Driven by their love and devotion, mothers and fathers across the country have raised awareness, demanded funding, and opened our eyes to the needs of so many children.
Now, when I was in law school, I took a special year at the Yale Child Study center. That was back in the very early 1970's. At that time, science was still blaming parents for autism. And they particularly blamed mothers. And I remember reading some of the so-called research and in particular the work of one scientist who had a lot of national and international prominence for his theories. And I thought, you know, that just can't be right, there's got to be more to it to that.
I later moved to Little Rock where one of my friend had a son with autism. And I spent time in her home, I spent time with her and her son and my instinct perhaps as a mother was that this could not be the explanation.
Now, despite what science used to do, blaming the parents for autistic kids, now we know that parents are the child's best hope to deal with what is a very complicated set of conditions.
I wanted to discuss this issue today because the recent increases in autism are alarming. The number of children with an autism spectrum disorder, that means across the spectrum from what's called Asberger Syndrome, where kids with it may be or adults with it may be not as socially interactive as you or I would be but they can function pretty well, all the way to the most severe forms of autism including seizures and mental retardation - all along this spectrum there's so many different symptoms and different capacities that people have. The number with the autism spectrum disorder has grown from 1 in 10,000 in 1993 to 1 in 150 in 2007, and the numbers continue to rise.
The Autism Society of America estimates that 1.5 million Americans and their families are now affected by autism. They believe that could reach four million in the next decade. Autism affects people of all racial, ethnic, and social groups, although it is four times more likely to strike boys than girls which is why the Boys Club tackling this here in Sioux City is such a great contribution.
And autism is costing the United States at least 35 billion dollars a year.
The symptoms have become all too familiar. The child who never makes eye contact, doesn't notice when his dad comes home after work. The child who stacks blocks over and over and over again. The child who would rather twirl in a corner by herself than play with other kids.
These children have so much to contribute, but they are often trapped inside their own worlds, unable to communicate.
Yet for all the people autism affects, we don't know that much about what causes it and why it is increasing in number. We don't know how to cure it and we don't even know the best ways to treat it. We don't have enough services to care for those who have it or support their families.
I think it's time we had a government and a President that recognized the seriousness of autism and addressed it head-on.
I am committed to this cause, and as Sally said I have been fighting for children, particularly children with needs, children with disabilities, children who are abused or neglected, children without adequate education or health care for my entire adult life.
Once I went to work for the Children's Defense Fund, my first assignment was to go door to door in New Bedford, Massachusetts and figure out why so many children who were listed in the census figures weren't enrolled in school. I went door to door, and home after home, I found reason; I found children who were blind or who were deaf; children in wheelchairs; children with behavioral problems. They were kept home because schools wouldn't accommodate them.
I knew then that I wanted to spend my life being a voice for children - children who had been left behind and too often forgotten. I wanted to fight to give all children the same opportunities I had growing up.
Today, one of the most urgent - and least understood - challenges facing our children is this rising tide of autism. That's why as First Lady, I fought hard for more awareness and more funding for autism. I was very proud when my husband signed the Children's Health Act of 2000, which had a special focus on autism research and launched a long-term study on environmental influences on children's health.
In the Senate, I helped develop and co-sponsored the Combating Autism Act of 2006, which was signed into law by President Bush. The bill authorized $1 billion over five years to combat autism through environmental research, surveillance, awareness, early detection and early intervention. And in March of this year, I introduced the Expanding the Promise for Individuals with Autism Act along with my colleague, Senator Allard from Colorado. This focuses on improving the quality of life for individuals living with autism, attaining appropriate services that will cross the life span.
And as President, I will build on my work with a strong commitment to fighting autism. I'll start, first, by investing heavily in research to understand the causes of autism and hopefully to start finding cures.
I will invest a total of $1 billion over five years to help fight autism, because President Bush signed the bill but refused to provide the funding, a familiar story. And he just vetoed a bill that Congress included funding for autism in.
Specifically, we need to fund research to identify the causes of autism, including possible environmental causes. That includes expanding our system for health tracking, so that we can look for links between the environment and the rise of autism and other diseases. That's something that I've been fighting for since 2001. I've introduced an Environmental Health Tracking bill every congress since then because I think we need to face up to the fact that there are three main causes of illness or conditions that impact people: genetics, behavior and environment and usually it's a combination of one or more of those triggers.
And we haven't done enough to really figure out to what it is we are exposing ourselves and our children to from the environment that triggers, perhaps, a genetic response, that makes people who are susceptible to autism show that. Usually it's diagnosed around 18 months, if you're lucky to find somebody who knows the conditions. Lots of times it doesn't happen until the child is 4 or 5, and that means that you've delayed the treatment and intervention that could help.
I'll also create an Autism Task Force charged with investigating evidence-based treatments, interventions, and services. I'm modeling this after what has happened in breast cancer. Breast cancer survivors became partners with physicians and scientists and researchers in finding what was going on that caused breast cancer and what the best treatments were. Once the task force has done its work, I'll act on its recommendations. More research is our best hope for combating autism, and, as President, I will fund it.
For the children and adults who have autism, I'll invest in the best possible care throughout their lifetimes. I'll commit $500 million annually to provide care and improve the quality of life for individuals living with autism.
This starts with better screening. The American Academy of Pediatrics recently called for a universal autism screening for all children under the age of 2. Now, I applaud this and we're going to have to really encourage the Academy and pediatricians and other physicians to learn about the signals and symptoms and begin to coordinate information so they can identify it earlier. To reinforce those efforts, I'll ensure that we get screening information to professionals who deal with young children through federal programs such as Head Start, Medicaid and CHIP.
Next, I'll expand access to post-diagnosis care so that we have a seamless transition from diagnosis to treatment. Today, the number of children affected is growing far faster than the care available. That means parents often have to hear a doctor say: "Your child has autism," and then get sent away with no good options for care.
This is especially tragic because we know early intervention can make all the difference.
As autistic children reach school-age, we'll support them in public schools wherever possible. The number of children in public schools with autism has doubled in the past three years alone. But the training for teachers hasn't; in fact, a lot of teachers get no training whatsoever. I will provide funding for teacher training so they can fulfill their mission of teaching every child.
And we won't stop caring about autistic individuals just because they grow up. With access to the right types of services, including housing, vocational rehabilitation, we can help adults with autism live rich and full lives. So I will help states create and provide appropriate services for adults with autism.
For parents, we'll create an online national technical assistance center to provide the best possible information about autism treatments, interventions, and services.
And finally, as President, I will fund quality, affordable health care for every single American.
My American Health Choices Plan lets you keep your existing coverage if you like it, but it provides affordable choices if you don't have them, and it covers every single American. What happens in families of autism, or families with diabetes or families with a history of cancer or heart disease or any other condition, is that oftentimes insurance is so expensive you can't afford it, when the insurance doesn't cover the very thing you need it for. Everyone will have access to the same choices members of Congress have, which includes mental health care.
I always say, if it's good enough for Members of Congress, it's good enough for American families.
Under my plan, you and your child will never be denied coverage because of pre-existing conditions or risk factors. Parents will no longer be burdened by unmanageable premiums just because their children have autism. And when all Americans have regular healthcare, we'll be able to reach so many more children early on.
My health plan, my autism agenda, and all of the policies that I've put forward are united by my belief that it's up to us to reclaim the future for our children, and ensure that every child has a chance to live up to his or her God-given potential.
We have learned that children and adults with autism have great potential indeed. These are not only special needs individuals, these are special individuals. They have a lot to offer.
Just last week, at an event in Vinton, Sara Seely, a young woman with autism - I had no idea, I was just looking out at a crowd like this, and she was eagerly waving her hand with that big smile on her face, asking a question about pollution and problem of deforestation. And she said later, she is "obsessed with tigers." Now, I have no doubt that she will make a difference in our world, and I am so pleased to be joined by Sara's mom - Jane Seely - and her doctor - Dr. Patricia Gilbaugh - today.
Sara's not alone. So we should never give up on any child; I think that is one of our obligations. And together, we can help all those living with autism to live up to their potential. And we can commit ourselves to conquering this really difficult and very frustrating and discouraging condition that strikes children, literally out of the blue. There is no marker for it, we don't know it's coming, and oftentimes they are not quite sure what is happening until the diagnosis is delivered. So, now I want to turn to three people who have lived with it, who can add to what I said before we turn to take your questions on any issue that's on your minds.
Thank you all very much.
Hillary Clinton, Remarks at the Autism Event with Sally Pederson in Sioux City, Iowa Online by Gerhard Peters and John T. Woolley, The American Presidency Project https://www.presidency.ucsb.edu/node/277626