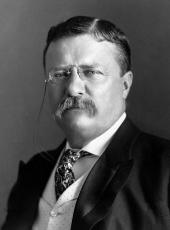 Remarks at the Auditorium in Des Moines, Iowa
Mr. Chairman and ladies and gentlemen:
When I see this audience before me, it is a matter of real regret to me that I have not the time to stay and speak to you at length. Owing to the fact that Iowa has been so very attractive that I have been getting behind time going through it, all I can do is to thank you for your greetings and wish you well.
I have enjoyed to the full my trip today through your great and beautiful state, and my visit to your beautiful city. I have enjoyed the drive. I want to say that I appreciate the quality of the horseman ship of those who accompanied me on this drive, and from the appearance of that part of the guard immediately by me, I should have been glad to have had them in my regiment.
I will say sincerely, and without flattery, that it does me good to travel through your state: though I am glad to see you with so fertile a soil; though I am glad to learn of your abounding prosperity and all that you raise; yet, I am most glad of the quality of citizen ship you raise. I suppose there is no state in the Union which sur passes Iowa in the average of happiness of its citizens. You are fortunate in your farming districts, in your farming population, and in the character of your cities. Iowa is among the leading states of agricultural life, and of course, in recent years, the use of the telephone, the use of electric cars, the introduction of rural free de livery, has made an enormous difference towards equalizing the advantages of the country and city, and glad though I am to come into cities like this, I know that even the people of the cities will not mis represent the saying, that I am particularly glad to see the farm grow more attractive, so that the young men will stay in the country. We cannot afford to fail to do all in our power to keep up the standard of our country population.
So I want to say, how glad I am to be here, how glad I am to be greeted thus, and I want to say that I am particularly glad of having been greeted by so many children; they seem all right in quality, and are all right in quantity. I congratulate you; I believe in you, and I want to see others grow up like you.
Good bye and good luck.
Theodore Roosevelt, Remarks at the Auditorium in Des Moines, Iowa Online by Gerhard Peters and John T. Woolley, The American Presidency Project https://www.presidency.ucsb.edu/node/343432