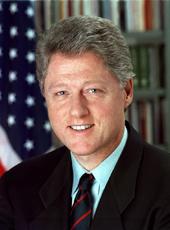 Remarks at the Arrival Ceremony in Tel Aviv, Israel
President and Mrs. Weizman, Prime Minister and Mrs. Netanyahu, first of all, on behalf of my family and our entire delegation, I would like to thank you for coming out here at this very late hour to welcome us. Hillary and Chelsea and I and all the Americans have been looking forward to this trip. I am delighted to be back in Israel.
As President Weizman said, this is the fourth time I have come here as President, to reaffirm America's unbreakable ties to Israel, to reaffirm our unshakable commitment to Israel's security, and this time, to fulfill the pledge I made at the Wye talks to speak with the people of Israel and the Palestinians about the benefits of peace and to stand by you as you take risks for a just, lasting, and secure peace. The United States will walk this road with Israel every step of the way.
Peacemaking has opened historic opportunities to Israel, but each step forward has been tempered with pain and understandable feelings of ambivalence when questions arise as to whether agreements are being implemented fully.
We share the conviction that without security, the peace process always will be clouded for the vast majority of Israelis who seek only to live normal lives as a free people in their own country, and we are determined that Israel's just requirements for security be met. At the same time, we believe that, for two peoples who are fated to share this land, peace is not simply an option among many but the only choice that can avert still more years of bloodshed, apprehension, and sorrow.
That is why I am here. In the past few weeks, the people of Israel, through their Government and Knesset, have endorsed the Wye River agreement, recognizing the promise it holds for putting the peace process on track and creating a positive environment for dealing with the complex and difficult final status talks.
I want to again, but for the first time in Israel, pay tribute to the Prime Minister and the representatives of his government for those long, arduous, difficult talks at Wye, often accompanied with sleepless nights. I believe it was the right thing to do. I believed it then. I believe it now. But both sides now must face the challenge of implementing Wye.
I will discuss that with the Prime Minister and his colleagues tomorrow and later in my meeting with Chairman Arafat. Then on Tuesday our family will have the chance to go to Bethlehem and Masada to explore more of this magnificent country and its sacred heritage.
Again, I thank you for welcoming us. I thank you for the struggles you have waged for freedom and for security. I thank you for the efforts you now make for peace. It is good to be back.
Thank you very much.
NOTE: The President spoke at 12 midnight at Ben-Gurion International Airport. In his remarks, he referred to President Ezer Weizman of Israel and his wife, Reuma; Prime Minister Binyamin Netanyahu of Israel and his wife, Sarah; and Chairman Yasser Arafat of the Palestinian Authority.
William J. Clinton, Remarks at the Arrival Ceremony in Tel Aviv, Israel Online by Gerhard Peters and John T. Woolley, The American Presidency Project https://www.presidency.ucsb.edu/node/225680