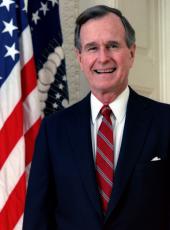 Remarks at the Arrival Ceremony in Monterrey, Mexico
To President Salinas and Mrs. Salinas, to Governor and Mrs. Trevino, Mayor Rizzo, Mrs. Rizzo, friends and neighbors, and all the wonderful people of Monterrey, thank you for that welcome. Barbara and I are honored by all you've done, for all of the work that has gone into preparations for our visit. Muchas gracias [Thank you very much].
It is an honor to stand with you, before this magnificent palace, at such a promising moment in our shared history. For I believe that our two peoples are now on the eve of an era more cooperative and more prosperous than ever we have known before.
In this plaza, I can stand before Mexico's greatest heroes: Hidalgo and Morelos, who set this great nation on the road to independence; Juarez and Escobedo, who defined and defended the principles of justice and freedom that guide Mexico even to this day; and above all, the Mexican people themselves -- all of you here tonight -- who are the lifeblood of this great city and of this great nation.
So, I've come to Mexico tonight with a message of respect, of admiration, and hope for a brighter future shared by our two countries. And I am very pleased to be working closely with your dynamic and creative President, Carlos Salinas. He is the architect of a breathtaking economic transformation, and he is a great world leader. In his inaugural address, he expressed his "certainty that Mexico -- because of its history, dimensions, and the quality of its people -- deserves to hold a stronger position among the nations of the world." President Salinas, I agree. And because of your Presidency, Mexico does hold a stronger position among the nations of the world.
In our consultations, President Salinas and I are discussing how we can achieve a brighter and more prosperous future for both of our nations. I believe that U.S.-Mexican relations have never been better. And let me tell you, as President of the United States, this relationship is of vital importance to my country. We will never neglect it. We are neighbors, and we are friends.
We want to work together toward the free and open trade so vital to creating jobs and enterprise in your economy and our own. We want to look for new progress against the scourge of drugs, so threatening to our youth. We have a precious environment to protect and future generations to educate.
And there are challenges, too, in the world beyond our borders. Reconstruction in Central America, the restoration of stability in the Persian Gulf region, the successful conclusion of world trade talks -- these are all issues that President Salinas and I are discussing together.
We are joined by our faith in freedom. And in the words of a great son of Mexico, Octavio Paz, liberty "is a movement of consciousness that leads us, at certain moments, to utter one or two words: Yes, or no." And together, let us say yes to liberty. And let us commence a new era for both our nations where what stretches between us is not a barrier but a bridge.
And so, with candor and mutual respect as our guides, let us cross over into a new era of shared progress and prosperity -- for a stronger Mexico and a stronger United States and a better world.
Thank you for this warm reception. God bless the people of Monterrey. God bless the people of Mexico. And God bless the whole world in peace. And viva Mexico! Thank you.
Note: President Bush spoke at 6:15 p.m. at Heroes Plaza. A tape was not available for verification of the content of these remarks.
George Bush, Remarks at the Arrival Ceremony in Monterrey, Mexico Online by Gerhard Peters and John T. Woolley, The American Presidency Project https://www.presidency.ucsb.edu/node/265081