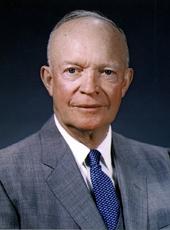 Remarks at the Armed Forces Day Dinner
Mr. Toastmaster, and members of this distinguished gathering:
First, I should like to express my appreciation to Secretary Anderson, as I think each of you would, for an address that was not only scholarly but, so far as I was concerned, was inspiring. I am grateful for it.
And now, as I trust you know, the speech-making is over. The rest of the time, I am informed, can be given over to rambling reminiscences. And for my part, I could not possibly of my own complete freedom choose an audience with which I would rather reminisce than this one.
Forty-three years ago this month I was privileged first to take the Soldier's Oath to his flag and to his country. I assure you, when those flags came through tonight, that thrill was just as real as it was 43 years ago.
Now, of course, in any reminiscing among servicemen, why there is usually quite a--you might say--traffic jam, everybody trying to get in his word. But this evening, I am sort of given the privilege of the chair, and so you will have to let me do this particular part of it.
Some of you here were in the Army in 1911. Indeed, this morning I was visited by Senator Martin of Pennsylvania, who reminded me of the Spanish American War, and I felt like a recruit. Then, we had the Benet-Mercier automatic rifle. Probably most of you never heard of it. A second lieutenant didn't have a gold bar, he had nothing on his shoulder; he was called a shavetail. Life was rather simple. And of course, even then they were saying, "The Army isn't what it used to be." And someone would then remark, "And it never was." But we thought we were very wise.
I remember my professor somewhere along about 1912 gave a long and very learned lecture on the possibility of a European war, and proved by the lack of gold and money reserves in Europe that no war in Europe could possibly last more than 30 days. That was before World War I--since which time the world has been topsy-turvy. At times I think most of us my age felt we were living in a squirrel cage, and were frequently tempted to say: "Why this is where I came in."
And we can't get out. All sorts of things bother us: the terrible power of destructive weapons, the uncontrolled ruthlessness of unbridled ambition, the wonder whether democratic forms, with their admitted weaknesses in administrative work, can possibly hold their own against masses of people and productive enterprises all directed by one single head. Of course, it is well to remember what happened to the dictatorships of the past that even seemed as great and terrible in their time, on down through Rome, and Genghis Khan, Napoleon, and Hitler and Mussolini--all gone.
Through those 40 years, of course, we were just people developing. This country was bringing out automobiles, and at times there were general orders on the post that you should be especially careful if you happened to own one of these things because the mules in the colonel's Dougherty wagon would be frightened. And the mules are gone.
Well, we thought many things, the same things as we think now.
For example, I remember as a very respectable second lieutenant, I was walking the proper distance behind two lordly captains--and you know, it was sometimes the second lieutenant's job to see that the captain got home in the evening without the major knowing. In any event, these two captains were talking. They were talking about the possibility of a poker game that evening. It sounded rather intriguing to both. One of them said, "Well, I will tell you. It sounds very good, and I will go home and I will talk to Mary. If she is doing something this evening, I will get hold of you--I will call you up and come to the poker game." And the other one said, "You will talk to Mary? What are you, a man or a mouse?" And he said, "Of course I am a man, my wife is scared of a mouse !"
Ladies and gentlemen, as I look back over these 43 years, I don't think we have changed much.
And so I am going to talk just for one moment of a few of the things that I learned in those 43 years. They are very simple things. They are nothing, I think, that you would call erudite. They are nothing that would be called intellectual attainments. They are simply great faith. I have been in difficult places with Americans--many Americans. From them I have gained an inspiration, an inspiration that free men can do anything when they are united in a common cause, and set their hearts to that cause.
Secretary Anderson has sketched for us this evening something of the dangers we face, something of the nature of the ideological conflict in the world, something of the policy to which we must devote ourselves, and the faith that we must hold if we are to win through.
And I should like to reinforce, or add to what he said, this one thought: never forget the strength of freedom of the free world. We know how much we value our right to worship as we please, to speak as we please, to choose our own occupations, to try to give to our children the kind of training in beliefs and faith that we believe will make them happiest. We know the values we place on those things.
If at times we seem to ignore them, if we are torn by doubts or current fears, or our attention is diverted by unworthy scenes, even in our National Capital, we still know that we are America. The heart of America is sound. It is sound now that we shall pass on to those a little younger than us, those that are coming behind us, we shall pass on to them the same kind of right to hold up their heads, to be proud both of opportunity and of their freedoms, of their liberties that we inherited.
Knowing that, we begin to get sacrifices and costs in their proper perspective. I think, possibly, that for any one of us Patrick Henry may have overstated the case when he said, "For me, give me liberty or give me death."
But for this race, he did not overstate it. This race will live in liberty. It will not die. It will live, and live in liberty.
Perhaps, ladies and gentlemen, a man did not have to be in the armed services all these years to gain these truths. But for me there is where I learned them, because there is where my life was spent.
So I thank every associate I have ever had in the armed services, be he Marine, or Navy, or Air, or Army. In all these years, I have nothing to look back upon but pride in those men, and the certainty that they represented America--America's strength, not only in armed might, but in spirit and determination, confidence in themselves, their country, and their God.
Thank you.
Note: The President spoke at the Statler Hotel in Washington. His opening words "Mr. Toastmaster" referred to Lewis L. Strauss, Chairman of the Atomic Energy Commission. He also referred to Robert B. Anderson, Deputy Secretary of Defense.
Dwight D. Eisenhower, Remarks at the Armed Forces Day Dinner Online by Gerhard Peters and John T. Woolley, The American Presidency Project https://www.presidency.ucsb.edu/node/231995