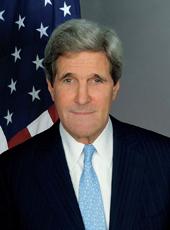 Remarks to the Anti-Defamation League
Thank you Dick, for that generous introduction. And thank you to the Anti-Defamation League for inviting me here today.
For all of its history, your organization has called on people to live by one of the most fundamental and challenging principles in all of human history: you have asked us to be good neighbors.
For ninety years, you have reminded us that good neighbors build strong communities. And for ninety years, you have shown that strong communities lead to a safer world.
I learned that lesson thirty five years ago while living in a different kind of neighborhood halfway across the world. In a small Swift Boat on the Mekong Delta in Vietnam, I grew up with a band of brothers from all walks of life and every corner of America.
We learned many things on that boat, but above all, we learned that we weren't the kid from South Carolina, Iowa, Arkansas, California, or the kid from Massachusetts. Under the heat of fire and the fog of battle, color, religion, and background melted away.
Now, I'm running for President because I believe that we are all in the same boat. I believe we can build a stronger America that stands by its people, all of its people. Where everyone has something to contribute, and everyone counts. Where we never leave anyone behind. And where we know that diversity is our greatest strength. That's the America I want to lead.
And for ninety years, the Anti-Defamation League has been helping to build a stronger America by combating anti-Semitism and bigotry across the world. By asking us to be better neighbors and reminding us that we're all in the same boat.
We have so much progress to celebrate this year. Last week, we celebrated the creation of Israel – a nation that was founded fifty-six years ago as a home for those unwelcome elsewhere. In May, we celebrate the fiftieth anniversary of Brown v. Board of Education. And, after last week's conference in Berlin, we celebrate the fifty-five countries who have pledged to intensify their efforts to combat anti-Semitism and spread tolerance. Abe Foxman, who's been a leader on this issue, just returned from that conference, and I look forward to hearing from him on the good work he helped achieve there.
While there is progress, we know there is also great peril. We know that fear can still infect the places where tolerance lives. And, too often, we have seen the light of hope overcome by the shadow of hate.
Fifteen hundred and fifty-seven incidents of anti-Semitism plagued our country last year. African-American and Latino children still attend crumbling schools in the forgotten corners of America. Gay teenagers still live in fear of beatings from their straight classmates. And in Terre Haute, Indiana, a Holocaust museum memorializing children who were victims of Nazi medical experimentation is destroyed by arson. A Holocaust museum memorializing children – think about that.
Across the Atlantic, a new anti-Semitism masking as anti-Israeli sentiment is creeping its way across Europe and the Middle East. Scores of Jewish graves, memorials, synagogues and schools have been defaced in places like France and Germany. Jews in these countries who see violence in the Middle East fill their television screens now see it used as a pretext for prejudice against Jewish people everywhere.
This feeling of vulnerability is a problem for Jews in many parts of the world. But make no mistake – it is not just a Jewish problem. It is an American problem; it is a European problem; it is an Arab problem; and it is a world problem facing everyone who cherishes tolerance and loves freedom. Because when it comes to battling bigotry, we are all in this together. The resurgence of anti-Semitism throughout Europe must not be tolerated. I have spent my life standing up to prejudice in all of its forms, and I will continue that fight every day of my presidency.
There is no greater challenge and no greater danger for civilization today than the ultimate expression of bigotry and hatred: terrorism. Our friends in Israel have lived with terror their entire lives, and on a tragic day three Septembers ago, it was terror that landed on America's doorstep.
Let me be clear: I will be a President who works with the rest of the world to wipe out the terrorism that threatens our common humanity.
The people of Israel should also know that, as President, my commitment to a safe and secure Jewish state will be unwavering. For nineteen years, this is a pledge I have kept in the United States Senate – whether through my votes on economic aid, military security, or the location of the U.S. Embassy. And it is one I will continue to keep over the next four years.
After returning home from war in Vietnam, I've always had the sense that every other day is extra. And my many visits to Israel have shown me how this same sense prevails among some of the world's strongest survivors – the Jewish people.
But I never understood this fragility and vulnerability more than when I first visited Israel on an ADL mission so many years ago. For days, my inner-Top Gun sought out a ride in an Israeli Air Force Jet. And when I finally got one, my inner-politician convinced the pilot to let me take control of the plane for awhile. But after a few minutes in the air – a few minutes – the pilot yelled for me to turn the plane around. "We just got in the air," I told him. "I know," he said. "But if we flew in any other direction for two minutes more, we would be flying into enemy territory."
From that moment on, I felt as Israelis do: The promise of peace must be secure before the Promised Land is secure on a thin margin of land.
That first trip to Israel made real for me all I'd believed about Israel. I met people of stunning commitment, who honestly and vigorously debated the issues as I watched and listened intently. I went as a friend by conviction; I returned a friend at the deepest personal level.
When I am President of the United States, my promise to the people of Israel will be this:
We will never pressure you to compromise your security.
We will never expect you to negotiate for peace without a credible partner.
And we will always work to provide the political and military and economic help for your fight against terror.
Unfortunately, yesterday the Likud voted against Prime Minister Sharon's Gaza withdrawal plan. Prime Minister Sharon's proposal could have been and may still be a step forward for both Israelis and Palestinians. Whatever the future of this particular plan, if elected president, I will work continuously and vigorously with the Israeli government to move forward on this or similar efforts.
Sadly, yesterday also marked the tragic death of another Israeli family when gunmen in Gaza ambushed a pregnant Israeli mother and her four children on their way to exercise their democratic rights and campaign against the referendum. Murdering a pregnant woman and four children ranging in age from 2 to 11 years old -- this terrorism is heart-wrenching and despicable, and the terrorists must be stopped.
Building a stronger Israel and a stronger America means working together to combat the terror that threaten us all. And to improve the cooperation that has existed for years between our two countries, I believe we should establish a new Joint Homeland Security Group that allows America and Israel to share information and expertise in how to better protect our people from attack.
After a long history of oppression, the people of Israel understand that every day is extra. And from the first days of a Kerry Administration, we will stand with them in using every one of those days to bring security to their neighborhoods and make peace with their neighbors.
We will fight for a safer world and we will build a stronger America. The first responsibility of the President is to keep America safe and secure. And I will. I'm running because we are in a new kind of war, and we need a commander in chief with a plan to fight this war and win it.
I will never hesitate to use American power to defend our interests everywhere in the world.
I will direct our armed forces to bring terrorists to justice anywhere they gather to do us harm. I will never cede our security to any nation or institution, but I will always realize that in a global neighborhood, winning this war depends on restoring diplomacy as a tool of the strong.
I will never attempt to win this war on the cheap, and I will finally provide the men and women of the U.S. Armed Forces what they have not had in Iraq: all of the weapons, the armor, and the equipment they need to do the job we've asked them to do.
I will, however, force our enemies to wage this war on the cheap. We must do more to cut off the flow of terrorist funds. In the case of Saudi Arabia – a regime that openly and enthusiastically supports Palestinian terrorist groups such as Hamas – the Bush Administration has adopted a kid-glove approach to the laundering of terrorist money.
With Saudi-funded hate speech littering the textbooks of children and the Saudi interior minister claiming that "the Jews" were responsible for 9/11, our current Administration thinks that our current relationship with this regime is acceptable. I do not – and I intend to be a President who holds Saudi Arabia accountable for its conduct.
At the dawn of the 21st century, there are global threats that confront our global village. In the War on Terror, we do not face off just one man or one terrorist network or even the threat of terrorism itself. We face a fundamental struggle of values: democracy against terror, diversity against tyranny.
Let's be clear: the War on Terror is not a clash of civilizations. It is a clash of civilization against fanaticism; of the progress of humanity against the primitive fears of the few.
We can all stand with the Anti-Defamation League in combating anti-Semitism and racism wherever it exists. We can protect religious freedom on the job and protect the line between church and state. We can work to build economies at home and abroad that lift people from the swamps of despair to the high ground of hope. And we can continue to build the bridges between our neighborhoods that strengthen our common humanity.
Today, there is such a bridge in my hometown of Boston.
The Lenny P. Zakim Bridge is a monument to a man who knew that America was stronger when we built it together.
When I needed a guide and a companion on his first trip to Israel, my friend Lenny was there. And whenever bridges were needed to unite the diversity of our neighborhoods and our nation, Lenny was there.
He was there to start the first annual black-Jewish Seder, drawing over 600 people of all races and faiths in 1999. He was there to knock down religious barriers, being named a Knight of St. Gregory by Pope John Paul II--one of the highest honors bestowed on lay people by the Catholic Church. And he was there at the end of his life, delaying caner treatments so that he could keep working, keep teaching, keep spreading the values that make us strong.
You see, Lenny knew better than anyone that every other day is extra.
In a 1999 interview with the Boston Globe, he said: "We cannot wait for another Moses or Jesus to solve the predicament we find ourselves in today. We have to do it ourselves."
This is not just the calling of the Anti-Defamation League. This is the calling of all American and all those who believe in our common humanity across this planet.
I believe we can harness that spirit to lift our own land and the life of the world. I believe that spirit is alive in towns and communities across our country, where people really do know that we are all in this together ... where people want to embrace our differences ... where people are hungry for a leader who once again will summon the best in us.
If you lend me your trust, your strength, your voice and your vote, that's exactly the kind of President I will try to be.
And together we will build a stronger America.
Thank you and God bless you.
John F. Kerry, Remarks to the Anti-Defamation League Online by Gerhard Peters and John T. Woolley, The American Presidency Project https://www.presidency.ucsb.edu/node/216802