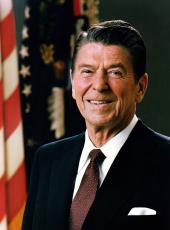 Remarks at the Annual National Prayer Breakfast
Distinguished clergy and Senators and Congressmen, guests, all our good friends: Nancy and I are delighted to be here with you today. It gives one a very good feeling to see so many of our national leaders here, and so many representatives of other countries, gathering together in a community of faith. Two hundred years ago another group of statesmen gathered together in Philadelphia to revise the Articles of Confederation and bring forth our Constitution. They often found themselves at odds, their purpose lost in acrimony and self-interest, until Benjamin Franklin stood up and said: "I have lived a long time, and the longer I live, the more convincing proofs I see of this truth—that God governs in the affairs of men. And if a sparrow cannot fall to the ground without His notice, is it probable that an empire can rise without His aid?" And then he called upon the convention to open each day with prayer.
How, with so much against them, could our Founding Fathers have dared so much, to declare for all the world and all future generations the rights of man, the dignity of the individual, the hopes of all humanity? Was it because they believed that God was on their side? Or was it because they prayed to discover how they might be on God's side? Our Founding Fathers knew that their hope was in prayer. And that's why our Declaration of Independence begins with an affirmation of faith and why our Congress opens every day with prayer. It is why the First Congress of the fledgling United States in the Northwest Ordinance provided for schools that would teach "religion, morality, and knowledge"—because they knew that no man, no nation, could grow in freedom without divine guidance.
If I might be allowed a personal note here. When I attended the commencement ceremonies at the Air Force Academy, I was surprised at how many of the graduating cadets came up to me, hand extended—930 in all—and told me they were praying for me. When I mentioned this to the commanding general, he told me that every morning you could find several hundred cadets in the chapel beginning their day with prayer. Hardly a day goes by that I'm not told—sometimes in letters and sometimes by people I meet—that they're praying for me. It's a warm but humbling feeling. Sometimes I answer when someone says that; I feel I have to say something. And I tell them that if they ever get a busy signal, it's because I'm in there ahead of them. [Laughter]
I grew up in a home where I was taught to believe in intercessory prayer. I know it's those prayers, and millions like them, that are building high and strong this cathedral of freedom that we call America; those prayers, and millions like them, that will always keep our country secure and make her a force for good in these too troubled times. And that's why as a nation we must embrace our faith, for as long as we endeavor to do good and we must believe that will be always—we will find our strength, our hope, and our true happiness in prayer and in the Lord's will.
I'd like to conclude with a story that is told by Dr. Paul Brand, the noted leprosy specialist, in his book "Fearfully and Wonderfully Made." Dr. Brand tells us of how, after World War II, a group of German students-young people—volunteered to help rebuild a cathedral in England that had been a casualty of the Luftwaffe bombings. And as the work progressed, debate broke out on how best to restore a large statue of Jesus with his arms outstretched and bearing the familiar inscription: Come Unto Me. Careful patching could repair all damage to the statue except for Christ's hands, which had been destroyed by bomb fragments. Should they attempt the delicate task of reshaping those hands? And finally the young workers reached a decision that still stands today. The statue of Jesus has no hands, but the inscription now reads: Christ Has No Hands But Ours. Isn't that really what he was always trying to tell us? Trying to tell us that we must be the hands, as we've heard so eloquently here by so many already today.
Well, thank you all. God bless you all.
Note: The President spoke at 9:20 a.m. in the International Ballroom at the Washington Hilton Hotel.
Ronald Reagan, Remarks at the Annual National Prayer Breakfast Online by Gerhard Peters and John T. Woolley, The American Presidency Project https://www.presidency.ucsb.edu/node/251554