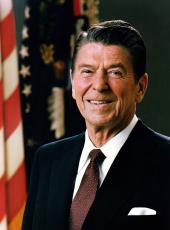 Remarks at the Annual National Prayer Breakfast
Thank you, Mark, and thank all of you ladies and gentlemen. Before I say what I was planning to say this morning, Senator Javits, you concluded your readings with a prayer, and so, of course, I know, understood that we are—all of us—accustomed not to applauding prayer. But I can't help but think that all of us here have a hunger within us to applaud you for your presence here and what you have meant to this gathering. [Applause]
And, Barbara, I had a terrible fear there for a few moments that you were going to make anything I had to say redundant. [Laughter] But I think that maybe the two fit together.
We all in this room, I know, and we know many millions more everywhere, turn to God in prayer, believe in the power and the spirit of prayer. And yet so often, we direct our prayers to those problems that are immediate to us, knowing that He has promised His help to us when we turn to Him. And yet in a world today that is so torn with strife where the divisions seem to be increasing, not people coming together, within countries, divisions within the people, themselves and all, I wonder if we have ever thought about the greatest tool that we have—that power of prayer and God's help.
If you could add together the power of prayer of the people just in this room, what would be its megatonnage? And have we maybe been neglecting this and not thinking in terms of a broader basis in which we pray to be forgiven for the animus we feel towards someone in perhaps a legitimate dispute, and at the same time recognize that while the dispute will go on, we have to realize that that other individual is a child of God even as we are and is beloved by God, as we like to feel that we are.
This power of prayer can be illustrated by a story that goes back to the fourth century. The Asian monk living in a little remote village, spending most of his time in prayer or tending the garden from which he obtained his sustenance—I hesitate to say the name because I'm not sure I know the pronunciation, but let me take a chance. It was Telemacmus, back in the fourth century. And then one day, he thought he heard the voice of God telling him to go to Rome. And believing that he had heard, he set out. And weeks and weeks later, he arrived there, having traveled most of the way on foot.
And it was at a time of a festival in Rome. They were celebrating a triumph over the Goths. And he followed a crowd into the Colosseum, and then there in the midst of this great crowd, he saw the gladiators come forth, stand before the Emperor, and say, "We who are about to die salute you." And he realized they were going to fight to the death for the entertainment of the crowds. And he cried out, "In the name of Christ, stop!" And his voice was lost in the tumult there in the great Colosseum.
And as the games began, he made his way down through the crowd and climbed over the wall and dropped to the floor of the arena. Suddenly the crowds saw this scrawny little figure making his way out to the gladiators and saying, over and over again, "In the name of Christ, stop." And they thought it was part of the entertainment, and at first they were amused. But then, when they realized it wasn't, they grew belligerent and angry. And as he was pleading with the gladiators, "In the name of Christ, stop," one of them plunged his sword into his body. And as he fell to the sand of the arena in death, his last words were, "In the name of Christ, stop."
And suddenly, a strange thing happened. The gladiators stood looking at this tiny form lying in the sand. A silence fell over the Colosseum. And then, someplace up in the upper tiers, an individual made his way to an exit and left, and others began to follow. And in the dead silence, everyone left the Colosseum. That was the last battle to the death between gladiators in the Roman Colosseum. Never again did anyone kill or did men kill each other for the entertainment of the crowd.
One tiny voice that could hardly be heard above the tumult. "In the name of Christ, stop." It is something we could be saying to each other throughout the world today.
Now, several days ago while I was very concerned about what I was going to say here today and trying to think of something to say, I received through diplomatic channels a message from far out across the Pacific. Sometime ago, our Ambassador presented to General Romulo of the Philippines the American Medal of Freedom. Not only had he been a great friend of the United States in our time of war, but then he had spent 17 years as an Ambassador here in Washington, from his country to ours. And for whatever reason, he sent this message of thanks to me for the medal that had been given, and then included the farewell statement that he had made when he left Washington, left this country, after those 17 years.
And I had to confess, I had never been aware that there had been such a farewell message, and I'm quite sure that many of you hadn't. And so, I'm going to share it with you. I think it fits what we're talking about today. He said, "I am going home, America. For 17 years, I have enjoyed your hospitality, visited every one of your 50 States. I can say I know you well. I admire and love America. It is my second home. What I have to say now in parting is both tribute and warning.
"Never forget, Americans, that yours is a spiritual country. Yes, I know you're a practical people. Like others, I've marveled at your factories, your skyscrapers, and your arsenals. But underlying everything else is the fact that America began as a God-loving, God-fearing, God-worshiping people, knowing that there is a spark of the divine in each one of us. It is this respect for the dignity of the human spirit which keeps America invincible.
"May you always endure and, as I say again in parting, thank you, America, and farewell. May God keep you always, and may you always keep God."

Thank you.
Note: The President spoke at 9:16 a.m. in the International Ballroom at the Washington Hilton Hotel. He was introduced by Senator Mark O. Hatfield of Oregon. Among those participating in the breakfast program were Jacob Javits, former U.S. Senator from New York, and Barbara Jordan, former U.S. Representative from Texas.
Ronald Reagan, Remarks at the Annual National Prayer Breakfast Online by Gerhard Peters and John T. Woolley, The American Presidency Project https://www.presidency.ucsb.edu/node/260639