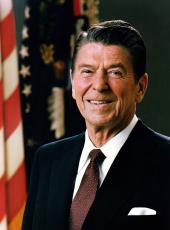 Remarks at the Annual National Prayer Breakfast
Thank you all very much, all our friends and distinguished guests here at the headtable and all of you very distinguished people.
General Vessey,1 I'm terribly tempted to call for a vote right now on the defense budget. [Laughter]
1Gen. John W. Vessey, Jr., Chairman of the Joint Chiefs of Staff .
Nancy and I are delighted to be with you here this morning.
You know, on the way over, I remembered something that happened a long time ago when teachers could talk about things like religion in the classroom. And a very lovely teacher was talking to her class of young boys, and she asked, "How many of you would like to go to heaven?" And all the hands instantly shot into the air at once, except one, and she was astounded. And she said, "Charlie, you mean you don't want to go to heaven?" He said, "Sure, I want to go to heaven, but not with that bunch." [Laughter]
Maybe there's a little bit of Charlie in each of us. [Laughter] But somehow I don't think that wanting to go to heaven, but only on our terms, and certainly not with that other bunch, is quite what God had in mind. The prayer that I sometimes think we don't often use enough—and one that I learned a few years ago and only after I had gotten into the business that I'm in—is one of asking forgiveness for the resentment and the bitterness that we sometimes feel towards someone, whether it's in business dealings or in government or whatever we're doing, and forgetting that we are brothers and sisters and that each of them is loved equally by God as much as we feel that He loves us.
I'm so thankful that there will always be one day in the year when people all over our land can sit down as neighbors and friends and remind ourselves of what our real task is. This task was spelled out in the Old and the New Testament. Jesus was asked, "Master, which is the great commandment in the law?" And He replied, "Thou shalt love the Lord thy God with all thy heart, and with all thy soul, and with all thy mind. This is the first and great commandment. The second is like unto it, thou shalt love thy neighbour as thyself. On these two commandments hang all the law and the prophets."
Can we resolve to reach, learn, and try to heed the greatest message ever written-God's word and the Holy Bible. Inside its pages lie all the answers to all the problems that man has ever known.
Now, I am assuming a new position; but I should warn our friends in the loyal opposition, this new job won't require me to leave the White House. With the greatest enthusiasm, I have agreed to serve as honorary chairman for the Year of the Bible.
When we think how many people in the world are imprisoned or tortured, harassed for even possessing a Bible or trying to read one—something that maybe we should realize how—and take advantage of what we can do so easily. In its lessons and the great wealth of its words, we find comfort, strength, wisdom, and hope. And when we find ourselves feeling a little like Charlie, we might remember something that Abraham Lincoln said over a hundred Years ago: "We have forgotten the gracious hand that preserved us in peace, and multiplied and enriched and strengthened us; and we have vainly imagined, in the deceitfulness of our hearts, that all these blessings were produced by some superior wisdom and virtue of our own . . . we have become too proud to pray to the God that made us!" Well, isn't it time for us to say, "We're not too proud to pray"?
We face great challenges in this country, but we've faced great challenges before and conquered them. What carried us through was a willingness to seek power and protection from One much greater than ourselves, to turn back to Him and to trust in His mercy. Without His help, America will not go forward.
I have a very special old Bible. And alongside a verse in the Second Book of Chronicles there are some words, handwritten, very faded by now. And, believe me, the person who wrote those words was an authority. Her name was Nelle Wilson Reagan. She was my mother. And she wrote about that verse, "A most wonderful verse for the healing of the nations."
Now, the verse that she'd marked reads: "If my people, which are called by my name, shall humble themselves, and pray, and seek my face, and turn from their wicked ways; then will I hear from heaven • . . and will heal their land."
I know that at times all of us—I do—feel that perhaps in our prayers we ask for too much. And then there are those other times when we feel that something isn't important enough to bother God with it. Maybe we should let Him decide those things.
The war correspondent Marguerite Higgins, who received the Pulitzer Prize for International Reporting because of her coverage of the Korean war, among all her writings had an account one day of the Fifth Company of marines who were part of an 18,000-man force that was in combat with a hundred thousand of the enemy. And she described an incident that took place early, just after dawn on a very cold morning. It was 42 degrees below zero. And the weary marines, half frozen stood by their dirty, mud-covered trucks, eating their breakfast from tin cans.
She saw one huge marine was eating cold beans with a trench knife. His clothes were frozen stiff as a board; his face was covered with a heavy beard and crusted with mud. And one of the little group of war correspondents who were on hand went up to him and said, "If I were God and could grant you anything you wished, what would you most like?" And the marine stood there for a moment, looking down at that cold tin of beans, and then he raised his head and said, "Give me tomorrow."
Now I would like to sign a proclamation which will make 1983 the Year of the Bible. And I want to thank Senator Bill Armstrong and Representative Carlos Moorhead and all those inside and outside of Congress who assisted them and made this all possible. Thank you, and God bless you. And I'm going down and sign the proclamation.
Note: The President spoke at 9:03 a.m. in the International Ballroom at the Washington Hilton Hotel.
Ronald Reagan, Remarks at the Annual National Prayer Breakfast Online by Gerhard Peters and John T. Woolley, The American Presidency Project https://www.presidency.ucsb.edu/node/262072