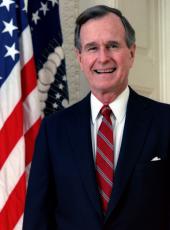 Remarks at the Annual National Prayer Breakfast
Dr. and Mrs. Bright and reverend clergy, and members of the National Day of Prayer Committee, distinguished Members of the Senate and the House of Representatives, and ladies and gentlemen: You know, it's often said of a group or individual that he hasn't got a prayer. [Laughter] Well, those of us interested in sports keep hearing that all of the time. But I'm delighted to address an audience about which that will never be said.
And first, I want to say what a pleasure it is to welcome you on this special day. America's religious, civic, political leaders welcome you to this very special place, America's house. We come as friends, as believers in a humane and loving God, and we meet on a special day for America -- a National Day of Prayer.
You know, a little boy once uttered this simple prayer: "God bless mother and daddy, my brother and sister, and, oh, God, do take care of yourself because if anything happens to you, we're all sunk." [Laughter] Well, I expect this George Healy portrait of Lincoln gets to the margins of that prayer, and I expect he felt that way -- perilous times for our country. And I'm sure all of us have shared those sentiments at one time or another -- something in our own lives, something facing our country.
Certainly the Continental Congress did, for it was they who in 1775 issued the first official proclamation of a National Day of Prayer. In 1952 Congress decreed that a specific date be set aside each year for Americans to gather in homes and places of worship in order to pray. And since then, every President has declared a National Day of Prayer. And so, this morning, like my predecessors, I am proud to continue that tradition. But I am pleased to note that today marks a departure from the norm, for 1989 marks the first year of an official permanent date of designation: from now on, the first Thursday of every May.
My friends, I'm glad that together we could commemorate this event, and just for a few moments let me focus on what to me, and I hope to you, this observance means. It does mean, I'm sure we would all agree, that we believe in separation of church and state, but not in the separation of morality, or moral values and state. While the government must remain neutral towards particular religions, it must not, certainly it need not, remain neutral toward values that Americans support. And yes, we believe in pluralism. And I just want to reassure you I believe in pluralism -- certainly in mutual tolerance, for we are one nation under God. And we were placed here on Earth to do His work. And our work has gone on now for more than 200 years in the Nation -- a work best embodied in four simple words: In God we trust. And it was to that higher being that George Washington looked when in 1776 he was addressing his troops, and he said, "The fate of unborn millions will now depend, under God, on the courage and conduct of this army."
Lincoln believed in divine providence. Leaving Springfield to take over, to assume the Presidency, he told the people of his hometown that the God which helped General Washington must now help him. "Without the assistance of the divine being," Lincoln said, "I cannot succeed. With that assistance, I cannot fail." And some of you may be too young to remember D-day. Not many of you, but some of you may be too young. [Laughter] Over a nationwide network, Franklin Roosevelt prayed for the safety and success of our invading force. "Our sons," he said, "pride of our nation, lead them straight and true. Give strength to their arms, stoutness to their hearts, steadfastness in their faith."
Our history tells us what our hearts confirm: As Americans, we are a religious people. We prize compassion and self-sacrifice. We know that America is great because America is good, and as President, I am reminded of that constantly. Several weeks ago, I was sharing this with Mrs. Bright and Mr. Zeoli. Barbara and I went up to -- or did you go to Lancaster, PA? She didn't make the traveling squad. [Laughter] I went to Pennsylvania, and I went to a local high school in a relatively affluent rural area, Lancaster, and there we discussed a problem which is America's problem -- the rising use of drugs. If you ever need to pray about something and ask for strength and guidance, it is this: that we succeed in our antinarcotics efforts.
But then, after meeting with this relatively affluent group, and hearing that drugs were in their corridors and in their playgrounds, I went a few miles over -- just the same community -- to meet with the Amish and Mennonite leaders. And wonderful people, and kind -- living their own lives -- and they don't have a drug problem. And they made very clear to me why: family and faith. Against them, drugs don't have a chance.
And I am convinced that faith and family can help us honor God in a most profound and personal way -- daily, as human beings -- by the conduct of our lives. They teach us not only to revere but to practice the Golden Rule. And they also help us reflect the internal values of decency, humility, kindness, and caring. I thought of those values last Sunday when I was in New York to mark the 200th anniversary of George Washington's first Inaugural Address. For it was then that, like Washington two centuries ago, Barbara and I prayed at St. Paul's Chapel, there where in 1789 a prayer service was offered by the chaplains of Congress for the United States of America. To me that day -- some of you may have seen it -- was moving, intimate, but there was something special about that church service 200 years ago. This Washington realized that political values without moral values, without that moral underpinning, cannot sustain a nation.
And so, this strong yet gentle man knew that the advancement of America, while it might rely on its President, would surely depend on providence. And so, what Washington believed so strongly over 200 years ago -- it really is just as true today. For without God's help, we can do nothing, and with it, we can do great things -- for our children, for the world.
So, let me just thank you all for coming. Barbara and I are delighted to have you here. We will do our best in the people's house to hold these values high that are shared by everybody here regardless of our denomination, regardless of our own personal commitments. We welcome you, we are pleased you're here. And if you have an extra minute for a prayer when the going gets a little tough, remember the Congress. They need it, too. [Laughter] And Barbara and I know we do, too.
Thank you all very, very much. Thank you for coming.
Note: The President spoke at 8:45 a.m. in the State Dining Room at the White House. In his remarks, he referred to Vonette Bright, chairwoman of the National Day of Prayer Committee; and Billy Zeoli, president of Gospel Films.
George Bush, Remarks at the Annual National Prayer Breakfast Online by Gerhard Peters and John T. Woolley, The American Presidency Project https://www.presidency.ucsb.edu/node/263384