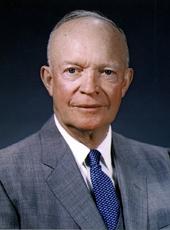 Remarks at the Annual Meeting of the American Council on Education.
Dr. Sterns, ladies and gentlemen:
One of the more pleasant duties devolving upon the Chief Executive is that of welcoming from time to time different groups and bodies here to the Nation's Capital. Of all these groups I can think of none in which I could possibly take greater satisfaction in serving as spokesman for the administration in these words of welcome than for this one.
You know, for a very brief period in my life, the educational group allowed me to be one of their members. They couldn't stand me very long, but I had a very wonderful experience while I was there. I learned many things about our educational group. One of them that impressed me more than any other was their dedication to ideals and to high purposes.
This morning I am not foolish enough to try to talk to you about your functions. You people, representatives of the great educational fabric of this whole Nation, know so much more about each of your problems than I do that it would be unpardonable for me to consume your time. But I can tell you about one of the effects that all of us hope will result from certain phases of your work.
I am talking about the understandings that must come about in the world, if we are to achieve, in this day and time, that sort of machinery--the kind of techniques--that will allow people to live together without intermittent blazing into conflict.
It is not enough that we merely know where another nation lies. It is not enough that we know something of their institutions, their history, their traditions. We must gain some understanding of those people as such. I have never forgotten my shock, once, when I saw a very modern-looking village deserted in a far corner of Africa. It had been deserted because the builders put running water into all the houses. The women rebelled, because there was now taken away from them their only excuse for social contact with their own kind at the village well. I suddenly understood that I didn't understand others. I had been guilty of the very great error of putting into their minds and hearts the same aspirations, the same kind of desires that I had. And it simply isn't so.
If we, therefore, are going to progress along the lines of these understandings, we can talk about all the diplomacy that it is possible to bring to bear upon it, we can talk about all the security we may achieve by arms, and by any other arrangements. But we are never going to make real progress unless the educational people, and groups, and institutions of all countries see this problem and get into it to help.
I personally believe that in your programs of interchange of students and professors and others in schools, is one of the great ways one of the principal ways--that this can come about. Indeed, I believe so much in this, that I would like to see some exchange programs worked out between associations of manufacturers, and labor unions and everything else--not stopping when a man is 21 or 26 or 27 and we say his formal education is over, or at least he is going to end his educational processes. I believe in every phase of leadership. In all our countries, we have to seek and support these exchanges, because I believe through them we will have one method, one road to follow, in leading to that happy time when we can live in peace as well as security.
So, haltingly as I have expressed my simple thoughts, I hope that they help convince you that I am delighted to see you here, to see people trained in the processes of education, people of great minds meeting here to exchange ideas of how best may we achieve progress among all men--our own people, and those with whom we must necessarily live in this shrinking world.
For the honor of appearing before you, thanks to each one of you.
Note: The President spoke at 10:00 a.m. at the Statler Hotel in Washington. In his opening words he referred to Dr. Robert L. Stems, Chairman of the American Council on Education.
Dwight D. Eisenhower, Remarks at the Annual Meeting of the American Council on Education. Online by Gerhard Peters and John T. Woolley, The American Presidency Project https://www.presidency.ucsb.edu/node/232124