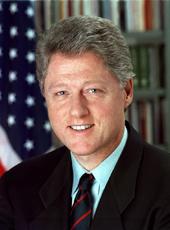 Remarks at the Annual Easter Egg Roll
Where is Bernie? Is he behind me? Oh, here you go.
Well, let me say I always look forward to this every year. And the forecast today, believe it or not, was for snow. But we knew that the Easter Egg Roll wouldn't be spoiled, and just look what a wonderful day we have.
So let me say I want to join Hillary in thanking all of you who have contributed to make this Egg Roll successful. I want to thank all of you for coming and all of those who will come. This is a wonderful day for all the children who come here, and it really belongs to the children. And I love looking out and seeing all these smiling faces of parents with their children. I sometimes think the parents have more fun than the children do, but it really is for the children, so all of you like me, who like this, try to restrain yourselves so that the kids can stay front and center.
It is a great honor for us to be a part of this. It is one of the things that we are really thankful for, the opportunity to live in the White House, to do, because it gives America's children a chance to come here and be a part of this. I hope you have a wonderful, wonderful day.
And I think it is time to start. So I want Bernie to come up here and blow the whistle to start the Egg Roll. He has been doing this every year for a few years—[laughter]—and we are honored to have him again. He is as much an institution of this Egg Roll as anything else we do. So let's give him a big hand and let's begin. Bernie Fairbanks, come on.
All right, we've got one track here and one track here. And I'm going to blow the whistle, and both of you start at the same time, okay? All right, one, two, three.
NOTE: The President spoke at 9:50 a.m. on the South Lawn at the White House.
William J. Clinton, Remarks at the Annual Easter Egg Roll Online by Gerhard Peters and John T. Woolley, The American Presidency Project https://www.presidency.ucsb.edu/node/223106