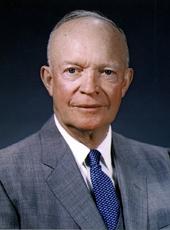 Remarks at the Annual Convention of the National Rivers and Harbors Congress.
Mr. Chairman, ladies and gentlemen:
First, permit me on behalf of the administration, and I am sure all of Washington, to bid you a very warm welcome to this city for your deliberations. We hope that you find your meeting not only profitable but enjoyable.
I have just heard it said that every President in the past 53 years has endorsed the work of this Congress. Here is one case where I certainly intend to set no precedent of a negative sort, and I join in the list of those who have endorsed your work.
Now, if I may impose on a bit of your time before you can make inroads on your luncheon, I should like to tell you of just one or two of the reasons why I feel so strongly in this matter.
I have become convinced that before very long, America will almost unanimously look upon water as its single greatest resource. Everywhere we find evidence of its destructiveness when badly used or when not controlled. We have a very great lack of it in some areas, even down to one project proposed for drinking water--just isn't enough drinking water for three cities in one of our States.
Along with it, of course--when we are conserving and handling water correctly--goes soil conservation. So I won't even take your time to digress into that field, but simply stick to the water end of it.
Now, as an old soldier, I have a horror of piecemeal action. There are among you old soldiers who have attended Fort Leavenworth and have heard of all the lessons they taught us and the criticisms of doing things piecemeal. I learned that, and I believe it. So when a project is proposed that seems to me to be unrelated to all of the necessities of a river valley or of a slope in which it is located, I am very cold and unsympathetic. I believe that we have got to go to the Continental Divide and find from there on to the sea where each drop of water falls and what we are going to do with it until it reaches the sea. I believe that any lesser survey of our water resources, our water uses, and our water control, is completely piecemeal, and we should reject it.
When we begin to talk about dams on streams, or soil conservation way upstream, I believe they are two related subjects and should be dealt with together.
Now I know that a body such as this is doing valuable work every day. My anxiety is to have the Government cooperate with you and to be so organized that it can effectively operate and cooperate with you without the necessity of running to half a dozen departments in the executive branch. I shall do this, and am doing it.
There is being organized, first, a Cabinet committee on water resources that will be announced either this evening or tomorrow. It will have on it the Defense Department, the Interior Department, and the Agriculture Department. The heads of those Departments will be the members, and they will coordinate with bodies such as this, with the Hoover Commission, and with Members of Congress, to devise on .behalf of the executive departments a broad water program that will cover this continent from ocean to ocean and from the Canadian border to Mexico.
Under this Cabinet committee will be organized an operating committee so that the policies determined upon by the Legislature--the National Legislature--and the Cabinet committee can be implemented. This operating committee, in turn, will be able to meet with you and your representatives on an operating basis.
In this way, we hope that not only will the Federal Government be coordinated in this great endeavor, but that the actual activities which you people so deeply study will be coordinated as far as the Federal executive department is concerned. We will then be able to plan to use our water for power, for irrigation, for its control so that it doesn't flood out our other resources and wash away soil, for navigation, for the proper use of our harbors. That will be our task.
There are other individuals in Government that will be members of these committees, when necessary. These will be permanent committees established for this purpose. And certainly I do hope that in this one field the great wisdom and experience that can be brought to us by the professionals in the field, the people who study it, such as you do, by the policy-making groups in the Congress, by our own executing agencies in the executive department and branches, all can be brought together. We hope that all can work to the end that we will make certain that we won't wake up some two decades from now and regret that we did not act intelligently back in 1954 with respect to this greatest of all national resources.
Now in this very crude and informal way, I have tried to tell you why I am interested in your work. If I haven't made you understand it now, I don't know what else to say. So with this brief interlude--for which I thank you, and thank you for the compliment of inviting me before you--I will say goodbye. Good luck to each of you.
Note: The President spoke at the Mayflower Hotel in Washington. John L. McClellan, U.S. Senator from Arkansas, was President of the Congress, and Overton Brooks, U.S. Representative from Louisiana, was Vice President and chairman of the Convention.
Dwight D. Eisenhower, Remarks at the Annual Convention of the National Rivers and Harbors Congress. Online by Gerhard Peters and John T. Woolley, The American Presidency Project https://www.presidency.ucsb.edu/node/232042