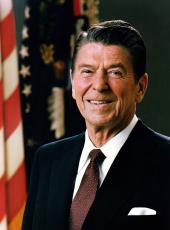 Remarks at the Annual Convention of the Congressional Medal of Honor Society in New York City
Arnold and Zack Fisher, Mrs. MacArthur, Ron Ray, Tex McCrary, distinguished Congressional Medal of Honor recipients, Members of the Congress, and ladies and gentlemen:

I thank you for such a very warm welcome.
I have to tell you that back in Hollywood I was warned that I should never share the spotlight with small children or animals. They would upstage you and steal the scene every time. But there was never a word of warning about sharing the stage with a presentation such as we've just seen. And first of all, I have to get the lump out of my throat.
May I just say when Americans see this, they're going to feel a deep pride in themselves, in their country, and a sense of humble gratitude for their fellow citizens whose deeds were memorialized in this production. My congratulations and thanks to everyone who made this film possible.
It's a great privilege today and a very great honor to participate in this event. Your efforts to serve remind us of America's heritage and its purpose.
An America that is militarily and economically strong is not enough. The world must see an America that is morally strong with a creed and a vision. We are such people. This is what has led us to dare and to achieve. For us values count. They are the wellspring of our American way of life, the real meaning of the Hall of Honor-service to country, patriotism, honor, and sacrifice.
Those words in the film so stir the soul: "Not to be heroes, but to serve. Not to die, but to live. Not because we wanted to, but because there was a need."
Last week in Beirut, there was a need. Six marines heard that four of their buddies were in trouble. They went to help. Fifteen minutes later, eight fine, young Americans had added their names to the long list of those who have given their lives for their country. There was a need. Greater love hath no man than this, that he lay down his life for his friends.
God bless all of you here today. And, yes, God bless those who never lived to know that what they had done was heroic.
The price of freedom is high, but never more costly than the loss of freedom. And freedom, we must always remember, is never more than one generation away from extinction. Each generation must do whatever is necessary to preserve it and pass it on to the next, or it will be lost forever.
We must deal with the world as it is and not the way we would like it to be. If we turn a blind eye and a deaf ear when totalitarian regimes brutalize the hopes and dreams of people, we demean the valor of every person who struggles for human dignity and freedom. And we also demean all those who have given that last full measure of devotion.
The quest for freedom continues to build. There is a revolution going on in this world, a revolution for freedom and democratic ideals. It may not capture the headlines, but it is there, and it's growing. That is the real message of our time, and it may just be the reason why those who don't like to hear the truth are so worried.
History doesn't offer many crystal clear lessons for those who manage our nation's affairs, but there are a few. And one of them surely is a lesson that weakness on the part of those who cherish freedom inevitably brings a threat to that freedom. Tyrants are tempted. With the best intentions, we have tried turning our swords into plowshares, hoping that others will follow. Well, our days of weakness are over. Our military forces are back on their feet and standing tall.
Modern equipment is being delivered to troops, and more is on the way. The mobility and firepower of our ground forces are being strengthened with up-to-date equipment. And no longer is the American military being asked to defend freedom with equipment from wars past. I'm also pleased to report that training and readiness rates have really soared. Too often, we forget that the bulk of our defense dollars are spent to keep the troops well-trained, equipment in working order, spare parts and ammunition on hand.
And we do none of this because we seek war. Indeed, we hope we will preserve the peace. But when our citizens are threatened, it is government's responsibility to go to their aid, as we did in Grenada.
Our forces had what they needed to get the job done. And now the world knows that when it comes to our national security, the United States will do whatever it takes to protect the safety and freedom of the American people.
May I just say that, as of this morning, 950 of the 82d Airborne are enplaned on their way back to this country—the last of the combat troops in Grenada. What are known as military service force—engineers, Seabees, medical personnel, and military police—will stay there in a detachment to help that country get back on its feet, and to replace and rebuild things that need replacing and rebuilding.
On wonderful thing is that today when you see a young man or woman in uniform, they chose to wear that uniform. And they wear it with honor. And they serve their country because they're proud to do so. And I know that our service men and women feel that it is an honor. And I hope this makes you as proud as it does me. From Grenada to Lebanon to the Demilitarized Zone of Korea to the NATO line in Europe, young Americans are carrying on in the finest tradition of those before them. They care; they understand; and they continue to give willingly of themselves.
There was a recent article in a Newsweek magazine that made the point very well. A 40-year-old father with five sons noted that he grew up in a generation where the military service was to be avoided. The recruiting stations were places to stage protests. Now his eldest son, in college, wants to be all that he can be, one of the select few. Each trip to the recruiting office generates enthusiasm among his younger brothers, who are proud of their older brother.
The father wrote in that article, "My children somehow have settled on a place where it is their assumption that this country is right and just unless they are shown otherwise." Well, his children believe the basic values that made America great, God bless them.
And here today, with all of you who believe those values so much that you went beyond the call of duty in defending them—many like you are no longer with us. They will be honored and remembered not just because you and they heeded the call of duty but because you and they performed above and beyond that call.
That's the meaning of this greatest recognition our country can give. Wear it proudly, because it is so much a part of what makes America unique in all the world. Yes, heroism in combat is recognized in every nation. But there is something in this particular recognition that is peculiar to our way of life. Maybe you'll let me illustrate it with a story.
World War II, I was in the Horse Cavalry Reserve, so it was only natural that when I was called up to active duty, I found myself an adjutant in an Air Corps post. [Laughter] The post happened to come directly under Air Corps Intelligence, so the general orders and all the citations from every branch of the service came over my desk. And I used to delay their arrival at the commanding officer's desk while I slipped them under my blotter so that I could read them in the leisure of the evening—read those wonderful statements, those unbelievable statements of what individuals, all over the world in our Armed Forces had done, particularly those who were being cited for the Congressional Medal of Honor.
And some years after the war was over, I read where a man in Moscow had been awarded their highest honor, their gold medal, but apparently they don't give citations as we do to tell what the medal was awarded for. This man was a Spaniard, had lived in Moscow for 4 years. He'd been a refugee from the Spanish Civil War. He was an interpreter. There wasn't anything in that to warrant his getting the medal. I discovered that 8 years before that he had been in Castro's Cuba, but apparently nothing there. But a journalist, who had the ability to research further than I did, came up with the total story. Before the 8 years in Cuba, he had spent 23 years in Mexico, in prison. He was the man who buried that ice axe mountaineers, mountain climbers carry in the head of Leon Trotsky.
And I found my memory going back to those things that I had read during the war, any one of them a thrilling story of heroism above and beyond the call of duty. But one in particular seemed appropriate at that time. A B-17 coming back across the channel from a raid over Europe, badly shot up by antiaircraft, the ball turret that hung underneath the belly of the plane had taken a hit. The young ball-turret gunner was wounded, and they couldn't get him out of the turret there while flying.
But over the channel, the plane began to lose altitude, and the commander had to order bail out. And as the men started to leave the plane, the last one to leave—the boy, understandably, knowing he was left behind to go down with the plane, cried out in terror—the last man to leave the plane saw the commander sit down on the floor. He took the boy's hand and said, "Never mind, son, we'll ride it down together." Congressional Medal of Honor, posthumously awarded.
They in another society give their highest honor to a political assassin. We gave ours to a man who would sacrifice his life simply to bring comfort to a boy who had to die. I think that explains the great difference between our societies and the great significance of this particular award.
The bedrock of our strength is America's moral and spiritual character. Peace with freedom is the highest aspiration of the American people. We negotiate for peace. We sacrifice for it. We will never surrender for it.
Our commitment to arms reduction is unshakable. We'll not give up our search for peaceful solutions in the Middle East or Central America or elsewhere. But let us hope and pray that a tomorrow will come in which we will never have to call upon the courage of men and women in the field of battle. General Douglas MacArthur expressed this hope when he said: "Could I have but one line a century hence, crediting me with a contribution to the advancement of peace, I would yield every honor which have been accorded me by war."
God bless all of you, and may God continue to bless this land. Thank you. [Applause]
Thank you very much. I'm not doing an encore. I just have to—before I—please, sit down.
I've been given a very pleasant chore, and I hope that it is a surprise for Zach Fisher. I hope it's a surprise. I've learned in Washington, that that's the only place where sound travels faster than light. [Laughter]
The Intrepid Sea-Air-Space Museum is Zachary Fisher, its founder and chairman. And there is a plaque being held here. They said that he would hold it because it weighs 40 pounds. [Laughter] I can lift 40 pounds, but I'll let you. Zachary Fisher, we're presenting you this plaque. It's given with the heartfelt thanks of millions of Americans.
The inscription reads: "Due to the tireless and dedicated work of many Americans, the Intrepid will serve as an inspiration to both young and old for years to come. One man deserves special tribute—Zachary Fisher—a patriotic American who never forgot and who cares so much."
[At this point the President presented the plaque to Mr. Fisher, chairman of the board of directors of the Intrepid Sea-Air-Space Museum Foundation. Following remarks by Mr. Fisher, Col. Ron Ray, president of the Congressional Medal of Honor Society, presented the Society's Patriots Award to the President, who responded as follows. ]

Thank you all very much.
There are no words to express how honored I feel because, particularly, of all of you and what you mean who made this possible. My feelings are also compounded by a little guilt. It's a medal for patriotism. But it's so easy to love America that I don't know whether you're entitled to a medal for doing that. But I do. And I must say, thank you very much.
I just have to say one thing so that you all won't be in suspense. Ron is going to be able to tell his mother now the picture was "The Outlaw" and the girl was Larraine Day. [Laughter]
Note: The President spoke at 1:27 p.m. in the Imperial Ballroom at the Sheraton Centre Hotel. He was introduced by Arnold Fisher, a member of the board of trustees of the Intrepid Sea-Air-Space Museum's Hall of Honor.
Following his appearance at the luncheon, the President met with New York ethnic leaders at the hotel and then returned to Washington, D.C.
Ronald Reagan, Remarks at the Annual Convention of the Congressional Medal of Honor Society in New York City Online by Gerhard Peters and John T. Woolley, The American Presidency Project https://www.presidency.ucsb.edu/node/262141