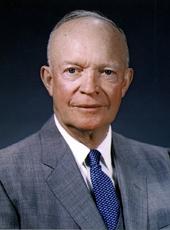 Remarks to the American Retail Federation.
Ladies and gentlemen:

As I walked in, your president thanked me for taking the time out of what I rightfully described as a busy day, to come over here. I felt that I should thank him for doing just that, and getting me out of the maelstrom I was glad to leave behind for a bit.
Besides, I had a chore--a sort of obligation, a duty--that I thought I might discharge here.
As you all know, my education in politics has been very short but intense. I have been learning something of the functions of the different sectors of our economy and of our Government. And I learned that you people have been doing something for the Government without getting paid for it: that you have been collecting taxes for us. So I thought it would be no less than my duty to come over and thank you most gratefully for those contributions, because I assure you they are needed these days, as far as I can see.
I am not going to pretend to a wisdom in retailing and marketing that would justify my taking your time. I hope your meeting here is profitable, and I hope also that you are having an enjoyable convention. But I am willing to call attention to one responsibility you people have, that I doubt that anyone else has spoken about.
It is in the realm of memory. I see some of you here--I hate to be insulting--who I could call contemporaries of mine. Now, particularly if you came from the smaller towns and villages-farming areas of our country--you have memories that are priceless. They so often centered around the retail store, the open cracker barrel, the prune barrel, the pickle jug or keg. Places where things were sold and people gathered because they needed them. They were the social centers of our time.
And our memories today--since we know that man does not live by bread alone those memories are valuable. They center around that time, that place, those connections, those contacts.
This is what I want to know from the retailers of today: what are you doing to give the kids that are 6 years old to 12 similar memories when they are our age? Memories that will live with them?
Now, I think this important. I know that during Christmas time you get out the finest and biggest Santa Clauses with more pillows and more beards than they ever had in my time. As a matter of fact I don't think we had them then. But that is not quite enough. They have got to have something that so far as possible makes up for what we had. They have their television, but that they will have with them always. Those won't be their valuable memories. Something that brings about homely contacts with other Americans, where they learn something--something they carry with them--some proverb--even an aphorism.
I hope that the American retailers will not forget to sell memories. I don't think there's a lot of philosophy in this thought of mine, yet it is something that has some value.
Now, frankly, I came over to bid you welcome as representatives of a great portion of our economy and of our American life--a very necessary part; to come here and say how glad the administration is to see you here, to wish you a very enjoyable and fine time, to hope you will come again, that the sun will shine and everything will be wonderful while you are here. I came for nothing else, then I just got to talking, as I so often do.
Thank you very much, and goodbye.
Note: The President spoke at the Statler Hotel in Washington at 1:00 p.m. In his opening words he referred to Rowland Jones, Jr., president of the federation.
Dwight D. Eisenhower, Remarks to the American Retail Federation. Online by Gerhard Peters and John T. Woolley, The American Presidency Project https://www.presidency.ucsb.edu/node/232278