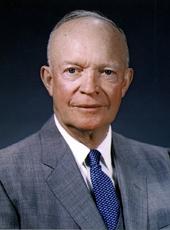 Remarks at the American Red Cross Convention.
Mr. Harriman, and members and friends of the Red Cross:
Late this evening, I was shown a copy of a program for this evening's meeting, and on it I found--I suppose you did, if you saw this same document--"Greetings from the President of the United States."
Now, I talked to some of my associates on the way over, and I said: "What do you say when you have the subject of greetings? Now they know I am glad to see them or I wouldn't be there." Well, one of them mentioned you might say it rather loudly. But, still pursuing this question, I asked your president, who gave me rather a roguish look and said, "You are on your own."
Now, ladies and gentlemen, with that kind of a liberal, unrestricted directive, as I get up here, I am about as interested as you are in finding where I am coming out.
I noticed one thing on the part of your president. As he opened the proceedings this evening, he mentioned that the Red Cross and its officials rarely mention names. I agree with him that it is wise to avoid personalities. It is rather unprofitable business. But he immediately proceeded to break his own rule and introduce to us certain distinguished people we were all very happy to meet. So I think I may be pardoned for breaking my rule.
My first observation would be to assure Mr. Melton that if this audience could have any influence with the board of the Metropolitan, we are sure he would get his raise. And speaking for myself, at least, I should like to thank his 7-year-old daughter for her suggestions as to songs.
And a word about Mr. Harriman, who came to my office shortly after I moved into my new address over here on Pennsylvania Avenue. He told me his term was up, and he indicated with a smile on his face, he was going somewhere. I said, "If it is that easy to quit, Roland, let's both go fishing." He got the point and said, "I will go right back to work." And as long as I am there, as far as I am concerned, he will be here.
But, my friends, I had a very real reason for coming over here that has nothing to do with just saying I am glad to see you, which I most emphatically am. In a way, it is a continuation of a record of frustration that I have.
For 11 long years, at least, I have been trying to make the American Red Cross understand how deeply grateful I am for their work that I have seen, that I have experienced, and indeed the kind of work for which I have felt personally responsible. Because any commander in the field is responsible for the morale of his men. That is his business. He lives with it. No morale factor in wars that America has had to wage is more important than the American Red Cross.
For that, and many other things, I have been trying to say thank you. And I have said it. But I have the frustrating feeling that I have never really been able to convey the depth of the sentiments in my heart on this particular subject.
And so I have usually resorted to attempting to tell something of what I saw, some little feeble description of what I experienced. It struck me, almost 11 years ago today, I think. I went to my first Red Cross meeting in London, in 1942. We dedicated a club. And the thing that struck me that day was this: everybody in the Red Cross had discovered one great truth of life and is practicing it: there is no satisfaction in life except as it is experienced through people. People constitute the one great important factor in all human existence, and it is our relationships to those people that make satisfactions for ourselves.
Consider a picture. Any picture would pall on any one of us finally, no matter what its artistry, no matter how much we appreciated it, unless we could at the very least have the satisfaction of describing it to someone in whom we were interested, or bring them with us to view it, and to share the joy of that picture. Or of a poem. Indeed, of your favorite restaurant. Anything in this life would pall if an individual had to experience it all alone.
And so, by membership in the Red Cross, caring for the needs, the spiritual and intellectual and material needs of others, you not only express by that act the greatest truth of all life, but I venture to say that you are making a very great investment yourselves that will yield you, some day, the greatest of dividends-if you have not already experienced it.
Each of us must, one day, withdraw a little more from the activities, particularly the physical activities of life, than he undergoes as he passes through his most vigorous years. And when he does, the self-satisfaction that comes from service performed, I am quite certain, will be the nearest to Heaven we will ever get on this earth: to feel that you have served others--which you are doing.
I do not mean to attempt to be a philosopher here, ladies and gentlemen. That is far beyond me. I am merely trying to say that you have been doing something that to me is so worth while, not only for this reason.
When I saw you, or the people you sent, in England, in Algiers, in Tunis, in Sicily, in Italy, on the beaches, all the way to the center of Germany, caring for and cheering up the wounded, and establishing what they always called "homes away from home," when every other individual except themselves was important and they were selfless and unimportant in their own estimation, my admiration went out to them.
So what I am trying to say is: that example has meant much to me, and I am moved to say congratulations to every single individual that belongs to such a body.
Now, as we come down through the years, of course, fortunately not all our experiences are war. But we have other disasters. Every time we have one, the Red Cross has a record of moving in and expressing this same spirit, this same understanding of the importance of humans--of people.
So I was lucky, this evening, as I started over here. I got two telegrams. With your permission, I shall read them, because they help to express what I am trying so inadequately to say.
The first one is from the Mayor of Worcester, Massachusetts, and it is addressed to me, and it says:
"The true American spirit of people helping people through the Red Cross, is being demonstrated here in the Worcester tornado area. As you address the Red Cross Convention tonight, please express to the delegates our sincere thanks for their timely aid, not only during our emergency but also in the rehabilitation period which is now in the process." That is signed Andrew Holstrom, Mayor of the City of Worcester.
And then, here is one from the Governor of the great Commonwealth, who says: "Understand that you are addressing the National Convention of the American Red Cross tonight, including delegates from Massachusetts. Wish to advise you that the Red Cross has done an outstanding job in this State during the recent Central Massachusetts tornado disaster. Christian Herter, Governor of Massachusetts."
I am, of course, grateful to those people for helping me attempt to give you the message I should so like for each of you to have from me and to understand. But I want to call attention also: those are merely two telegrams from areas in which we have dramatic instances of disaster.
We find the Red Cross on duty everywhere. Not merely where the incident that occasioned the help gets in the headlines, but in the humblest of homes. The Red Cross is always true to the belief that people, and only people, matter.
And so again, as I have done so often through these many years since I first encountered the Red Cross, thank you, each one of you.
Note: The President spoke in Constitution Hall at 9:13 p.m. In his opening words he referred to E. Roland Harriman, President of the American National Red Cross; he later referred to James Melton of the Metropolitan Opera Association of New York.
Dwight D. Eisenhower, Remarks at the American Red Cross Convention. Online by Gerhard Peters and John T. Woolley, The American Presidency Project https://www.presidency.ucsb.edu/node/231659