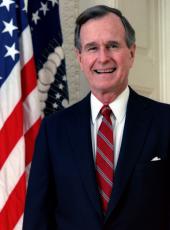 Remarks at the American Legion Annual Convention in Baltimore, Maryland
Justice Gierke -- Sparky to me -- as a fellow Legionnaire, let me first salute the first Vietnam veteran to be selected national commander. And all of you who represent our nation's largest and fastest growing veterans organization, more than 3 million members strong -- thank you for that warm welcome.
I am proud to have been accompanied here by a great friend of the veterans, Congressman Sonny Montgomery of Mississippi -- [applause] -- I see we have a few Mississippians back there -- and, of course, to have been greeted by Maryland's outstanding Congresswoman, my great friend, Helen Bentley, a great friend of the veteran; and am pleased, because I hadn't been told they were going to be here, to see our outstanding Commandant of the Coast Guard, Admiral Yost, who's doing a superb job, and General Rowny, a old friend of mine, a great leader, great friend of the veterans, and a great leader in the whole field of arms control and a strong defense. So, I feel among friends. And as always, it's a great privilege to join you and a deep personal pleasure for me to renew old ties, greet new friends.
Today, surprisingly, is September 7th -- [laughter] -- and I -- [applause] -- can you believe it? And I'm determined not to repeat the mistake I made exactly 1 year ago when I referred to this as Pearl Harbor Day. [Laughter] I can still remember the gasp -- it was on this side of the room. I don't know whether the seating has changed, but as long as I live, I'll remember the gasps from the audience. [Laughter]
Not surprisingly, anniversaries were on my mind then as I traveled here from Washington. Events like this 71st national convention of the American Legion or the 200th birthday of the Coast Guard or the very first anniversary of the Veterans Affairs Department, led by its able Secretary and our good friend, Ed Derwinski -- a department intent on serving you as you have served your country. Well, as you can imagine, these birthdays in turn got me thinking about another anniversary, the 175th this year of "The Star-Spangled Banner," and how your convention lies so near its famous birthplace. Tuesday you did something that would have pleased Francis Scott Key and for which I thank you. For by supporting a constitutional amendment making it illegal to desecrate the American flag, you joined the crusade to protect that unique symbol of America's honor. Our flag is too sacred to be abused.
The flag, like our great country, America, represents many things. It represents self-expression and opportunity, democracy for all. Like America, too, Old Glory reflects the values, moral and intellectual, economic and military, that have made and keep us strong. And like America, the flag symbolizes the gallantry of veterans who love their country, giving themselves, often their lives, to its protection -- storming the beaches of Okinawa or scaling the cliffs of Normandy, taking shell-torn hills named "Hamburger" and "Arrowhead."
Fellow veterans, for seven decades the American Legion, its men and women, have helped write the story of America and the story of our flag. And today in peacetime, as in wartime, you write their story still. For the flag, like America, is more than sentiment. It lives on the rugged island called Iwo Jima. It lifts the tiny hand of a little girl that I saw on a street corner in Gdansk, Poland, waving the Stars and Stripes. For both encapsulate freedom -- the freedom to vote as we want, to pray when and where we choose, the freedom to go about our daily lives without tyranny or fear.
Fifty years ago this month, our allies went to war to protect this freedom. For as panzer tanks crossed the Polish frontier and bombers savaged Warsaw, liberty confronted the evil of fascism -- which even now defines hell on Earth. And in the end, that conflict took more than 50 million lives and underscored, as few things have, man's inhumanity to man. Our challenge today is to prove man's humanity to man by preserving liberty without war and thus secure what Franklin Roosevelt called the four freedoms: freedom of speech, of religion, freedom from want and fear.
Today I want to focus on one of these freedoms: freedom from fear -- the fear of war abroad, the fear of drugs and crime at home. To win that freedom, to build a better and safer life, will require the bravery and sacrifice that Americans have shown before and must again. Already, we've done much, and now we must do more and achieve real peace, both domestic and foreign -- the kind of peace which lasts. First, our mission at home: to free our country from the fear of drugs and crime. When we ask what kind of society the American people deserve, our answer is and must be a nation in which law-abiding citizens are safe and feel safe. And that is why, 2 nights ago, I announced America's first comprehensive national strategy to win the war on drugs and crime which plague the United States.
First, our plan seeks to rid America of violent criminals with an attack on four fronts: new laws to punish them, new agents to arrest them, new prosecutors to convict them, and new prisons to hold them. Our crime proposals are based on these principles: Criminals in this nation must understand that if they commit a crime, they will be caught; and if caught, they will be prosecuted; and if convicted, they will do time. But, you see, by taking the hoods off the streets, we can and we will take back the streets. You know, in short, we propose to change the rules of the game dramatically: mandatory time for firearms offenses; no deals when criminals use a gun; and for the most heinous crimes -- you remember my promise -- for anyone who kills a law enforcement officer, no legal penalty is too tough. We want Congress to enact the steps needed to implement the death penalty for those who kill our law enforcement officers.
Now, over the last few days, there's been a lot of talk about our strategy. Some, incredibly, say, well, it's not enough. This from the very people who oppose the death penalty. It's that kind of thinking that's lost too many battles already. So, let's not let these critics lose the war. I ask you to support our crime plan and also the other parts of our national strategy. This strategy aims to stop drug use before it starts, through education and prevention, from grade school to graduate school. And third, through treatment, to help addicts who want to get clean, with special emphasis on expectant mothers.
And finally, we're going to work with other governments to help crack the international drug rings. Yesterday's extradition of a major drug dealer sends a strong signal of the courage and determination of President Barco and the Colombian Government to deal with the scourge which drugs are inflicting on all of us. And as veterans, you know how battles are often fought -- house by house, block by block. Well, we'll win this battle the same way, but we're going to win it kid by kid, neighborhood by neighborhood.
For years now, drugs have written a sad chapter in the American story. And this morning I ask you to help write an ending all of us can be proud of. These cops out here on the street -- they can't do it alone. The teachers, God bless our teachers, those teachers in our schools -- they can't do it alone. The addict really trying to get clean can't do it alone -- weary of abuse, can't do it alone. They all need your help. And I know they'll get it, just as you've helped handicapped kids, donated blood, helped always that National League of Families, and spurred good government through programs like Boys State and Girls State. Today, for instance, Post 65 in Rosemont, Minnesota, runs the program "Drug Talk." And in Russellville, Arkansas, I especially like Post number 20's giveaway of thousands of rulers, and their message says it all: "You really measure up when you say no to drugs."
You know as I do that we are in this together. So, let us fight on any front and every front -- supply and demand, education and rehabilitation, interdiction and enforcement, in the cities and the towns. Walter Lippmann once wrote of a "nation at the mercy of violence." America must never surrender to the violence of drugs and crime. The future of our children depends on it.
This morning, I've talked about our mission to secure freedom from fear at home, but now let me shift. We also have another mission, a global mission: to free America from the fear of war. Wouldn't it be wonderful if our kids or grandkids could grow up in a world where they never had to give one single thought to the horror of a nuclear war?
Half a century ago, Ike and Nimitz and Jimmy Doolittle and millions of unsung heroes -- many sitting right here today -- fought to end a war. You fought at Guadalcanal and Monte Cassino, at Bastogne and Bataan. You fought to rid the world of totalitarianism and tyranny. Our challenge may be less dramatic, but just as vital: to secure freedom in a world at peace. Today ours remains a global stage, and America remains its leading player. And we must use our strength to maintain peace and freedom. For this we do know from World War II: The best way to protect that freedom and ensure real peace is for America to be militarily strong. Thankfully, today America is strong.
And our strength has helped democracy's tide run in, even as tyranny's tide runs out. The new breeze of freedom, which I've spoken of before, is blowing in Poland, in Hungary, in countries east and west. And yet with even hopeful changes comes uncertainty, and with uncertainty comes the need for vigilance. This is no time to declare freedom's victory before the fact. And that is why we need a national defense that ensures a strong and secure America, and why I'm pleased that the Senate largely agrees.
This week our defense authorization bill moves to House-Senate conference committee. And there's just one problem: The House version is totally unacceptable to the Commander in Chief of the United States Armed Forces. It is unacceptable. It continues unneeded programs costing nearly $20 billion from 1990 to 1994, holding our defense budget hostage to projects that will strip money from programs crucial to strategic modernization. You see, this modernization is vital, vital because America must base its procurement decisions on the future capacity -- the actual weapons -- that any Soviet leader might have available.
Here there are hopeful signs, for Mr. Gorbachev is taking some steps to reduce that threat posed by the massive military machine that is the Soviet Armed Forces. We applaud those moves; and we hope there will be more, many more. But at the same time, we cannot cause the Soviet Union to reduce its forces by unilaterally disarming ourselves. Progress has been made precisely because we have been strong. So far, in terms of cutting strategic weapons systems, Soviet words have not been matched by Soviet deeds. Our own strategic modernization program must deal with deeds and encourage the Soviet Union to work with us in reducing the threat of nuclear war.
And that's why we've begun a vital program to modernize our strategic triad, and by that I mean submarines, missiles, and bombers. We have called for two Trident submarines to be funded in 1990 and 1991. And today I renew that call and reaffirm my commitment to the second part of our triad: strategic land-based missiles. Already the Soviet Union is deploying two mobile systems. We have none. We need to move forward with our mobile programs not only to modernize our forces into the 21st century but to gain leverage for arms control.
You see, what we're talking about here is simple logic; or as Sam Rayburn said, "If a man has common sense, he has all the sense there is." Accordingly, our ICBM program calls for a new single-warhead small ICBM missile and our ICBM missile, Peacekeeper, multiwarhead ICBM. The small ICBM represents the future of our ICBM force: highly mobile single warhead, the very essence of stability and deterrence. But it won't be ready until 1997, so I've asked Congress for funds to make our existing Peacekeepers mobile by utilizing our rail system in an emergency, providing survivability at low cost for this very effective and proven system. The third part of our deterrent triad -- the B - 2, or the Stealth bomber -- employs absolutely revolutionary technology to make certain that it can penetrate defenses and assure the credibility of our deterrence.
And finally, there is the last part of our defense equation; that's the Strategic Defense Initiative. SDI will begin the movement from offensive to defensive deterrence and deter not merely existing threats, but also nations on the verge of possessing nuclear and chemical weapons. Now, if that's not common sense, then I don't like fishing and I don't like playing horseshoes. [Laughter]
Fellow veterans, real peace is not an accident, so let us modernize our strategic forces and thus encourage arms control. We need the Trident, the small ICBM. We need the Peacekeeper, B - 2, and SDI. And I have proposed to the Congress an affordable budget to pay for them. It is a solid, well thought out, and essential program. The Congress should support it and not try to substitute pet projects in place of a closely integrated strategic program. For this, above all, we know: When it comes to national defense, finishing second means finishing last.
We can have an America free from war, free from drugs and crime -- an America free from fear. What a wonderful legacy for this and generations of children to come. Some might call it only a dream. To them, I say, okay, America is the land of dreams -- dreams that come true.
God bless you all. God bless the United States of America. And thank you for your hospitality. Thank you all very, very much. Remember Pearl Harbor! We'll see you.
Note: The President spoke at 10:05 a.m. at the Baltimore Convention Center. In his remarks, he referred to Herman F. "Sparky" Gierke, national commander of the American Legion, and Ambassador Edward L. Rowny, Special Advisor to the President and Secretary of State on Arms Control Matters.
George Bush, Remarks at the American Legion Annual Convention in Baltimore, Maryland Online by Gerhard Peters and John T. Woolley, The American Presidency Project https://www.presidency.ucsb.edu/node/263746