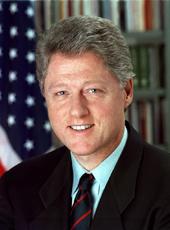 Remarks to the American Jewish Committee
Thank you very much, Mr. Rifkind. Justice Ginsburg—this was one of my better moves, don't you think? [Laughter] Another one of my better moves, Secretary and Mrs. Riley and distinguished members of the diplomatic corps and my fellow Americans.
I can't speak long because I don't want to have a controversy with Senator Dole. I would never take his time knowingly. [Laughter] I sort of hate to do this to the American Jewish Committee, taking Alan Moses away. I can't think of any better person to serve as our Ambassador to Romania, but I hate to do it for you, and I really hate to do it for me. At least you've got a good successor, but I do not want to establish the principle in this town that 4 years is enough for anyone to serve as President. [Laughter] Alan, I thank you for your willingness to serve, and I am delighted to see you're here with your wife and also with your mother. It's wonderful to see her. Welcome, and thank you.
Let me briefly say in response to the introduction that I have worked hard, as all of you know, on a two-track policy in the Middle East. First, to try to make peace, not to impose peace but to try to help the parties in the Middle East to make peace. In my first meeting with Prime Minister Rabin, whom I look forward to seeing again in the next several days, I said, "If you are prepared to take risks for peace, it is the obligation of the United States to minimize those risks." That is what we have tried to do. We have worked together. We have worked with the parties in the Middle East who are interested in peace. We are working even as we speak to make further progress.
Second thing we have sought to do is to contain those who would upset the balance of forces for peace in the Middle East. We have taken strong stands against Iraq, we have demanded that Libya give up the people that are accused of downing Pan Am 103, and we have taken strong stands against Iran. For 2 years I hoped against hope that Iran would be persuaded to stop trying to develop weapons of mass destruction and supporting terrorist groups. It became clear to me that that would not happen, and therefore I have imposed the embargo which was announced last Sunday, which I thank you for your support on. I hope that we will be able to persuade others that terrorism and the proliferation of weapons of mass destruction have no place in the modern world.
Let me close by asking you to think of this: The 21st century should and I believe will be the most exciting time in all of human history, the time that is most full of human potential. It can be a very great time for America if we face our problems at home first and if we make sure that all of our people can compete, which means more than anything else we must solve the education deficit in the United States and create a system of lifetime learning that all people can access.
But I believe that the great threats to security in the 21st century will be very different from those of the 20th century. The history of this century is littered with the blood of millions and millions and millions of people who were killed either because two different countries were fighting with each other over land or an oppressive government was prepared to kill millions of its citizens to maintain its power. The realities of the global economy, the explosion of the information age make those things less likely to occur. We'll always have to fight abuse of power at home and abroad, wherever it occurs, but that is less likely to mark the 21st century.
In the 21st century, which will be characterized, as we already know, by lightning flashes of exchange of information and money and technology and great mobility of people, all of the forces that are bringing us to a more integrated world and making people see that it makes sense to stop killing each other and to make peace, whether it be in the Middle East or Northern Ireland or any other place in the world, all those forces of integration have a dark underside of disintegration and make us very, very vulnerable, the more open we are, to the forces of organized evil.
That is what we lived through in Oklahoma City. That is what we endured at the World Trade Center. That is what the Japanese people suffered in the subway when a religious fanatic could walk in with a little vial of sarin gas and break it open and kill 60 people. And make no mistake about it, that is why innocent Israelis are still being killed by car bombs in the Middle East. Why? Because the only way peace in the Middle East can work is if the Palestinians and the Israelis stay integrated. And if the Israeli people can be rendered insecure so that the Israeli Government has to raise the border again, so that the Palestinians can't come to Israel and their incomes drop, then they won't believe in the peace anymore, and the enemies of peace will win.
So all through the next decades you and I will be involved in a constant struggle, with our friends from the diplomatic corps—and there are countries that are here present—to try to get the benefits of all these forces that are bringing us together without being undermined by the forces of disintegration that move into open societies and open interchanges between countries and choke the life out of hope.
That is the challenge of the 21st century. That is why I've asked the Congress to pass this antiterrorism legislation. And before he gets here, I thank Senator Dole for committing to pass that bill and put it on my desk by the end of the month. It was a good and noble thing and a great gesture. I thank him for that.
These are the things we often work together on. There is no room for partisanship here. Nor should there be differences of religion or culture or nationality across international borders. All of us that want ordered societies where human potential can be expressed and peace can be achieved must stand against the forces of organized evil that cross national borders and kill without a second thought, whether they are paranoid forces rising up from within or people flying in from without. That is our challenge.
So now the challenge in the Middle East is the challenge at home. Let us keep working for peace, and let us determine to defend ourselves against those that would undermine the glorious potential of the century upon which we are about to enter.
Thank you, and God bless you all.
NOTE: The President spoke at 7:30 p.m. at the Grand Hyatt Hotel. In his remarks, he referred to Robert S. Rifkind, president, American Jewish Committee.
William J. Clinton, Remarks to the American Jewish Committee Online by Gerhard Peters and John T. Woolley, The American Presidency Project https://www.presidency.ucsb.edu/node/221129