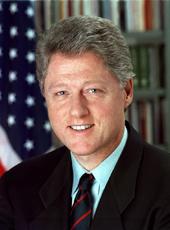 Remarks to the American Bar Association in Atlanta, Georgia
Thank you very much, ladies and gentlemen. I want to say to all of you how very grateful I am to be here today at the American Bar Association, and especially under the leadership of my long-time friend Phil Anderson. I'm sure you could see there was a sort of an Arkansas tilt to a lot of the people who were introduced here today. [Laughter] Bruce Lindsey used to be one of his law partners. He even had his minister here. [Laughter]
What you may not know is, the reason I'm here is that I got beat for Governor in 1980, and I was the youngest former Governor in the history of America. I had extremely limited career prospects, and Phil Anderson is the only guy in Arkansas that offered me a job. [Laughter] He's either a great prognosticator or a good gambler—[laughter]—and he's done a superb job.
Let me say, seriously, how very much I appreciate the remarks that he made on the issue of gun safety at the outset of your convening here. It's a very important issue to the Attorney General and me and, of course, to Atlanta's wonderful mayor, Bill Campbell, and all of those who have struggled to make our streets safer. We're honored to be here. I think the Lieutenant Governor of Georgia and the secretary of state are here, and I thank them for being here.
I want to join—I know that they've already been introduced, but Congressman John Lewis and Andy Young and Hank Aaron have been all very good friends to me and to Hillary over the years, and I'm profoundly honored by their presence here and their contributions to our country. I thank you all for being here.
I want to thank all the people from the Cabinet: Secretary Slater, who is also a native son of our State; and the Attorney General for coming with us; and Mr. Podesta. But I want to say a special word of appreciation to Chuck Ruff; this, I think, is his last day as the White House Counsel. Actually, I think Friday was his last day, but I made him come with me today. [Laughter] He has demonstrated throughout his career, in many positions of public trust and in private practice, with extraordinary power and dignity, a ferocious ability to be a legal advocate and an even deeper devotion to the Constitution and laws of the United States. He is a magnificent human being, and the United States and his President will always be in his debt. Thank you, Mr. Ruff.
Several of you were at the White House last month when we celebrated the 35th anniversary of President Kennedy's historic call to the legal community to advance the cause of civil rights. We talked then about the role our lawyers must play in building one America, renewing our commitment to combat discrimination, to revitalize our poorest communities, to encourage diversity in the legal profession and all its institutions, and to continue the legal community's commitment to pro bono work.
This has been very important to me and to my family. A lot of you know that Hillary was formerly the chair of the ABA's committee on women in the profession and the chair of the Legal Services Corporation. We have lived with these issues for almost 30 years now. And I want to thank the ABA for working with our initiative for one America, headed by Ben Johnson in the White House, who is also here today, to launch a national drive to increase diversity in all sectors of the legal profession.
I also want to thank your incoming president, William Paul, for his efforts to raise $1 million for aid for the ABA scholarship for minority students and for his very generous contribution to kick off the drive.
I know that you are also committed to ensuring that our legal profession serves all Americans equally. I've asked Congress to fund my request for the Legal Services Corporation. Phil has already given it a good plug, and I can hardly compete with birthday cake. [Laughter] But we need your help. I've had to fight for the Legal Services Corporation every year since 1995, and I am happy to fight for it again, but I'll have a lot more success if they know that all of you from all the States, from both political parties, understand the importance of its preservation and its vital role.
I also want to ask you to work with us to make our Federal sentencing guidelines fairer, to correct some of the discrepancies in sentencing for similar crimes. This is an issue that most people in public life are reluctant to discuss, because there is always another election coming up and no one wants to be judged soft on crime and because there are always exceptions which can be made to seem the rule.
But I think every person in our criminal justice system, from the members of the Supreme Court to the Attorney General, right through the ranks, knows that there are certain inequities in these sentencing guidelines that cannot be countenanced when measured against the standards of justice, fairness, or our common interest in having the safest possible society. So I ask you to help. You cannot expect the elected officials to deal with this alone, but if you give them the support they need and the evidence they need and the arguments they need, we may be able to continue to improve this system.
We have the lowest crime rate in this country in 26 years. We should now be focusing on making this the safest big country in the entire world. But we can only do it if we are not only making this country safer but fairer and more decent and more just. And like most everybody else that's had experience with this, I am absolutely convinced we can continue to remove the inequities from the sentencing guidelines without seeing the crime rate go up or increasing the number of innocent victims. But we need your help to do it.
Finally, I'd like to ask for your support in another goal that is critical to building one America, and that is establishing a judiciary that is both strong and vibrant, that is both fair and diverse. Having a judiciary that reflects both excellence and diversity is critical to equal justice under the law, to safe streets broadly supported by the public, and to building one America. It is also a very important part of America setting an example for the rest of the world.
Your president mentioned that you have representatives here from over 50 countries. And when he said it, it put me to thinking that I have spent an inordinate amount of the time that you gave me to be President in the last 6 1/2 years worrying about wars and rumors of wars and conflicts that spread from Northern Ireland to the Middle East to the Balkans to Africa to Kashmir. All across the world, on every continent, people continue to fight each other. And the roots of their fighting are their racial, their ethnic, and their religious differences; people who can't help looking at other people who are different from them and seeing someone who is alien; people who do not see past the color or the faith to the common humanity, which is far more important than that which divides us.
If the United States is going to be a force for good in the 21st century, we must continue to be better here at home. And we cannot expect everyone else in our society to be better unless those of us in the Government set a good example. Anybody who has ever been in a courtroom, either as an advocate or a client, knows that if you are in court, the judge is the most important person in the world. And to have a judiciary that reflects the diversity of America, as well as its commitment to equal justice under law and to professional excellence, is a profoundly important national goal.
If I might, I'd like to take just a moment to pay tribute to a man whose life and career were a testament to these objectives, Judge Frank Johnson. Few Americans struck so many blows for equal justice. I was honored to award him the Presidential Medal of Freedom in 1995. We all miss him, but our Nation is better because he lived and served.
When I leave you tonight, I go to honor with another Presidential Medal of Freedom, another American whose commitment to equal justice and to world peace are unequal, President Jimmy Carter. Among President Carter's many and varied contributions to our national life is his record of support for civil rights and for diversity and excellence on the Federal bench. I have worked hard to build on that record.
I'm proud that the judges I have appointed during my tenure are the most diverse group in American history. Nearly half are women and minorities; more than half the current judicial nominees are. But they have shattered the destructive myth that diversity and quality do not go hand in hand. In fact, thanks to your committee, my appointees have garnered the highest percentages of top ABA ratings of any President in nearly 40 years.
It is against this backdrop that I tell you about two historic nominations to the Federal bench. It's difficult to believe that in 1999, despite the fact that more African-Americans live in the fourth circuit than any other appellate jurisdiction, the U.S. Court of Appeals for the Fourth Circuit has never had an African-American judge. On Thursday, we took steps to remedy that, when I nominated Judge James Andrew Wynn, a highly respected judge on the North Carolina Court of Appeals, to serve as the first African-American judge ever on the fourth circuit.
I was also proud to announce another first— in some ways, given the history of the last 30 years, even more hard to believe—when I nominated Judge Ann Williams, a Federal trial judge in Chicago, known throughout the bar for her talent and dedication, to become the first African-American judge ever to serve on the U.S. Court of Appeals for the Seventh Circuit.
Now, both Judge Wynn and Judge Williams will make outstanding contributions to our courts and to our country. But first, they must be confirmed. And recent experience shows this can be an unnecessarily long and grueling process that I believe serves neither the judiciary nor our Nation.
Judge Johnson once said, the hallmark of any civilized society lies precisely in its ability to do justice. But we cannot expect our society to do justice without enough judges to handle the rising number of cases in our courts. Despite the high qualifications of my nominees, there is a mounting vacancy crisis in the courts.
During the first 3 years of our administration, we made tremendous progress in reducing the number of judicial vacancies. But the progress came to a screeching halt in 1996, a presidential election year, when judges became grist for the mill of partisan politics. In that year, only 17 judges were confirmed, and for the very first time in 40 years, not a single circuit court judge was confirmed by the Senate.
The result was a crisis so severe that last year, Supreme Court Chief Justice Rehnquist warned that vacancies in our court could actually undermine our legal system's ability to fairly administer justice. In response to this alarm, the Senate worked with us last year, and under the leadership of Senator Orrin Hatch, in a bipartisan fashion, we were able to fill 65 vacancies in our Federal courts. But no sooner had we begun to remedy the rising emergency then, once again, the politics of the Senate began to stop the confirmation process in its track.
Consider: this year alone I have nominated 61 judicial candidates; 16 of the 61 are due to fill vacancies in jurisdiction among the 21 that have been declared judicial emergencies because of the caseload backlog and the length of vacancy. I will nominate candidates for the other five positions this fall, when the Senate comes back.
Now, during this period in which I have nominated 61 candidates, the Senate has confirmed only 11, and only 13 more have been reported out of committee; 37 are still stuck there. There are only 16 vacancies on the Federal bench for which I have made no nominations, and I believe that is an historic low, because of the time it takes to do the FBI checks, the background checks, and run all the traps that modern life seems to require. Nine of the 13 candidates currently voted out of committee, but not voted on in the Senate, are women or minorities.
This year, we celebrate the 50th anniversary of President Truman's appointment of the first African-American to the Court of Appeals, the highly respected William H. Hasty; and the 65th anniversary of President Roosevelt's appointment of Florence Allen to be the first woman to serve on an appellate court. We should commemorate these occasions by building on them with qualified people. We should honor the tradition of service. We should not—not; I repeat, not—have another replay of 1996. The worst effects of the slowdown are making themselves felt across our country. Exploding civil and criminal court dockets affect the lives of tens of thousands of Americans. They strain our justice system to the breaking point.
For civil litigants, we know that justice delayed can be justice denied. For criminal cases, we clearly need the most rapid possible action. The Attorney General was talking to me on the way in about how we had succeeded in getting the crime rate down. But we had to have enough judges on the bench to take time in each of these cases to make the right kind of sentencing decisions if we want the criminal justice system to continue to work in a way that is both fair and effective.
We simply cannot afford to allow political considerations to keep our courts vacant and to keep justice waiting. All of you know, I think, that I have worked very hard to avoid having major ideological fights of the kind we saw in previous years over judicial nominees. I have sought to find good people who believe in the Constitution and the law and equal justice, who reflected the diversity of America, but who were completely qualified, so that I could bring them to the Senate and get them through in an expeditious way.
So, again, I say, I'm going to go back after the August recess and try to do this. I'm also going to ask the Senate to do the right thing and confirm Acting Assistant Attorney General for Civil Rights Bill Lann Lee, who also deserves to be confirmed.
I want to thank you for using the power of your voice to encourage the Senate to address the mounting crisis in our courts by moving forward on the nominees as soon as possible. I want to thank the ABA's standing committee on Federal judiciary, especially the chairs, for the excellent job you've done evaluating my nominees for 6 1/2 years.
I want to ask you, again, to reaffirm your conviction on this issue and think about it in the larger context of both our eternal quest for individual justice and our eternal quest to build one America and in terms of our obligations around the world. If we want to go from Northern Ireland to the Middle East to Kosovo and Bosnia to Central Africa and ask people to lay down their hatreds, to no longer fear the other, to see diversity as a source of interest and joy that makes life more exciting but in no way undermines our common humanity, if we want to be a force for good around the world, we must do good at home and always become better.
The ABA has been a force for that, and for that I am profoundly grateful.
Thank you very much.
NOTE: The President spoke at 5:10 p.m. in the Sydney J. Marcus Auditorium at the Georgia World Congress Center. In his remarks, he referred to Philip S. Anderson, outgoing president, and William G. Paul, president-elect, American Bar Association; Lt. Gov. Mark Taylor and Secretary of State Cathy Cox of Georgia; former United Nations Ambassador Andrew Young; and member of the Baseball Hall of Fame Hank Aaron.
William J. Clinton, Remarks to the American Bar Association in Atlanta, Georgia Online by Gerhard Peters and John T. Woolley, The American Presidency Project https://www.presidency.ucsb.edu/node/227809