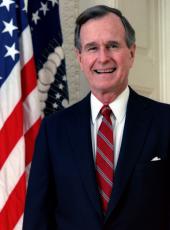 Remarks to the American Association of State Highway and Transportation Officials
Thank you. Let me salute Secretary Skinner. I'll tell you, he is doing a superb job out there. And I heard about a half an hour of his remarks there -- [laughter] -- and I thought he did a great job warming up the crowd. We don't need it here, but he gave my speech. But look, we all know that Sam is committed, doing a first-class job, overcoming obstacles along the way, and making great progress on this subject that's of such concern to all of us here.
Let me salute also Hal Rives, the AASHTO president, and thank him and all of you for being with us today. Behind me we've got the flags of all the States, and we stuck them out here for a reason, just as you and the Secretary are here for a reason, and that is to symbolize our commitment to a new partnership in creating a truly national highway system.
You all understand the importance of mobility in our society. Our economic growth, our international competitiveness, even our cultural vitality, all depend on the transportation lifelines that span this nation, that let people get to work, get home, to entertainment, to family, and friends.
We're the most mobile society in history, economically and, of course, I'd say literally as well, given our size. This century, we've developed the world's most advanced transportation system. We've done it through strong commitment; we've done it through substantial investment. We've tried to harness the power of market forces, and we're going to continue to do that. But we also believe in solid partnerships between the private sector and government at all levels.
No transportation partnership has endured so long or accomplished as much as the one between the Federal Government and AASHTO. Our organizations have worked together, I'm told, for 75 years now. We've helped turn a sprawling land knitted together by dusty back roads into a nation linked together by high-performance roads and highways. Those corridors have reshaped our nation and made it possible for all of us to take mobility for granted.
When Ike -- when President Eisenhower first proposed a major national highway network back in '56, he laid the groundwork for unprecedented movement, unprecedented access all across America: to products, to services, and obviously, in the process, to prosperity.
Now, as the whole world seems to shrink while the competitive pace quickens, we must make certain American business has the mobility to compete and get its goods to market. That's why our surface transportation proposal calls for significant investment in the future. We propose, as Sam mentioned, increasing Federal highway spending by 39 percent over the next 5 years. The interstate system has mapped out our economic prosperity by ensuring our competitiveness and productivity.
We're committed to building stronger partnerships at every level. We favor giving new flexibility to the States. Let them decide how to address local needs. Our bill provides innovative features to encourage private investment in our transportation infrastructure.
We seek legislation for greater investment at the Federal level for our overall highway system to meet an important national need. We asked for a higher State matching share for local roads outside the national highway system because we believe Federal funds should stay focused on national needs.
We believe our nation is best served by providing greater flexibility, greater accountability at the State and local level. A higher State match on roads that are critical to national interests will increase the total infrastructure investment. It will help us build better, more efficient transportation networks.
And I'm very pleased the Senate included a national highway system in its version of the Surface Transportation Reauthorization Act. The Senate's bill has some good features to it; increased flexibility was one that we put forward originally. We need to loosen the Federal strings on the States highway programs.
But at times, the stretch between Pennsylvania Avenue and the Capitol Building and the White House seems like the longest street in America -- the journey from here up there. You wouldn't believe how much bills change from the time they leave the White House until the Congress finishes with them. And we know we're right all the time, you know. [Laughter] So, that's certainly the case with the Senate version of this bill that Sam has had such a hand in crafting and trying to get enacted.
The Senate bill doesn't focus Federal funds sufficiently on national needs. It allows for no differential match between the national highway system and other programs. And it shortchanges the national highway system. It calls for excessive Federal spending, putting at risk other important Federal programs, including programs that you all care about. Aviation safety and modernization would be ones that come to mind, as well as education, health care, fighting the war on drugs -- all these other national priorities. The Senate version doesn't lower matching ratios or eliminate operating subsidies for local transit systems. And finally, the Senate bill directs how Federal money will be distributed within States, tying the hands of State officials. State transportation officials, in our view, have the vision, the experience, and yes, the organizations to ensure that our highway funds are spent wisely.
As you all know, I challenged the Congress to pass a comprehensive crime bill and a transportation bill in 100 days, by June 14th. And while the Senate has acted, and I give them credit for that, the House hasn't taken any official action at all. What the American people heard as a 100-day challenge, the Congress used as an excuse to complain. A challenge of 100 days became an occasion for 100 different delays and 101 excuses for inaction. The roadblock, thank heavens, has been broken by the action in the Senate. And I urge the House now not to lose that Senate-created momentum. I also challenge the Congress not to let a fight over the allocation of resources overshadow the real issues that are at stake here: long-term productivity and the fundamental economic health of our nation.
So, I say to the Congress: Don't stop. Don't pass "go." Don't collect any more dollars. Just pass our transportation bill.
The old approaches to surface transportation just won't do it. And by any standard, the way in which we, the Federal Government, and you, the States, do business must change in response to new fiscal and technological challenges. We've got to take full advantage of our present opportunity to create a surface transportation program that will meet our present and future needs, not our past problems.
We've got to develop a new generation of transportation systems and solutions. And our bill recognizes that we can't just preserve the well-worn paths of the past. We must move ahead. And I do need your help. We all need your help. And the Nation needs your expertise, needs your service.
So, let's renew and reinvigorate the partnership between the State and Federal interests. And we've got to stop the jawboning up there. We've got to stop stalling and get the job done. With the right tools and the right investment and the right incentives, we're going to move this nation into the next American century. And I look forward to working with you every step of the way. I'm grateful to all those who have already taken a leadership role in moving our transportation system forward.
So, thank you for coming down on this warm day. And you'll be glad to know the speech is over. Thank you all very, very much.
Note: The President spoke at 10:10 a.m. in the Rose Garden at the White House. In his remarks, he referred to Secretary of Transportation Samuel K. Skinner and Hal Rives, president of the association.
George Bush, Remarks to the American Association of State Highway and Transportation Officials Online by Gerhard Peters and John T. Woolley, The American Presidency Project https://www.presidency.ucsb.edu/node/266196