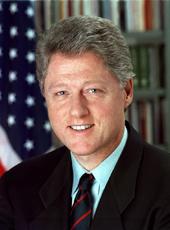 Remarks on the Aircraft Tragedy in East Moriches, New York, and an Exchange With Reporters
The President. I'd like to say a few words about the crash last night. First, on behalf of the American people, I want to say to the families of the passengers of Flight 800,1 we are well aware that only the passage of time, the love of your family, and faith in God can ease your pain, but America stands with you. Our thoughts, our prayers have been with you through the night, and they will be with you in the days to come.
Our Government is doing everything we can to continue the search for survivors and to find out the causes of this accident. The Chief of Staff, Leon Panetta, has just met in the White House Situation Room with all the agencies involved and has finished briefing me on our response. I've asked him to ensure that our response will continue to be prompt, effective, and comprehensive.
Right now the Coast Guard, the National Transportation Safety Board, the FAA, and the FBI are on the scene of the crash. As of now, no survivors have been found. Hundreds of rescue personnel rushed to help in pitch dark, lit only by the flames of burning wreckage. And I want to thank them for their brave work in these treacherous waters on behalf of the people who were on that flight.
We do not know what caused this tragedy. I want to say that again; we do not know as of this moment what caused this tragedy. We are beginning the painstaking process of piecing together what happened. Additional briefings to provide the latest details of what is being done will be coordinated by the Department of Transportation and will be given to you on a regular basis. We will determine what happened. But for now, I want to caution again the American people against jumping to any conclusions and ask that today, overwhelmingly, our people remember the families of the people who are on that flight in their prayers.
Thank you very much.
Q. Are you worried that it is terrorism?
Q. Mr. President, are you doing anything further on the issue of airline safety? Are you ordering any steps today, any action that you think might be warranted?
The President. Terry [Terence Hunt, Associated Press], I want to wait, first of all, until we at least get further along in this investigation. I think we need to focus on this investigation now.
Q. Are you worried, sir, that there is some kind of increase in terrorism in this country now? And what are you doing to try to get at least in position to combat that, if it is the reason for this crash?
The President. Well, we are doing a number of things continuously to try to continue to upgrade the safety of our infrastructure and the ability of the United States to protect itself from terrorism. That's one of the reasons I pushed so hard for the antiterrorism legislation.
But I want to caution the American people; we have no evidence—we have no evidence on this flight yet that would indicate the cause of the accident. And I want to remind you that when we had the terrible tragedy in Oklahoma City, a lot of people immediately concluded that this must have been done by some force outside our country, and it appears that that was not the case now. So let's wait until we see the evidence. We are working hard on this.
I just spoke with Mayor Giuliani and Governor Pataki, who are most concerned right now with the victims and seeing that the families get notified quickly, and we're working on that with them. But they said that they were quite confident that the Federal people who were on the ground were doing everything they could. They are very, very good at piecing these things together, and we need to let them do their work and not jump to any conclusions.
Q. [Inaudible]—Giuliani was quite critical of the management of TWA, Mr. President——
Q. How would you characterize——
The President. One at a time.
Q. Mr. President, how would you characterize the various phone calls of individuals claiming so-called responsibility that have come into various news organizations and law enforcement authorities?
The President. Well, I wouldn't characterize them yet. Again, it's hard to know. You know, sometimes such calls are accurate; sometimes such calls are attempting to ride along on a tragedy. And therefore I believe we should wait for the evidence. We will find out what happened. Let's wait for the evidence.
Q. Mr. President, Mayor Giuliani was quite critical of the senior management of TWA, which he said was inadequately staffing the situation there last night. He praised the Federal effort. Have you guys any indication that the airline is not doing all it could, or have you spoken with the airline, have the Federal authorities spoken with the airline about——
The President. Well, let me say, last night— I stayed up until a little past midnight last night, but I was depending more on you all than anything else once I got my preliminary reports. And then this morning I've been more concerned with making sure we were doing our job. So this issue with TWA and the notification of families has just been presented to me. We will do what we can. I can't believe the airline doesn't want to do the right thing. They may be—you know, everybody, when something like this happens, may be a little bit in shock at the moment. We'll look into that and see whether there's anything we can do.
But I have no—again, the main thing I want to say to the American people today is, we are working overtime on this. Do not jump to conclusions. Let's wait until we get the facts, and let's remember the families.
Thank you.
NOTE: The President spoke at 11:17 a.m. in the Briefing Room at the White House. In his remarks, he referred to Mayor Rudolph Giuliani of New York City and Gov. George Pataki of New York.
1 White House correction.
William J. Clinton, Remarks on the Aircraft Tragedy in East Moriches, New York, and an Exchange With Reporters Online by Gerhard Peters and John T. Woolley, The American Presidency Project https://www.presidency.ucsb.edu/node/222971